Dodge Nitro: Ill-fated Jeep Liberty sidekick
The Dodge Nitro had three main goals:
Push Chrysler's developing flexible manufacturing technology further (including 150 robots which could "swap hands" automatically, car by car) 
Respond to compact SUVs such as the Ford Escape and Chevrolet Equinox
Maximize assembly-line use and parts purchasing power

How well did it perform? Let's see.
Contents: Introduction; year by year; engineering; impressions; reception, sales, and closure.
2007 Introduction
Sharing many components with the second-generation Jeep Liberty, the 2007 Dodge Nitro used that model's boxy styling and rear wheel drive based platform, as well as its powertrain options. It went into production in August 2006, and went on sale the following month, accompanied by ads showing it blowing up a Neon. At the time, Dodge marketing was, essentially, "anything but cute."
Oddly enough, the Nitro launched as a 2007 while the Liberty it was based on debuted as a 2008 model. (It was the second generation of the Liberty, which itself was a next-generation Jeep Cherokee.) The reason for this, according to Robert W. Sheaves, was a new tire-chain requirement for Jeeps; it delayed the Liberty a little as changes were made. The main reason for the requirement may have been a desire to have larger wheels down the road.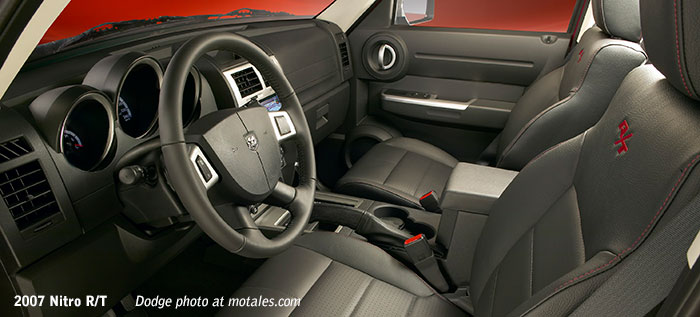 The Nitro was not just a reskinned liberty; the suspension was street-tuned, with an inch wider track, and the length and wheelbase were both around four inches longer. The Jeep road higher, too, and had much better approach and departure angles for off-road use; but the Nitro had better aerodynamics. Engine choices would also be different.
Key features of the Nitro were its 5,000-pound towing capacity (with the automatic transmission and a tow package) and Load 'N' Go cargo floor (not included on the base model), which slid backward by a foot and a half to make loading items easier. This cargo floor had a capacity of up to 400 pounds.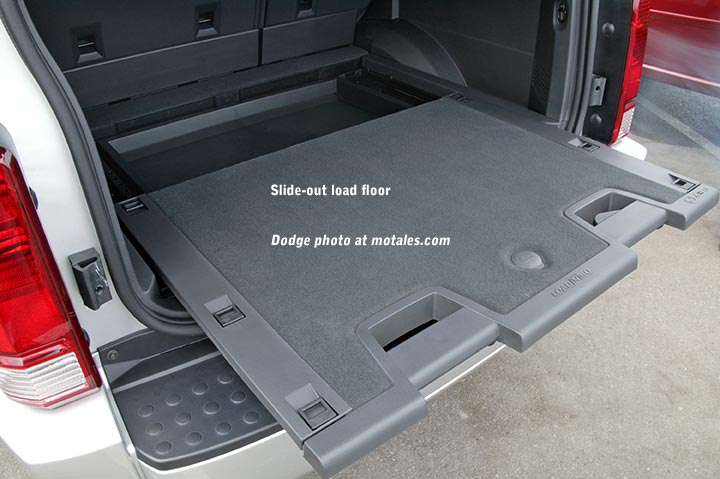 Another option was a built in utility table; buyers could opt for rear seat DVDs, navigation with traffic, and satellite radio. Four-wheel antilock brakes were standard, along with stability control and roll mitigation. The front passenger and second row seats folded flat for cargo, and reclined—even the rear seats—for passengers.
There were two engines, each with a choice of rear wheel drive and four wheel drive. Both were relatively new; the 3.7 liter V6 was developed as a replacement for the old AMC 2.5 liter four-cylinder (or the 4.0 straight six, which had about the same power), and was related to the 4.7 liter "Next Generation" V8. This engine was created specifically for Jeeps and trucks, and produced 210 horsepower and 235 pound-feet of torque, an improvement on the old AMC I-6. The optional engine was based roughly on the 3.5 liter high-output car engine: it was a 4.0 liter V6, also used in Pacifica crossovers and corporate minivans.
The trim lines were SXT, SLT, and R/T. On the SXT, the base 3.7 was paired with a six-speed manual transmission, with an optional 42RLE four-speed automatic. This base level included power windows, locks, and mirrors, keyless entry, air conditioning, and satellite radio.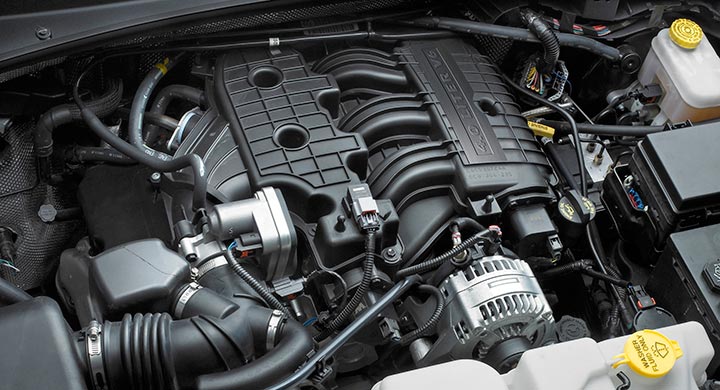 The SLT included the automatic (with no manual transmission option), adding nicer wheels, more chrome, a power seat, stain-resistant but amazingly stiff cloth seats, optional leather, the extendable load floor, and cruise control. The R/T added the 4.0L V6 engine, producing 255 horsepower (260 starting in 2010) and 265 pound-feet of torque, and a five-speed automatic transmission developed by Mercedes (as a copy of a ZF design) but made by Chrysler.
Despite the multi-link rear suspension and independent front suspension, the Nitro felt quite heavy—as it was. The dashboard was similar to that of the Avenger car.
During 2008, amusingly, the new Chrysler Group had problems registering the Nitro as a trademarked name; it had been registered to DaimlerChrysler and transferred normally, but the Trademark officials reported they had no images showing the Nitro name on a nameplate, emblem, or medallion.
2009
The 2009 Nitro SE was the new base model, replacing the SXT; the manual transmission was dropped, and the suspension and brakes were retuned. Part of this was due to Fiat's acquisition of the company; Fiat was putting more money into most Chrysler vehicles, and the suspension retuning was an upgrade that cost a little more but had larger benefits (changes covered rear axles, springs, shocks, roll bars, and steering hardware). It also took away much of the "dead feel" favored by Mercedes. The brake retuning was less certain as a benefit, since Fiat liked grabbier brakes; but it did include a revised booster and low-rollback calipers.
Other changes included swapping out electric blue for bright red; standard floor mats, rear dome lamps, and automatic unlocking; and a retuned muffler on the bigger engine.
2010 Updates
With the 2010 model year, Dodge tried renaming all its trim lines; for the Nitro, this meant replacing SE, SLT, and R/T with Heat, Detonator, and Shock. All had rear wheel drive wtih optional four wheel drive; the Heat kept the smaller 3.7 V6, but the Detonator and Shock both got the 4-liter V6. The Detonator now had a remote starter, ultrasonic rear parking sensors, and a power driver's seat; the Nitro Shock added heated leather seats and a sunroof. Load 'N' Go, though, did not return for 2010.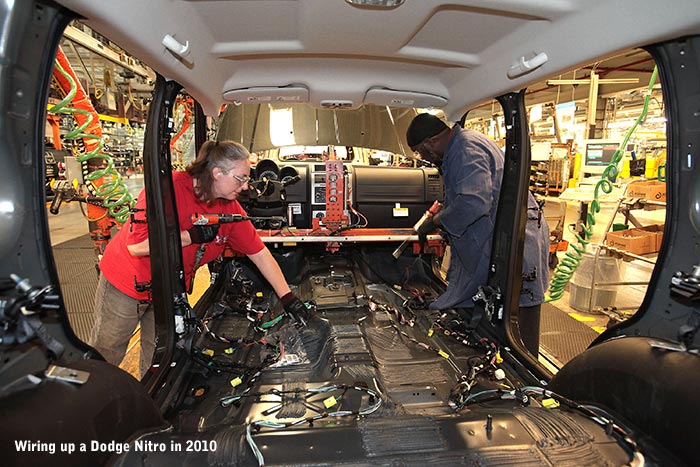 On the functional side, the computer could cut off fuel under deceleration (four-speed automatic only); safety updates included active head restraints, power heated folding mirrors, and air filters. Colors changed as well.
2011 Updates
Heat buyers could get a package with upgraded sound and the 4-liter. Accent stitching and stripe packages were added to the Detonator and Shock; 20" wheels were standard, and the performance suspension was updated. A nine-speaker Infinity speaker setup was added, with some cosmetic changes to interior and exterior depending on model.

Reception and Discontinuation
Although when it first appeared on the market, the Nitro seemed to be a practical choice of SUV, consumers were finding it to be uncompetitive. It was heavy and slow because it shared a platform with the Liberty, adopting the Jeep's compromises without Jeep capability. It also got poor fuel economy and the driving dynamics left much to be desired. A marketing campaign showing a dog getting electrocuted when touching the Nitro was not well-received. Nor was the campaign showing the Nitro blowing up an older Dodge car.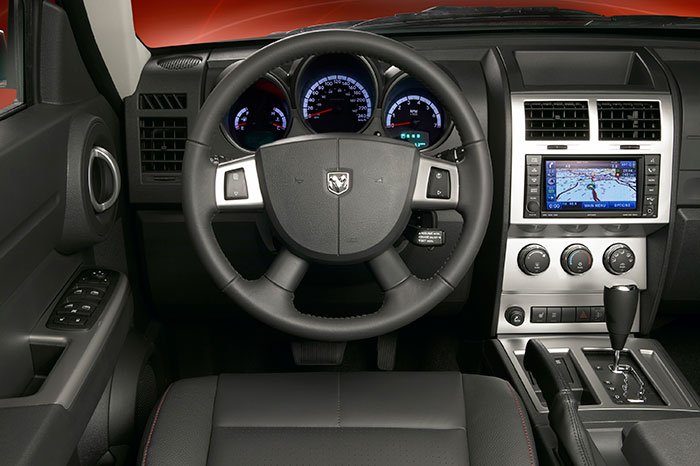 Pricing started at $19,885 for the SXT and went up to $25,970 for the R/T, with a $1,600 premium for four wheel drive. The EPA rated the Nitro at 16 mpg ctiy, 22 highway with the 3.7 and RWD, taking 1 mpg for 4x4; the 4.0 was 16/21, losing 1 mpg on the highway only for the 4x4.
The Nitro started off well in sales. The first month was supply constrained to 966 US sales; it quickly rose to 3,044, then 5,935, then 7,491 as production ramped up. For 2007, its first full year, sales hit 74,825, which was fairly healthy for a derivative vehicle. In the same year, 92,105 Libertys found new homes.
2008 saw a bit of a crash for the economy and especially for Chrysler and GM, which declared bankruptcy; and gasoline prices spiked temporarily, hurting bigger, less economical vehicles. Nitro sales tanked, dropping to 36,368; Liberty sales also fell, but only down to 66,911. In 2010, U.S. sales were just 22,618; for 2011, Dodge sold only 24,434 Nitros in the U.S. The Liberty was doing better, but would share the same fate: 49,564 in 2010 and then 66,684 in 2011.
The Nitro was discontinued at the end of the 2011 calendar year. Some 2012 model year Nitros were available, but only for fleet buyers; only around three thousand were sold in 2012, in the US.
Engineering
The manual transmission was supplied by the former New Venture Gear—an NSG 370 design with six speeds, a wide spread (4.46;1 first, 0.84:1 overdrive), and triple-cone synchronizers on first and second gears. Every gear was synchronized; twin cones were used on third and fourth, and single cones on the higher gears.
The four-speed automatic had variable line pressure; its first gear was 2.84 and its overdrive was 0.69:1. Both the manual and four-speed had a 3.73 axle ratio. The five-speed included range selection; gearing started at 3.59:1 for first and ended at 0.83:1 for its single overdrive gear. The axle ratio was 3.55:1.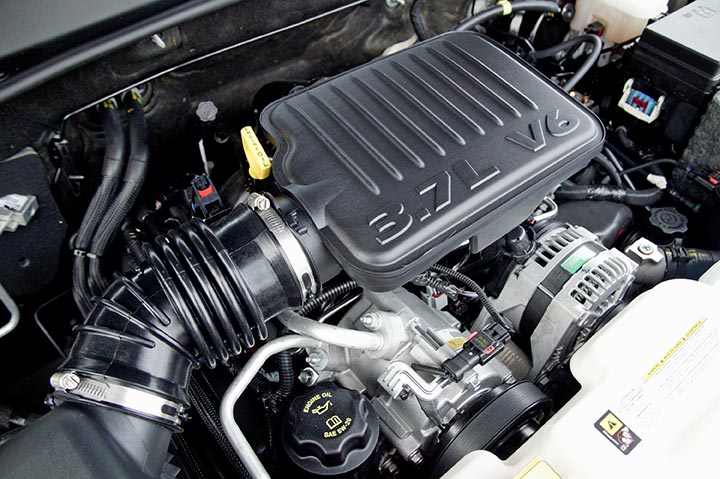 Regardless of model, the Nitro had a five-link rear suspension and an independent front suspension; some models had an optional performance suspension, with a heavier-duty sway bar and unique springs and shocks. It was stiffer but helped cornering. The front suspension used upper and lower A-arms, with coil springs and low-pressure shocks, with a standard antisway bar; the rear suspension had upper and lower trailing arms, a track bar, coil springs, anti-sway bar, and low-pressure shocks. Power rack and pinion steering was standard, along with four-way disc brakes (a drum-in-hat design preserved the parking brakes). Wheels were 16, 17, and 20 inches.
The four wheel drive system varied with the transmission: manual transmissions got a part-time system, and automatics got either a part-time or a full-time system. The torque split on the part-time setup was 50/50, while the full-time four wheel drive setup was split 48/52 with a planetary center differential.
The Nitro was exported to Europe, using a common-rail diesel engine, with differences to the bumpers and backup lights, and added turn signal repeaters. These could run 0-100 km/h (around 0-62 mph) in 11.5 seconds with the manual and 10.5 seconds with the automatic, getting 22 mpg city from the manual and 19 from the automatic (highway was 32 mpg and 30 mpg, respectively). Because the numbers are created using different methods, they are not comparable with EPA figures. The diesel, supplied by Italian engine maker VM, was a 2.8 liter producing 177 horsepower and 303 pound-feet of torque.
Paint came in Sunburst Orange, Inferno Red, Light Khaki, Electric Blue, silver, black, and white.
Impressions
Even as rumors spread of Chrysler being spun off, Dodge released the new Nitro, pushing a new view of Dodge as bold and tough and "in-your-face"—and rejecting its old cars, especially the "cute" but potent Neon. This new attitude brought the chunky-style and slow (except in SRT form) Caliber; and it brought the Nitro. The Nitro's blocky appearance stood in strong contrast with the then-current Liberty, which was definitely rounded and styled to appeal more to women. The inside dropped the whole tough and bold thing with a Dodge-Avenger-style dashboard.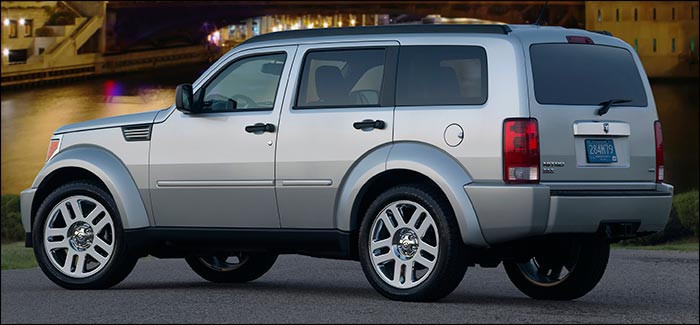 The bigger engine provided good power even at low revs, for quick gratification on the road; the 3.7 required a bit more revving and had a harder time with the heavy weight of the Nitro, but still did reasonably well; it sometimes needed a second downshift, with lots of noise. The four-speed transmission were smooth but could easily be induced to clunk by suddenly lifting the pedal from light acceleration. It adapted well to either gentle or spirited driving. Gas mileage was poor, though not much more poor than the competition. Certainly minivans had no fear of competition on that front.
The big square headlights, not only split the Nitro from the first-gen Liberty's round lights; they were also quite powerful. For whatever reason they kept the retro Jeep door-handles with their old-fashioned thumb buttons.
My impression at the time was that the Nitro had "a smooth, comfortable ride, good sound insulation, and quiet engine." The interior did look cheap, but the seats were comfortable. The climate control may have been the high point. The stereo dropped bass and treble knobs to save money. Sound was quite good, except for talk radio, which had too much bass. The SLT came with a trip computer, including steering wheel controls, providing compass, temperature, average gas mileage, and distance to empty; more importantly, still not too common in those days, you could use it to set your preferences for lights, door locking, and such, and to check on the tire air pressure.
The gauges, again, seemed like they were in the Avenger, clear and modern. Ride and handling were easily better than in the Liberty, given the lower center of gravity and differently tuned suspension. Cornering was better and the ride was smoother.
Big mirrors helped with visibility and folded away if needed; heated power folding mirrors were optional. The tested SLT included anti-theft, express power windows, AC outlet, wheel-mounted audio, six-speaker CD stereo, tilt wheel, garage door opener, 17 inch aluminum wheels, fog lamps, and the power heated foldaway mirrors as standard. Adding the part-time four wheel drive without low gear brought the price to $24,805.
Dodge Nitro Specifications
2007 Dodge Nitro
Measurement
Wheelbase
108.8 (2763.0)
Track, Front and Rear
61.0 (1549.4)
Length
178.9 (4544.0)
Width
73.1 (1856.9)
Height
69.9 (1775.8)
Approach Angle
25.6°
Breakover Angle
22.0°
Departure Angle
26.7°
Aero cD (cDA = 11.7)
0.39
Fuel Tank Capacity
19.5 gallons*
Maximum Payload
1,150 pounds*
Weight
3,932 – 4,151 pounds
Seating Capacity – F/R
2/3*
Front Head Room
40.6 (1032.1)
Front Leg Room
40.8 (1036.4)*
Front Shoulder Room
57.2 (1452.2)
Front Hip Room
56.8 (1443.9)
Front Seat Travel
9.0 (229.1)
Front Recliner Range
6.6° to 51.6°
Second Row Head Room
40.8 (1036.5)
Second Row Leg Room
37.7 (946.3)
Second Row Hip Room
47.4 (1202.9)
Cargo Behind Rear Seat
32.1 cubic feet
Cargo Volume (All But
Driver's Seat Folded)
75.6 cubic feet
Turning diameter
36.3 feet
* Identical measurement to Jeep Liberty
Follow us on Post! It's like Twitter, but without ads or Nazis!
Books by MoTales writer David Zatz
Copyright © 2021-2023 Zatz LLC • Chrysler / Mopar car stories and history.