That huge Chrysler—Everything We Make ad
Lynn Townsend took over the Chrysler Corporation in 1962. He inherited a company associated mainly with cars and trucks, and in the midst of a rather disastrous sales year; but Chrysler was also, historically, one of the strongest innovators in American industrial history.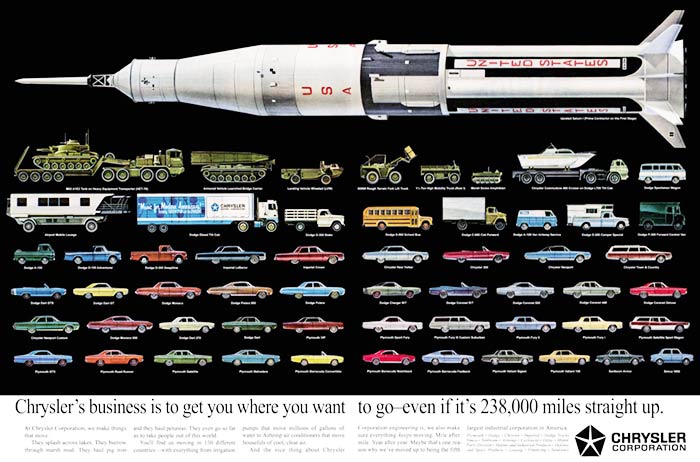 Some examples of Chrysler innovation: they developed air conditioners whose basic design dominated the industry for decades. Their labs had developed self-lubricating sintered metals; and their engineers had, with Lockheed, created the basic hydraulic brake design that was used for decades afterwards. During World War II, Chrysler had performed one seeming miracle after another, including making nuclear bombs possible. Those achievements brought Chrysler into military and rocket production, including construction of the Moon rockets and creation of their telematics—shown by the rocket at the top of the page.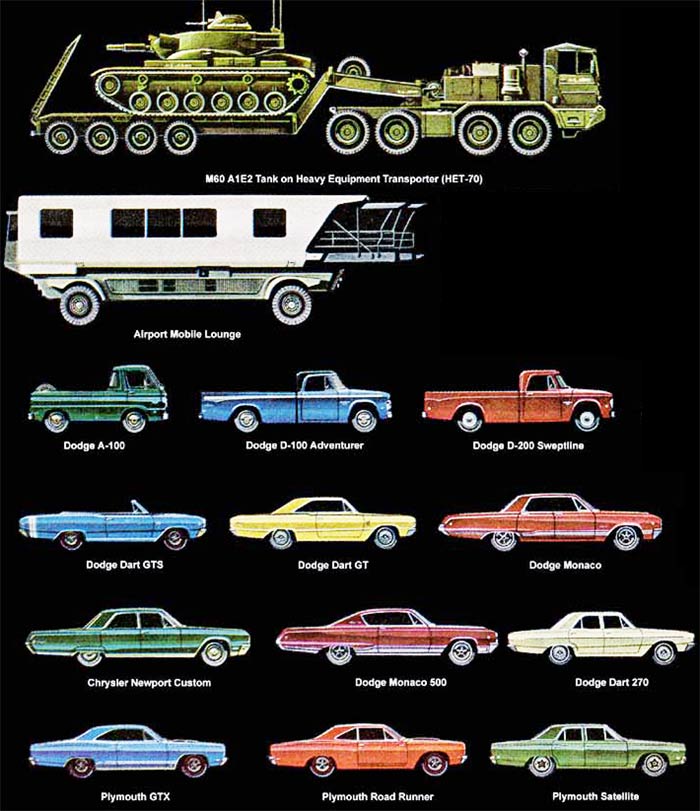 Someone, quite possibly Townsend himself, decided to picture a fairly large number of the company's products at once, in a single ad taking up two magazine pages. The ad pictured here ran in 1968. The text:
At Chrysler Corporation, we make things that move. They splash across lakes. They burrow through marsh mud. They haul pig iron and they haul petunias. They even go so far as to take people out of this world. You'll find us moving in 130 different countries—with everything from irrigation pumps that move millions of gallons of water to Airtemp air conditioners that move housefuls of cool, clear air. And the nice thing about Chrysler Corporation engineering is, we also make sure everything keeps moving. Mile after mile. Year after year. Maybe that's one reason why we've moved up to being the fifth largest industrial corporation in America.

The truck above refers to Chrysler's record album, "Music for Modern Americans!" The record was performed by Thurlow Spurr and the Spurrlows—a "Christian rock and roll" group which Chrysler sponsored for six years. They also sponsored the Lawrence Welk Show and Groucho Marx's You Bet Your Life.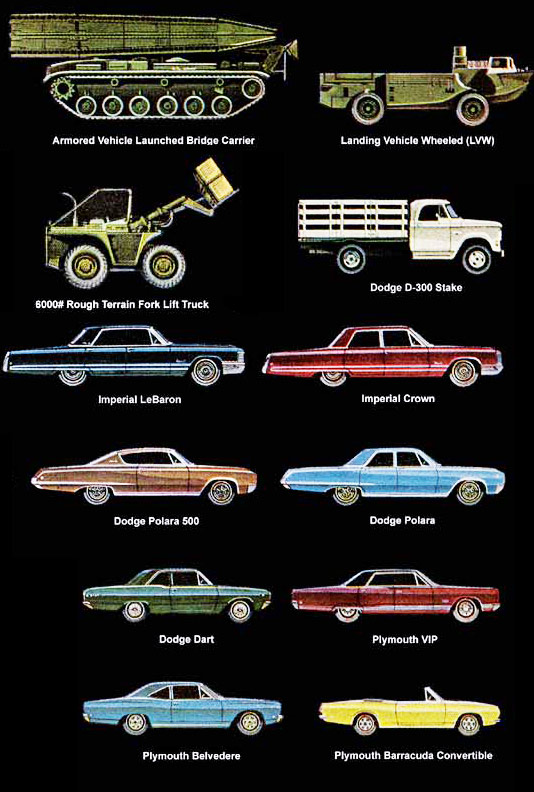 The list of brands at the bottom right of the ad is Plymouth, Dodge, Chrysler, Imperial, Dodge Trucks, Simca, Sunbeam, Airtemp, Cycleweld [brake pads—they'd invented the bonding technique], Oilite [sintered metal and bearings], Mopar Parts Division, Marine and Industrial Products, Defense and Space Products, Leasing, Financing, Insurance. They left out Amplex, their chemical company, and Chrysler Marine, which made power boats, sailboats, and outboard engines—the boats are still highly regarded today.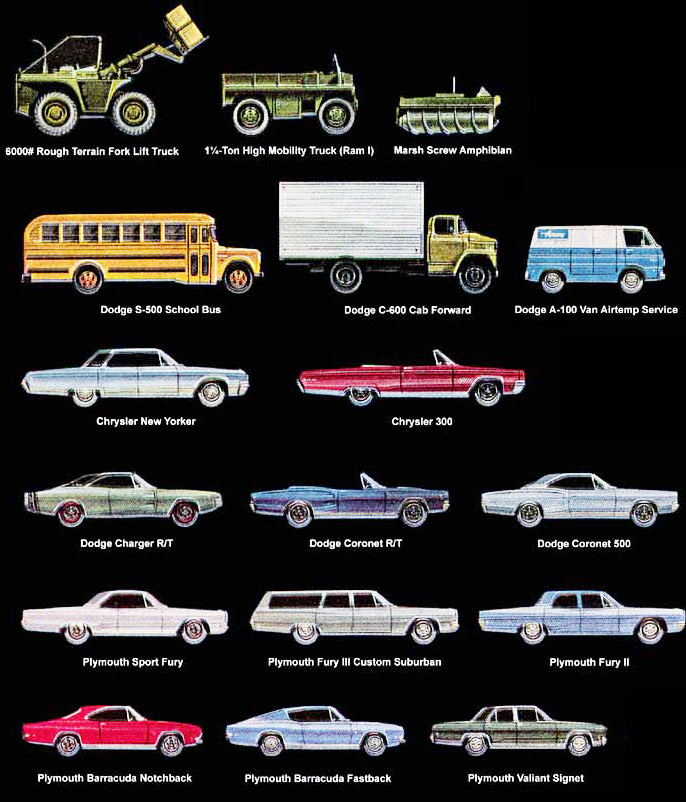 Just about every domestic car is on the ad, including the Dodge A-100 and the big rigs, as well as the Sunbeam Arrow and Simca. Humber was left out, though it had an American presence. This was just about the apex for Dodge Truck, which made school buses, RV chassis, and big rigs as well as A-vans (in their final year before being replaced by B-vans) and a full line of pickups.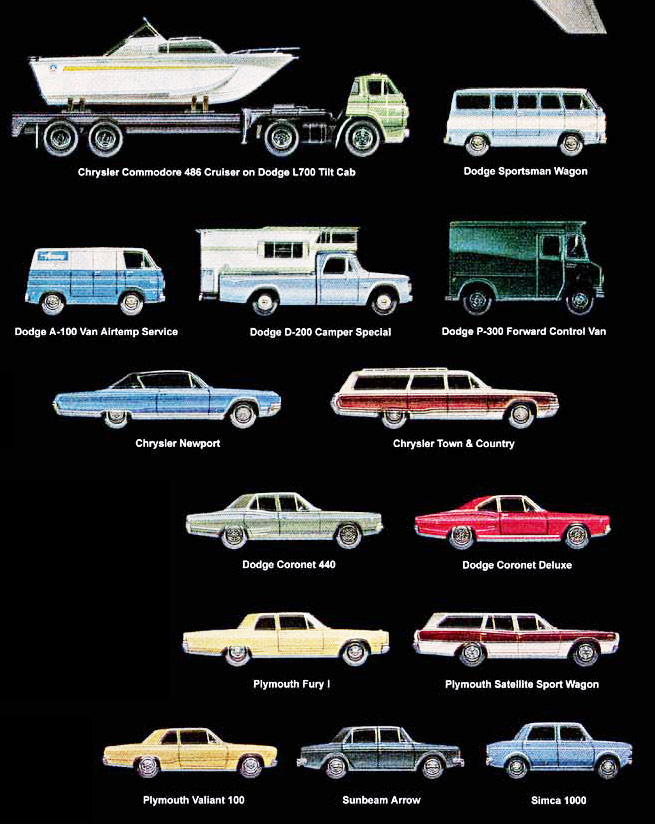 A single boat represents Chrysler's wide range of powerboats and sailboats, along with its industrial and marine engine lines; outboards were left out entirely. It seems like an odd omission when one considers the four Coronets, for example, none of which is shown towing a sailboat.
This one ad brought together many, but not all, of the company's domestic products at a time when, as a diversified industrial corporation, it was near its height. It was a time to be proud.
See other Chrysler materials •  If you are interested in buying brochures or press kits, see our writer's literature for sale list
Follow us on Post! It's like Twitter, but without ads or Nazis!
Books by MoTales writer David Zatz
Copyright © 2021-2023 Zatz LLC • Chrysler / Mopar car stories and history.