Chrysler cars, from the revolutionary 1924s to today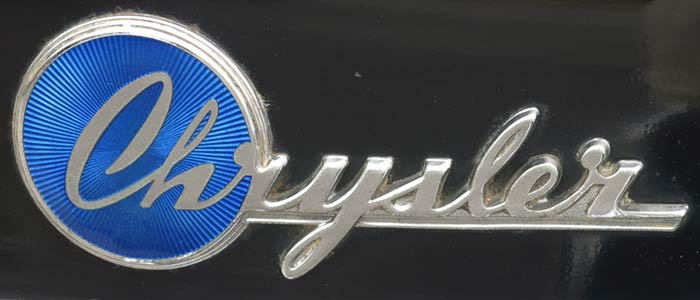 A brief history, followed by our relevant stories
Walter Chrysler started out as a mechanic in the train industry, but was rapidly promoted up to the executive suite. When he jumped ship to the auto industry, he gained some fame from quickly turning around General Motors divisions. Walter Chrysler then retired young, having enough wealth to do so, and the story may have ended there—but Willys-Overland had overextended itself, and its creditors lured Chrysler out of retirement with record-setting incentives.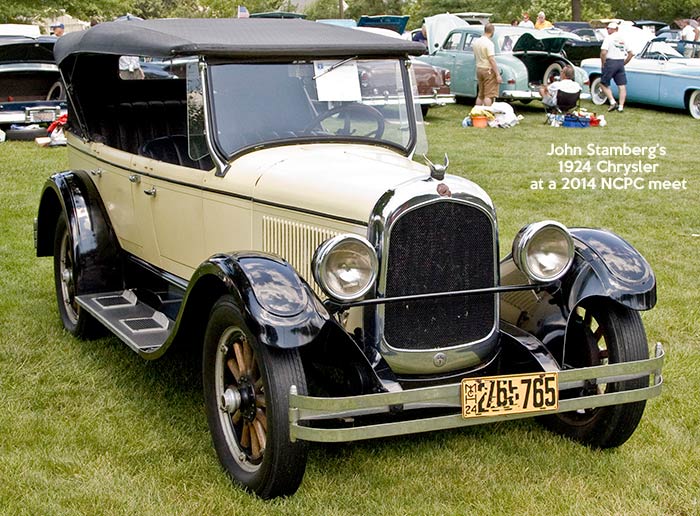 Walter Chrysler found three engineers who had bonded at Studebaker—Fred Zeder, Owen Skelton, and Carl Breer, together "ZSB" or "The Three Musketeers"—developing a new car at Willys. The engineers thought it would be vastly superior to Willys' current or upcoming cars, and Chrysler agreed; he decided to produce it under his own name at Willys' New Jersey plant. Then John North Willys regained control of the company—except for the New Jersey plant and the new car, which were bought at auction by General Motors founder Billy Durant, who had by then been tossed out of GM twice (but that's another story).
Chrysler retired again, but this time, Maxwell Motors' creditors asked him for another turnaround. Chrysler agreed, and quickly brought in the three engineers he had met at Willys. They fixed the Maxwell car's problems even as they developed a new car—the 1924 Chrysler B-70, made by Maxwell Motors. It was mid-priced, but had the features, engineering, and speed (70 mph) of a much more expensive car.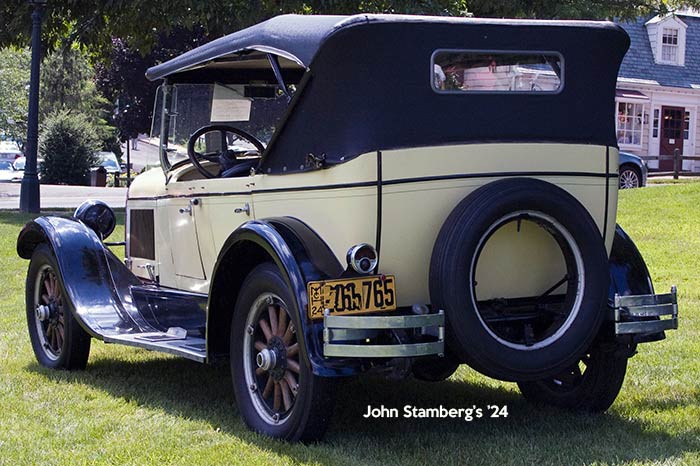 One key feature of the first Chrysler was four-wheel hydraulic brakes; nearly every other car had mechanical brakes, usually acting on only two wheels. The hydraulics were based on Lockheed ideas, and Chrysler gave the patents to Lockheed so other automakers would adopt the safer brakes. Another key feature was the six-cylinder engine, with a replaceable oil filter, carburetor air cleaner, and 25% higher compression than typical engines; the latter was possible because of a combustion chamber design with a "squish" area and optimized spark plug placement. The engine provided a respectable 68 brake horsepower on the extremely low octane fuel then available.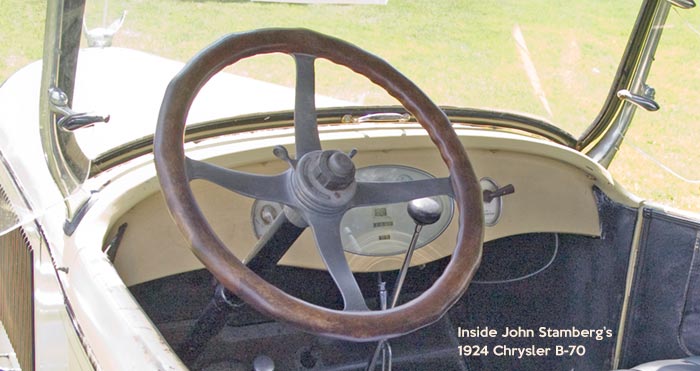 The new car was extremely popular, setting a record in its first year with 32,000 sales; in its first full year, 1925, Chrysler production was roughly 76,600, more than the roughly 55,000 low-priced Maxwells. In that year, incidentally, Chrysler created a holding company which purchased Maxwell and Chalmers—a complex way of changing Maxwell's name and dismissing some financial constraints.
In 1926 or 1927, the revised Maxwell was renamed to Chrysler 50 and Chrysler 52, and in that year, the combined Chryslers were the fourth best selling cars in America. A new car, the Imperial 80, was added, with an 80 mph top speed. In 1928, Chryslers took third and fourth place in Le Mans—and a new brand, Plymouth, debuted, taking the former Maxwell from Chrysler.

The 1929 Chrysler 75 added thermostat-controlled radiator shutters, an idea which has now returned (though under computer control). Chrysler was the first major company to adopt downdraft carburetors, also replacing vacuum tanks with fuel pumps and started wiring cars for optional radios, in the 1930 models. The 1931 cars featured Chrysler's first eight-cylinder (an inline design, not a V) along with free wheeling (coasting) and automatic spark control.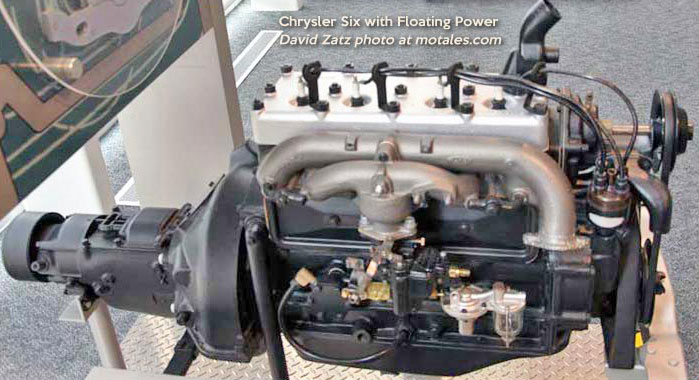 The 1932 cars brought "Floating Power," a combination of scientifically placed rubber engine mounts and springs. A new Chrysler invention, oil-impregnated sintered metal, was used for the first time in the '32 Chryslers; trademarked as "Oilite," the new type of metal was a major find, and remains in common use. Chrysler did a busy side business in sintered metals for decades (see Allpar for Oilite details).

Throughout the 1930s and into the 1940s, Chrysler claimed first after first. Many of these were part of the Airflow project, which was an engineering coup but a sales disaster, either because they were "ahead of their time" or, as Carl Breer said, "behind their time" (built too long after the public launch, giving competitors time for dirty rumors campaigns). The Airflow cars were still a major influence on European automobile design, and among other things pioneered "cab forward"  (pushing wheels to the very edges of the car), coordinating front and rear suspension designs, balanced weight distribution, and aerodynamics testing.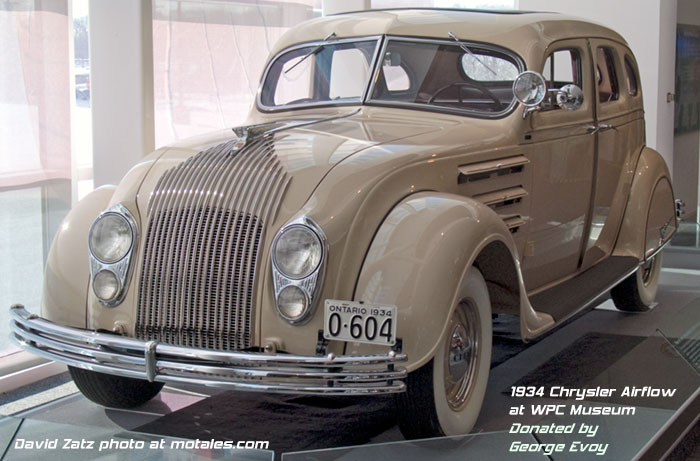 War production shut down car assembly from 1942 to 1946. They basically picked up in 1946 where they had left off, since the engineers had been entirely occupied with making guns, tanks, military trucks, airplane engine, radar units, and so forth. For 1949, the Chrysler Royal had the look of a wooden car body, thanks to a photographic transfer process which simulated polished mahogany; the process was used for car interiors for many years (and not only by Chrysler).
The 1950 cars brought rubber safety padding on the dashboard and the industry's first electric windows; 1951 brought the world's first full-time power steering as well as the new FirePower V8, Chrysler's first Hemi engine. It was the most powerful U.S. production car engine for a time, with 180 horsepower, beating even Cadillac—and starting the horsepower wars which continued until the era ended with a thud in the early 1970s. The company's first true automatic transmission, a two-speed, was introduced for the 1953 cars, well behind GM and Ford's automatics. The 331 cubic inch V8 stayed at 180 bhp through the 1953 model year, and when other makes started catching up, Chrysler started increasing its "double rocker's" output.

The first of the Chrysler 300 "letter cars" was the 1955 C-300, the only stock car of its time with 300 horsepower (gross rating) coming from its 331 cubic inch Hemi V8. The series continued with the 1956 300B (340 hp from 354 cid); it had an optional high-output 354 engine which was America's first production engine to beat one bhp per cubic inch, at 355 brake horsepower. GM claimed this "first" for one of its 1957 engines, just one year after Chrysler nailed it—the GM engine was also optional. The first car with a standard one-horsepower-per-cube rating, by the way, was Chrysler's DeSoto Adventurer.
Electronic fuel injection (from Bendix) appeared briefly in the 1958 model year, but they were all recalled and most were replaced by carburetors. It would be over a decade before electronic controls could stand up to the heat and vibration under the hood. A small number of fuel injected cars escaped the recall, and at least one has been painfully restored to working condition.

The 1957 cars were a reliability disaster, with early rust, bean-counters insisting on cheaper parts, and many other problems. While this was mainly due to a rush to production and insufficient testing, the company resolved to put each car through rustproofing baths—but doing this with body-on-frame cars was nearly impossible. As a result, Chrysler pushed all its cars to unibody construction (most kept a stub frame due to assembly-line limits); and the 1960 cars were, except for some low-production models such as station wagons and Imperials, unibodies. The bodies were strong enough to be dragged through the rustproofing baths, and had extra stiffness for better cornering afterwards. At this point, the corporation had three basic car bodies, which were assigned codes later (and retroactively). The smallest cars were the A bodies—the Valiant and, after a short delay, the Lancer (later to be renamed to Dart). The midsized cars—the ordinary Plymouths—were B bodies. The big cars were C bodies, and would be until the 1970s. From the early 1960s on, there would be considerable overlap between Plymouth, Dodge, and Chrysler, but generally Chrysler had the biggest bodies in this "buying cars by the pound" era. The first Chrysler to be a B-body was still some years away.
The 1960 300F gained a 375-hp engine with "ram induction,"  where the intake runners were tuned to provide a supercharging effect. Two new Chrysler options were vacuum-powered door locks and swivel seats. Brand new bodies joined the Chrysler line in 1965 for the first time since the 1960 models; they had a longer wheelbase and better corrosion protection from galvanized sills and full front wheelhouses. The 1966 models had the first independent rear heater, which defrosted or defogged the rear window as well as providing more heat.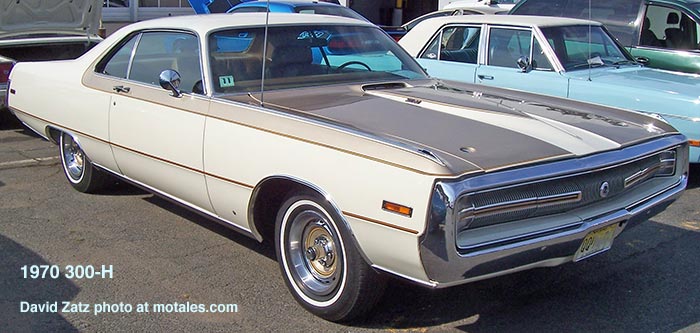 In 1971, net horsepower ratings were published for the first time; in 1972, gross horsepower figures were no longer published. It looked to many as though power had dropped by 30-50 hp, but in reality it was a difference in how the numbers were measured, easily seen by looking at the 1971 figures for gross and net power (the only year both were reported). The fuel crisis of 1973 would prove fatal to the bigger-is-better philosophy, and the 1975 Cordoba ushered in the B-body (intermediate sized) Chrysler. In the 1980s, Chrysler badges ended up on compact cars as well—albeit with more chrome, fancier options, and in some years, substantial bodywork changes. They usually shared engines, and some were rather odd—the Chrysler Executive and Limousine of the 1980s in particular, with their Mitusbishi four-cylinders and extended bodies. The first year of the Chrysler Town & Country minivan was differentiated almost entirely by its "waterfall" grille and leather-covered seats.
Chrysler continued on with various degrees of differentiation, sharing nearly everything with Dodge and sometimes Plymouth, but usually with higher level trim and more exterior chrome; the design studios adopted waterfall grilles for Chrysler to set their cars apart, while Plymouth moved to "egg-crate" grilles and Dodge went to horizontal slats. In the late 1990s, Chrysler gained two unique large cars, the LHS and 300M; the 300M was to be an Eagle Vision until the last minute, when Eagle was shut down and the Vision was moved to Dodge. It was the smallest LH-body car, designed mainly for European sale, but also with lower weight than the other LH cars; that and a standard high-output (250 hp, net) engine made it the quickest LH car by far. This may be the only time a Chrysler was smaller than the equivalent Dodge (Intrepid)—but they also sold a longer-than-Dodge version, the LHS.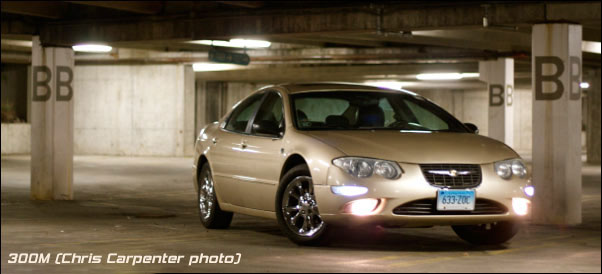 Through design chief Tom Gale, Chrysler was seeking its "look" and its niche with a series of concept cars throughout the 1990s. Dodge took after the Viper; Plymouth was starting to take after the Prowler, with the PT Cruiser as the first mainstream version of this idea. Daimler took over Chrysler in 1998, and Plymouth was shut down in 2001, with the PT Cruiser going to Chrysler instead. With Mercedes in the mix, Chrysler's top end was fixed—below Mercedes—but the bottom end dropped, encompassing inexpensive mass-market compact cars (PT Cruiser) and value minivans (Voyager, base model Town & Country). The company even gained its first-and-only truck-based SUV, the Chrysler Aspen—based on the Dodge Durango. (It also had its first crossover during the Mercedes years, the original Pacifica, which was a far more impressive effort—and which was unique to Chrysler.)
In 2007, Cerberus took over, removing Chrysler's ceiling to a degree; but the brand had been hurt by years of neglect and the Plymouth cars. The 2009 Fiat takeover was promising at first, with Chrysler cars pushed up and sold in Europe under the Lancia brand, but then Fiat Chrysler withdrew Chrysler cars from Europe almost entirely.

By 2020, Chrysler had exactly two cars, the 300 and the Pacifica (also sold as the Voyager), and was mostly confined to North America. Ironically, Chrysler ended up as the only Stellantis brand with a minivan—ironically because it took years for Chrysler to get a version of the Plymouth and Dodge minivans.
The merger with Peugeot (PSA) brought a new attitude. Stellantis' leader, Carlos Tavares, said they would make a full investment in Chrysler, and re-evaluate it after ten years. New Chryslers are being developed; the Airflow concept car is likely the first to show up, albeit in 2023 or 2024. It appears that the choice of keeping Chrysler alive will be up to American and Canadian car buyers—if they buy, Chrysler will keep going; if they do not, it will have enjoyed over a century of life, which is not a bad run.
All of our Chrysler car stories so far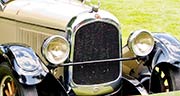 Chrysler 1925: The first (or second or 31st) year
Possibly the most advanced car of its day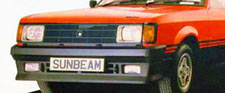 Chrysler Sunbeam: winner of the rallying championship
An Avenger variant

1970 Chrysler 300-H
(300 Hurst)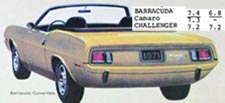 What did buyers think of the 1971-73 Mopar cars?


1971 Dodge, Plymouth, and Chrysler cars
All the '71s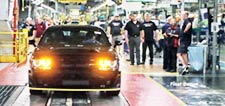 Brampton: Making big Mopars
Home of the Charger, Challenger, and 300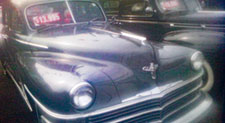 Car Spotter: 1948 Chrysler Windsor and 1940 Dodge at a Newark used car lot
Classics in an odd spot
---
Follow us on Post! It's like Twitter, but without ads or Nazis!
Books by MoTales writer David Zatz
Copyright © 2021-2023 Zatz LLC • Chrysler / Mopar car stories and history.