Cycles, luxury, Chrysler: Humber, "the Rolls-Royce of compact cars"
Humber started out as four-wheel bicycles with single-cylinder engines and rose up to near-luxury, with a solid reputation and a mention in a Who song (albeit not a flattering one: "He can pick you up in his clapped-out Humber/I just hope it gets you home"), finally disappearing as part of Chrysler Europe.
In 1868, Thomas Humber began to make bicyles in Sheffield, once globally known for the quality of its steel. Humber was successful enough to build more factories in Beeston, Coventry, Nottingham, and Wolverhampton; he started experimenting with tricycles and quadricyles, and by 1899 had put his first car, the Beeston-made Phaeton, up for sale. It boasted all of 3.5 horsepower.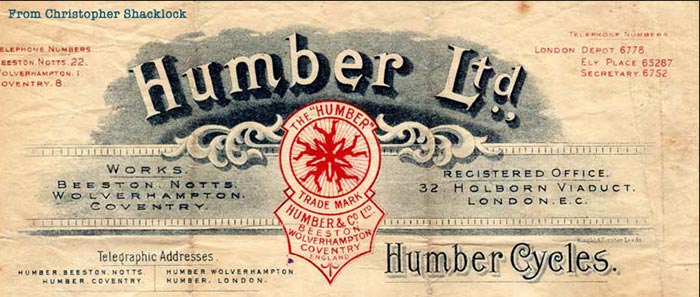 The turn of the century (1901) brought the Voiturette ("voiture" being French for "car.") Next came the 1903 Humberette, which used a tubular frame and boasted a more powerful engine than the Phaeton—pushing five horsepower out from its single cylinder. He had already started working on bigger engines, though, and in the same year his new car factory in Coventry and the old Beeston plant were producing cars powered by a variety of two, three, and four cylinder engines going up to 20 horsepower four-cylinders. The Beeston plant was shut down in 1908 to save money, and the chief engineer was hired away by Coventry rival Hillman. The Humberette name was attached to a new air-cooled V-twin-powered car, starting in 1913.
Humber tried to make a name for itself in racing, spending £15,000 to field three racing cars designed by dual overhead cam 3.3 liter four-cylinder engines, for the 1914 Tourist Trophy race, but failed to make a name for itself.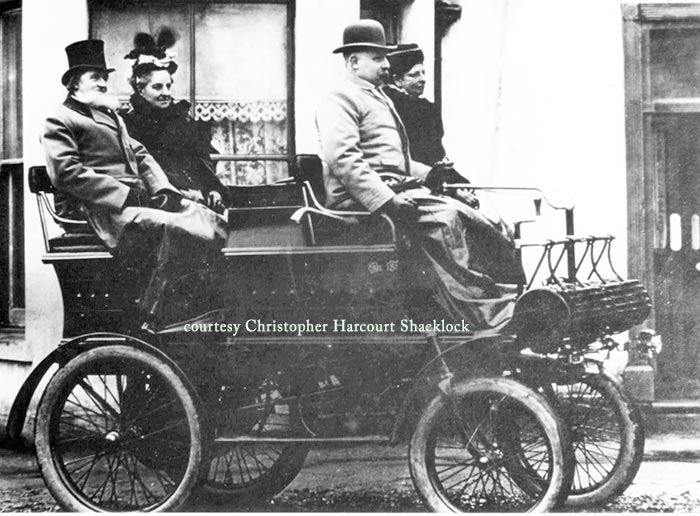 During World War I, Humber, like many others, made weapons and aircraft engines; afterwards, they appeared to have had the good fortune to be paid by the government for their work, and established themselves as makers of serious, reliable cars with side-valve engines. In 1922, they switched to an overhead inlet and side exhaust for their side-valve engines; the 1923 8/18 was a light, refined, sporty car with a 1-liter engine. It was followed by the heavier 9/20, whose added power didn't compensate for the weight. Still, Humber sold well at a time when reliability was key to auto buyers'  needs; they sold over 4,000 vehicles per year during the late 1920s, moving up to a peak 55 horsepower.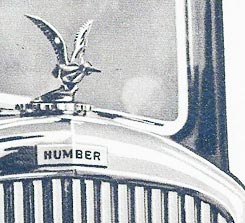 Flush with success, Humber bought Luton-based commercial-vehicle maker Commer. That may have been extremely ill-timed; Humber could not survive the Depression alone, and merged with Hillman. That only put off the inevitable; one year after the merger, Rootes Group purchased both. In the Rootes scheme of things, Hillman would be a low-end mass producer, while Humber would make more upscale cars, still mass produced but sturdy, reliable, and nicely equipped. Rootes brought out two new Humber six-cylinder engines, the 2.1 liter and 3.5 liter; the latter was used in the Humber Snipe, a nameplate which was to last quite a while. A little 12-horsepower four-cylinder was launced in 1933, but this didn't quite fit and was dropped a while later, leaving Humber with only six cylinder cars. A 4.1 liter version of the Snipe was dubbed the Super Snipe, another Humber name that would stick around for many years. Bodies were made by Pressed Steel, Ltd.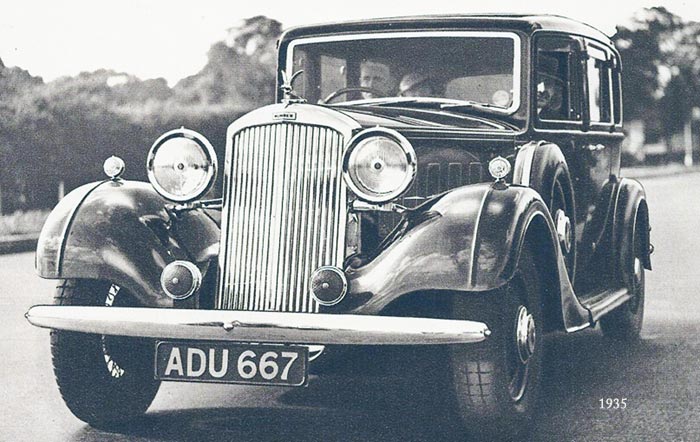 During the war, Humber's main claim to fame was two-fold; Lord Rootes lent his personal Humber and chaffeur to Winston Churchill, who was frequently seen in it; and General Montgomery's command car, "Old Faithful," was a Humber Command Car. Humber also made Scout Cars, radio trucks, and Armoured Cars; the latter had a 37 mm main gun and a coaxial machine gun. Some of the radio trucks were converted to become personnel carriers for the German occupation, kept in use through the 1960s. Eventually Humber trucks, which were relatively easy to drive, even saw duty in the Northern Ireland conflict. They had a 4x4 setup, but it was reportedly not very effective in off-road settings.
The Postwar Humber
After World War II, Humber had many nameplates, but only one core body until the 1960s. This body was the prewar Hawk—which itself was based on the Hillman Fourteen. The interior was distinguished with features such as fingertip gear control (a prewar innovation) which replaced gearshifts, and a polished walnut instrument panel.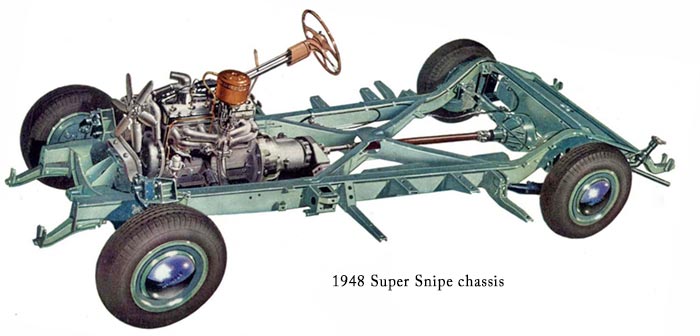 Thus, when postwar production started, Humber had:
Hawk, a modified and elegant version of a pre-war Hillman
Snipe and Super Snipe, essentially the Hawk with prewar six-cylinder engines (100 bhp, 249 cid)
Pullman, an extra-long-wheelbase limousine version of the Super Snipe.

The Pullman was quite well equipped for the time, with 12v electricals, sealed beam headlamps, reverse lights, turn signals, dual horns, instrument illumination, twin electric wipers, courtesy and interior lights, and underhood light all standard. The tool kit included a tire pump. Overall, this car had a 3.3 meter (nearly 11 foot) wheelbase, and overall length of 5.3 meters (17.5 feet) and weighed, with fluids but driverless, 4,613 pounds. The 1948 Super Snipe, in contrast, was 4.8 meters (187.5 inches) long, with a 3-meter (9.8 feet) wheelbase; it weighed 3,850 lb. Both used Borg and Beck manual four-speed transmissions, synchronized in all forward gears.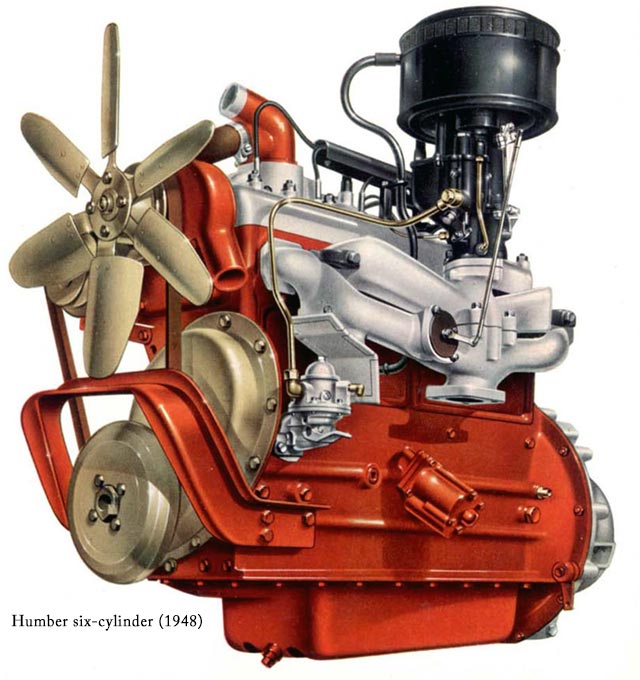 As happened around the world, the company started working on new cars at the close of the war; they were ready for the 1949 model year. These included the Hawk, which gained Ray Lowey styling (which would carry it all the way into 1957); the Super Snipe, which was restyled, enlarged, and given a larger six-cylinder engine; and the Pullman, which was essentially the same but restyled.
The 1949 Super Snipe had a 162 cubic inch engine good for 123 bhp, using overhead valves, hemispherical heads, an 8:1 compression ratio, and Stromberg downdraft carburetor with a manual choke.

In 1950, Maurice Gatsonides and the Baron van Zuylen de Nyvelt, having chosen the car for not being sporty, won second place in the Monte Carlo Rally in the Super Snipe; and in 1952, a Humber Snipe set a record for driving from London to Cape Town (in 13 days and 9 hours). The 1952 Super Snipe gained a longer wheelbase (though it was still based on the 1948 Hawk) and Ray Loewy styling; the Snipe itself was dropped after 1948, leaving just the Super Snipe. Along the way, an Imperial version of the Pullman, with seven seats, entered the market.
The old overhead-inlet, side-valve engines were replaced with overhead valve engines in the 1953 Super Snipe and 1953 Pullman; the latter also gained a synchronized gearbox. For 1954, the Hawk gained 70 horsepower 2.25-liter four-cylinder with an optional overdrive—and the Pullman had its final year. The Super Snipe ended after the 1957 model-year.
For 1957, the final brand new "true"  Humber was launched: a new Hawk, using unit-body construction. The Hawk would keep this body until its final year, with just one late facelift.
The Super Snipe was brought back in 1959, using the new Hawk body, but with a new 162 cubic inch six-cylinder engine—which had to push a 3,534 pound body (including fluids but not the driver). Humber had fallen behind most competitors in terms of standard features, but they made up for it with the updated 1961 Humber Super Snipe, the first British car with quad headlights; it also had optional air conditioning, and the engine was upgraded considerably for durability (with the same rated power), with better bearings, lubrication, and cooling; and a quieter fan. The sedan version cost £1,488 in the UK and $4,000 in the United States—again, very expensive, and mainly distinguished by interior trim and ride.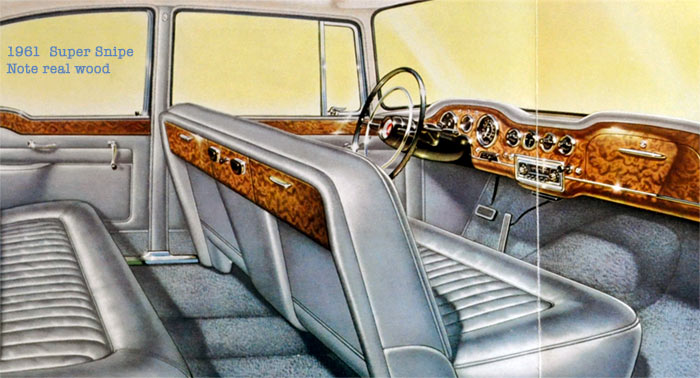 This was succeeded by the 1961 Super Snipe, with a larger 3-liter (2965 cc) six-cylinder "Blue Riband" engine which had manually adjusted rockers, a Stromberg down-draft carburetor, automatic choke, inlet manifold drain (for excess liquid gasoline), dual valve springs, and duplex timing chain. This was all connected up to a four-speed gearbox, synchronized in all forward gears. Output was (depending on the 1961 source material) 121 or 129.5 bhp and 162 pound-feet of torque, with a low 8.0:1 compression ratio; the design was fairly conventional, using opposed overhead valves activated by pushrods.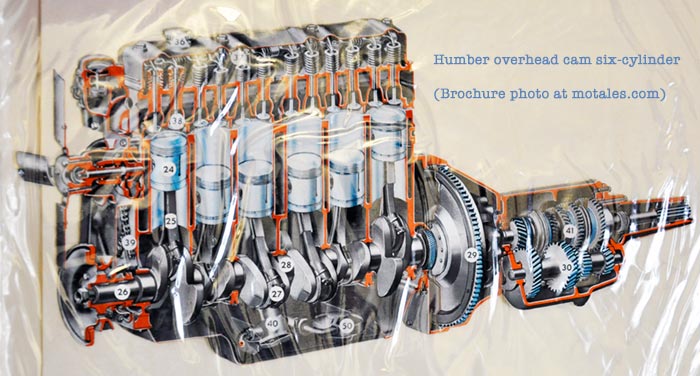 The Super Snipe came with a generator, but this was later replaced by an alternator; and the manually adjusted valves were replaced by hydraulic ones. The car still had a starter button, rather than a key turn, operated by a Lucas Electric solenoid. This was advertised in the brochure, rather than coming with a warning label. Despite the weight of the car and relatively small size of the engine, 60 mph came in 14.3 seconds, with a 19.5 second quarter mile time. In addition, higher-rated coil springs were used up front, and wider leaf springs in the rear, for better stability; the floor structure was reinforced and sound insulation added to improve ride and quietness. The seats were redesigned for more space in front and rear (2.5 more inches of legroom), though the rear seating was reportedly not as good as before. The heater and lighting controls were backlit, and a fresh air ventilation system added; front disc brakes were made standard.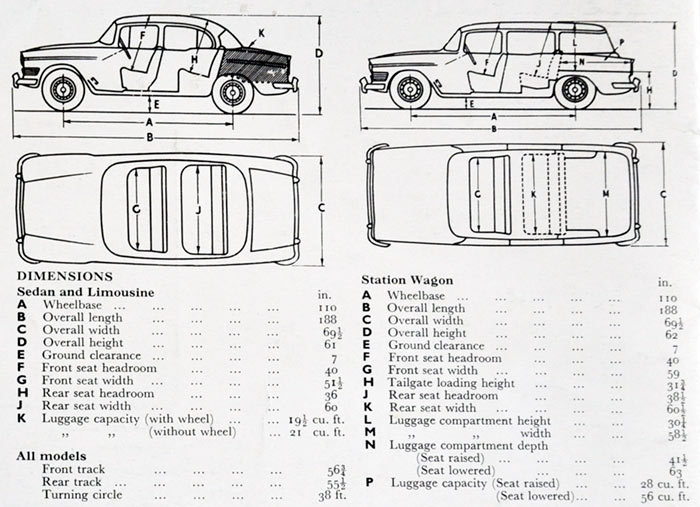 Autocar found the engine to be extremely smooth, and to return over 20 mpg if driven with restraint (and the overdrive); they praised the Girling front disc brakes and power boost, claiming they could not induce brake fade under severe use.
It was a very expensive car with a fine interior and ride, but low power and small size by American standards; like the Hawk it was based on, the Super Snipe lasted all the way into the 1967 model year.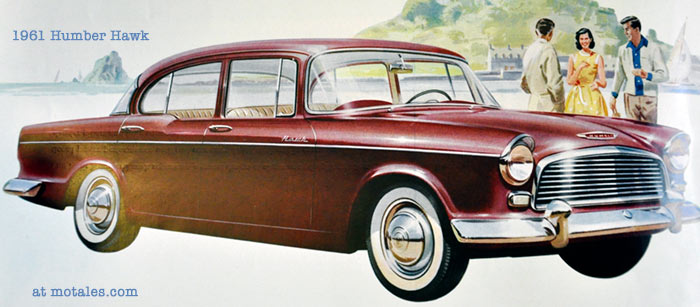 The 1961 Humber Hawk also gained, with an oil pressure gauge and ammeter; and windshield washers—all of which were already in base model cars from other makers. Other modifications included higher tire pressure and lower-friction bearings at the king pins to lighten the steering; an updated four-speed manual gearbox with better synchronization and smoother shifting; standard front disc brakes and larger rear drums, with standard power assistance; a stiffened underframe to improve the ride, and more sound insulation to keep it quite; revised shock absorbers, front springs, and roll bar, and wider leaf springs in back.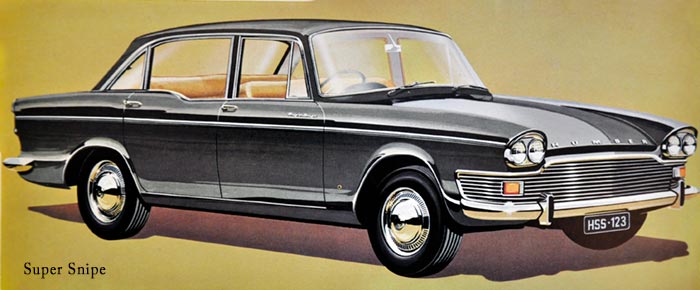 Unbelievably, for an English luxury car, a heater had not been included in the past; it was now standard, and the controls were backlit. It was still powered by a 2.25 liter four-cylinder engine, and the wagon advertised 28 cubic feet of luggage space (56 cubic feet with the rear seat down). The Hawk sedan was sold in four single-tone colors and four two-tone combinations; the Estate Car (wagon) was sold in two colors, Smoke Green and Charcoal, with four two-tone options. (The Estate Car body appears to have been identical in Hawk and Super Snipe models, with the engine and trim differentiating them.)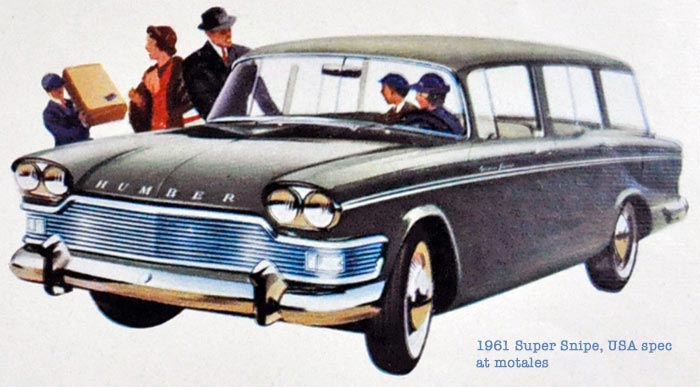 Rootes started foundering; the company had made many questionable decisions over the years, and had a needlessly complicated product line. Money spent buying and dismantling companies could probably have been better spent on rainy day funds and increased product investments. Chrysler Corporation, looking to expand beyond the United States once again, had two tools: the 1960 Valiant, which was their first Europe-sized vehicle in many years, and acquisitions. They started buying heavily into Rootes Group in 1964, providing the money Rootes needed to keep going—and, later on, providing much more.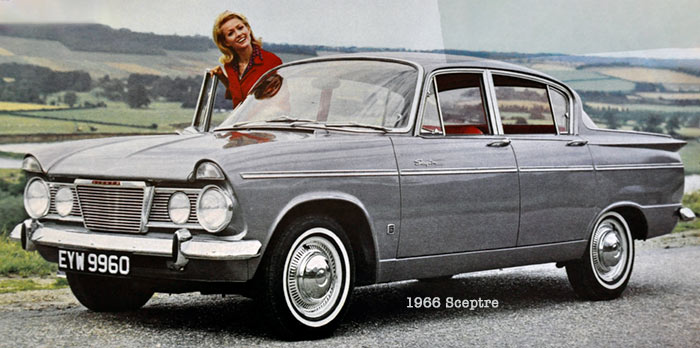 With the extra cash, Humber expanded, putting in a version of the Hillman Super Minx—the 1966 Sceptre, launched in late 1965 with a new 1.7 liter engine coupled to a standard overdrive manual or an optional automatic. The engine had peak output of 91 bhp and 106 pound-feet of torque, with 9.2:1 compression; it had a Solex compound carburetor and light alloy manifold. That compared reasonably well with the bigger six, given its lighter weight of 2,410 US pounds (1,100 kg or 1.1 English tons). The car was just shy of two feet (21 inches, to be precise) shorter, bumper to bumper, than the Super Snipe.
The car was a unit-body design with fully independent coil springs and swinging links up front, wtih a sway bar between the lower links. The rear suspension was the usual leaf springs. Brakes were disc up front, drum in back, with power assist. The car was 167 inches long, 64 inches wide.

Thanks to the Chrysler investment, the Hillman and Humber lines were carried by Chrysler Australia, which had a wide distribution network (largely grown from Valiant sales). The LA-series 318 cubic inch Chrysler V8 was reportedly adopted as a premium option in the Humber Super Snipe and Imperial, though this cannot be confirmed at the moment, and the "magnificent" (in Rootes' words) 3-liter six from the Super Snipe (with the 137.5 horespower dual-carburetor option) was still the standard engine.
The Humber line at this point already had three-point and two-point (lap) seat belts as options; the three point belts used a single strap, similar to modern designs. The Imperial, an extra-long wheelbase version of the Super Snipe, continued; its body was built by Thrupp and Maberly.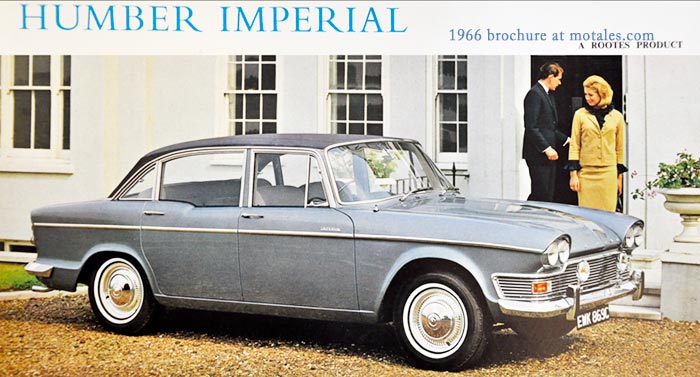 The final true Humbers were produced in 1967—the last of the Super Snipe and Hawk. That was also the end of the original Sceptres, which ironically had been meant to be sold as Sunbeams; a final new Humber, the 1968 Scepter, entered showrooms. This was the most well-appointed version of the Hillman Arrow one could conceive of, with an extremely lavish interior and every option they could find. The Scepter carried on, alone, until 1976; then, Chrysler consolidated the brands into one, that is, Chrysler. Rootes had been bleeding cash for years; selling small numbers of many nameplates had not worked. Perhaps sales would have been better if they had put everything under the Humber or Hillman or even Singer names; but they called all their new cars Chryslers. Not long after, Chrysler itself was in dire need of cash, and they sold Rootes Group with the highly profitable SIMCA; Peugeot, the new owner, renamed the Chryslers as Talbots.
Humbers of the United States and Canada
Humber tried selling in the United States in 1946. They started out with four cars we have already seen to be closely related:
Humber Hawk (56-horsepower 2-liter four-cylinder)
Humber Snipe (65-horse six-cylinder)
Humber Super Snipe (100-hp six-cylinder; optional 137.5 six-cylinder)
Pullman (100-hp six-cylinder plus extra-long wheelbase)
The series was updated in 1949, with a wider body, new coil spring front suspension, and major cosmetic upgrades; the engines remained, coupled to a new four speed manual transmission. During these years, sales were in the mere hundreds (at best). Prices were high, running from around $1,950 up.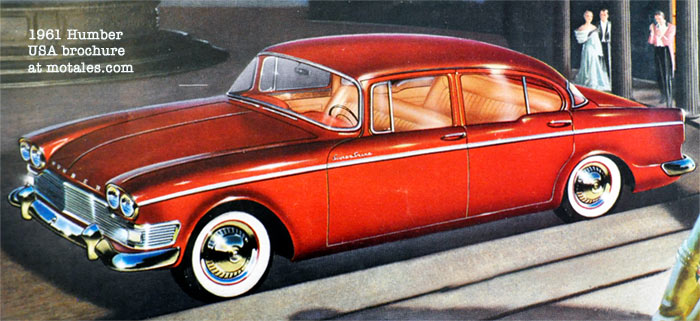 By 1961, they had somehow established over 900 dealerships, from New York to California, from Québec to Vancouver. They brought out a restyled series of cars that year, now with standard disc brakes; in their introductory press release, they referred to Humber as "the Rolls Royce of the compacts." The quad headlights were, the release claimed, part of an effort to make the car friendlier to Americans, along with the automatic transmission (also added to the Hillman), rollup windows on the Sunbeam Alpine, and a year-long warranty on all Rootes Group cars.  
US Sedans
1961 Humber Super Snipe
1961 Chrysler Newport
Length
110 wheelbase
187.5 length
122 wheelbase
215.6 length
Width x height
69.5 x 61
79.4 x 55
Headroom F/R
40 / 36
38 / 38
Luggage capacity
19.5 cu. ft.
33.0 cu. ft.
Engine
I-6, 181 cid, 130 hp
V-8, 361 cid, 265 hp
Transmission
Borg-Warner automatic
Chrysler automatic (opt)
3-speed manual
Rear axle
Hypoid; 4.55:1
Hypoid; 2.93:1
Construction
Unit-body
Unit-body
Suspension
Independent coil spring front;
leaf springs rear
Torsion bar front;
leaf springs rear
Wheels
6.7 x 15
8.0 x 14
Brakes
11 3/8 in front disc;
11 in rear drum
11 inch drum
Power optional
Front seats
Bench
(optional reclining split)
Bench
(optional power split)
Steering
Manual; power optional
Power
Curb weight
3,534 lb
3,710 lb
Price
$3,995
$2,964
Other than frequent restylings, Humber revived the Imperial name, which had been used by Chrysler for decades; the Humber Imperial was a custom made luxury car based loosely on the Super Snipe, adding Connolly leather, Wilton carpets, an upgraded suspension, and rear audio, interior lighting, and heater/defroster. The Imperial started at $5,300, which placed it between the Super Snipe sedan and wagon; it weighed 3,571 lb. Humber built around 2,300 Imperials from 1965 to 1967, for sale around the world; the number sold in North America is unknown. Regardless, the Humber Super Snipe offered deep pile carpet, center pull-down armrests for both front seats, full length tables for the back seat, and true burl walnut wood trim.
Humber, like Monteverdi, Bristol, Jensen, and others, made a luxury car which in many ways was superior to the massive Cadillacs and Lincolns which sold so well; but they all failed to get into the popular culture, as the less-reliable Rolls-Royce did. Humber finally called it quits in 1967, after bleeding a great deal of red ink; at that point the company essentially gave up on all the cars it was selling in North America in any case. It was a sad end to a distinguished brand.
Sources: Humber literature; Allpar
Current and future
Follow us on Post! It's like Twitter, but without ads or Nazis!
Books by MoTales writer David Zatz
Copyright © 2021-2023 Zatz LLC • Chrysler / Mopar car stories and history.