2025 Ram 1500: Powerful Pickup Trucks Without V8s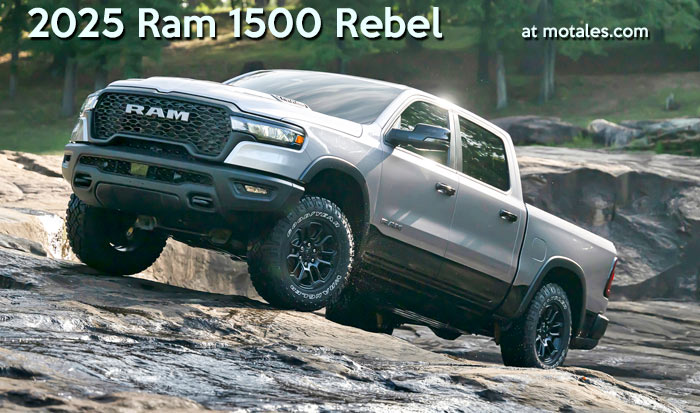 The original Dodge Brothers trucks had no V8 option; nor did the first Dodge pickups. Then the V8 came, and for many years it was more of a luxury item in light-duty pickups. Then it became de rigeur—until, in the 2025 Ram 1500, the V8 left again. In its place was the 3-liter Hurricane which debuted last year in the Jeep Wagoneer, producing more power than the old 5.7. A new option, the high output Hurricane, outpowered the old 6.4 SRT V8 which wasn't available in the 2023 Ram 1500.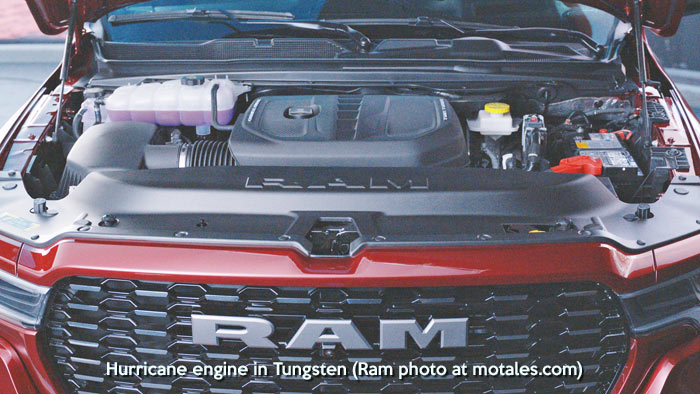 The new engines have fewer holes, but more power (except the Hellcat-powered TRX) and better fuel efficiency. Two electric trucks, the all-battery REV and the battery-with-range-extender Ramcharger, flesh out the lineup with instant torque and enviable acceleration.
While the straight-six engines are taking most of the headlines, economy buyers can still opt for the well-proven 3.6 liter Pentastar, with a mild-hybrid setup that can mainly be ignored as it mostly support the stop-start system. The Hurricane has been dubbed SST, for Straight-Six Turbo, as well; the normal one produces 420 hp and 469 lb-ft, while the high output is 540 hp and 521 lb-ft.

The 2025 Ram 1500 boasts a maximum towing capacity of 11,580 pounds, a maximum payload of 2,300 pounds, and up to 24 inches of water crossing (in the Rebel). A new premium model, the Tungsten, joins the Tradesman, Big Horn/Lone Star, Laramie, Rebel, Limited Longhorn, and Limited. The high output Hurricane is likely to wait until a new Ram 1500 RHO (due in Q3 2024), which rumor claims may have the suspension modifications of the TRX to seriously challenge the Ford Raptor.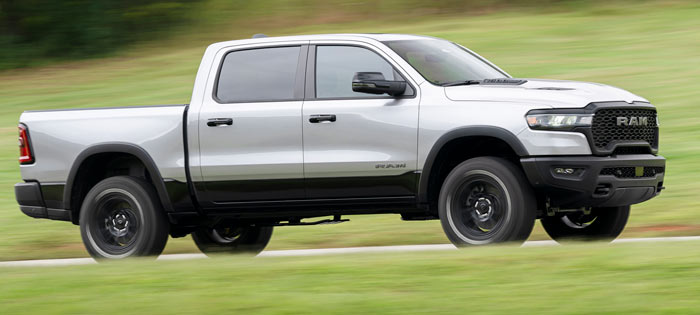 Built in Sterling Heights, Michigan, the 2025 Ram 1500 should arrive in dealerships in the first quarter of 2024. Pricing will be announced closer to that time. The Ram Classic is expected to leave production at around the same time; that one is made in Warren, a stone's throw from Sterling Heights, in the same plant as the Wagoneer.
Drivetrain: Hurricane SST, Pentastar
The Hurricane engine is a deep-skirt cast-aluminum block with a structural aluminum alloy oil pan. Hailed as the strongest Ram engine ever, it uses cross-bolted steel main bearing caps to contain the forged steel crankshaft and connecting rods. During manufacturing, the block is deck-plate honed to optimize the cylinder bore shape.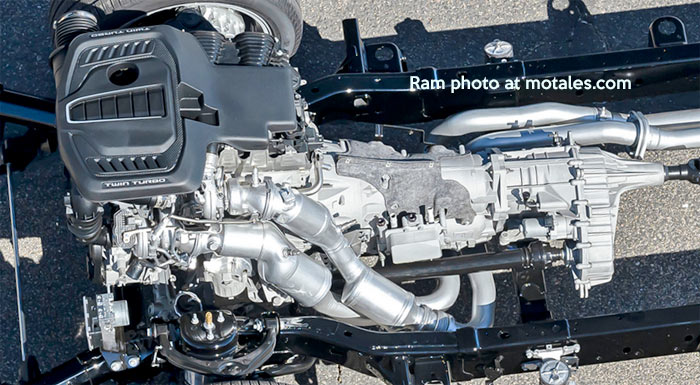 Hurricane SST technologies include:
Two low-inertia turbochargers, each feeding three cylinders
Plasma transfer wire arc (spray bore) cylinder bores coatings (needed instead of sleeves to keep the engine small)
High-pressure (5,075 psi/350 bar) direct fuel injection
Engine-mounted water-to-air charge cooler

All Hurricane 6 engines are produced in Saltillo, Mexico. Pentastar information is yet to be released.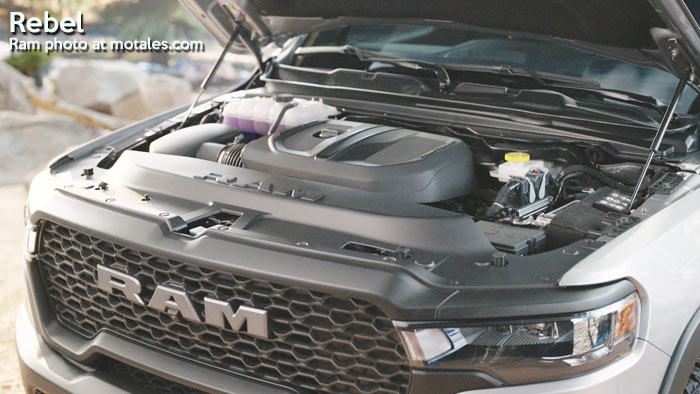 The 2025 Ram 1500 has a new rear axle for better ride quality with the Hurricane high output engine, regardless of drive; its open or limited-slip differential automatically divides torque among the rear wheels, though an optional electronic locking rear differential gives the driver the ability to lock or unlock the differential on demand.
Axle ratios are 3.21, 3.55 or 3.92. All gasoline-powered 2025 Ram 1500 pickups have the well-proven TorqueFlite eight-speed automatic transmission.
Suspension and frame
The prior generation's basic design continues with a double wishbone front suspension and five-link solid rear axle. An optional, segment-exclusive, active-leveling four-corner air suspension has up to five different modes: entry/exit, aero, normal, off-road 1 and off-road 2.

The frame appears to have had relatively minor changes to accommodate batteries in the protected space between the rails; they are also reportedly made of stronger materials.
Technogadgets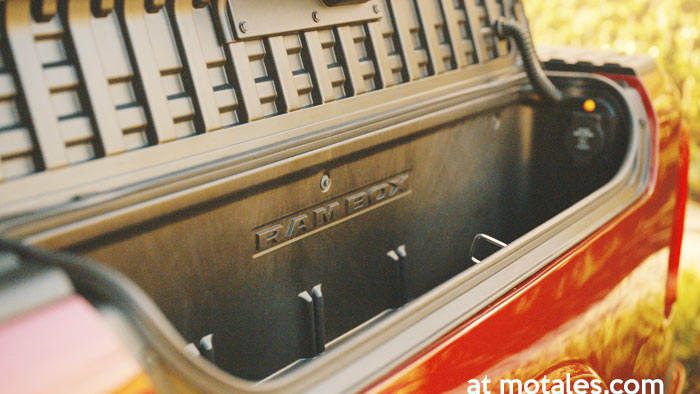 For years, Ram buyers have been waiting for the flexible tailgate patents to be put into production. The closest they have to this is the continuing multi-function tailgate, and now a power open/close tailgate with obstacle detection controlled from the key fob. The RamBox lockable bed storage continues, too, with a 115-volt outlet, weatherproofing, lighting, and drainable storage bins, all built into the bed rails. The RamBox option also has options for a pickup bed divider and cargo rail system with four sliding, adjustable cleats. The power tailgate is included with the Tungsten.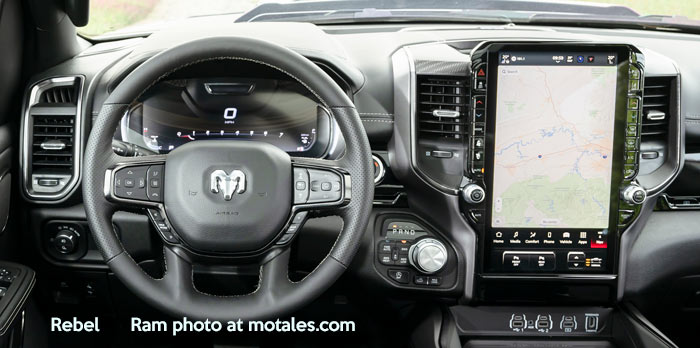 The new 2025 Ram 1500 has the latest Uconnect system. Even base models have an improved 12-inch screen, while top models have a new 14.5-inch touchscreen display (optional otherwise). The Limited comes with a push-button trailer steering knob and an accessory switch bank which, when sold with the 14.5-inch touchscreen, uses dedicated buttons on the bottom of the touchscreen and conventional physical controls just below the screen. Both screens appear to have split-screen capability for dual applications, and both use Full Array Local Dimming for higher contrast.
A new (either optional or sold on top trims) segment-first 10.25-inch passenger screen has three major functions: co-pilot (navigation, device management), entertainment (via HDMI) and the ability to view the exterior vehicle cameras. The new Atlantis electronics architecture makes Uconnect 5 up to five times faster, for responses to touchscreen input in as little as .05 seconds.
Active Driving Assist is Level 2 automated driving capability; the option has hands-on-wheel and eyes-on-road automated driving using lane centering with adaptive cruise control. Unlike Tesla's systems, which have caused easily avoidable crashes, the system uses both radars and cameras.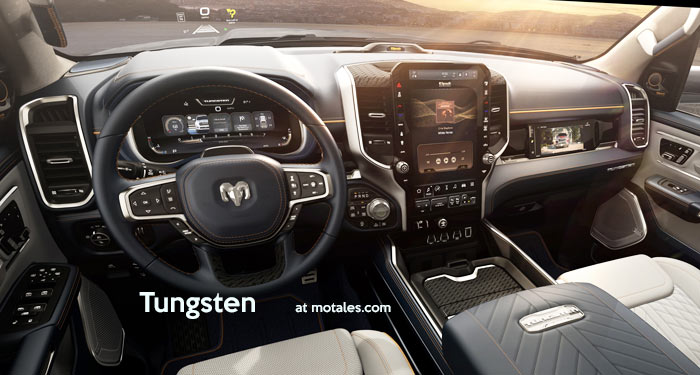 Hands-free Driving Assist is Level 2+ automated driving with hands-off driving at all speeds and lane centering on approved roadways. The system will predictively slow the vehicle down in tight curves, resume control after driver override, and verify that the driver is paying attention to the road.
With the SST engines, an on-board power inverter provides 1800 watts of AC power via two covered outlets in the bed. With the engine running, customers can turn the inverter on via the touchscreen or with a switch by the outlets; the engine changes rpm as needed. Ram 1500s with the Pentastar V-6 can only run the inverter while the truck is in motion.
An optional digital rearview mirror with tow mode provides an unobstructed rear view regardless of what's in the back of the truck; it shows video from a rear-facing camera and can revert to a reflective mirror with the flick of a switch.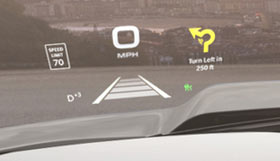 Ram (and other former Chrysler vehicles) are quite late to the Head Up Display (HUD) party, but the 2025 Ram 1500 makes up for it with a large full color setup (configurable up to 10 inches) with different content areas visible at once, the most useful likely being turn-by-turn navigation, current speed, and speed limit. HUD settings can be saved within the driver profiles.
A 12.3-inch digital gauge cluster shows nearly two dozen different menus, including driver-assist technologies such as adaptive cruise control, active driving assist, drowsy driver detection, and speed limit display. Dual wireless phone charging is optional.
Another somewhat late feature is adding a digital key to the owner's smartphone or watch, which requires enrolling in Ram Connect and downloading the Ram app. Digital keys can be shared, while the owner retains full control over the access; owners also get an NFC-based smart card as a backup. Traditional key fobs remain standard.

The Ram 1500 Tungsten has a stunning 1,228-watt Klipsch Reference Premiere audio system with stainless steel speaker covers; it is the most powerful factory sound system available in a truck today, not to mention being the first automotive Klipsch system and the only P4 system in a pickup truck. The setup has 23 speakers.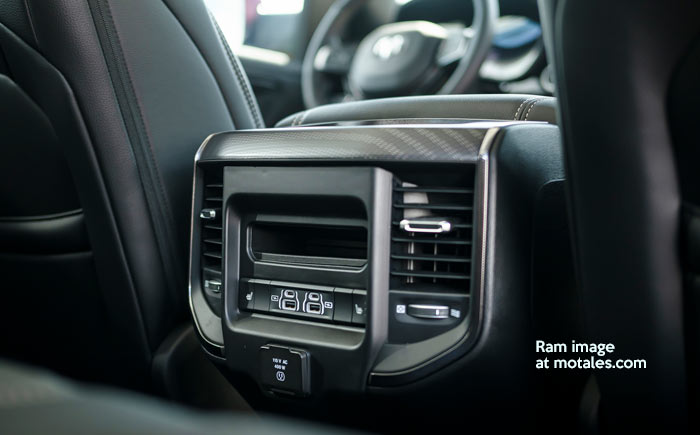 Standard safety items are electronic roll mitigation and six airbags along with mandated gear like backup cameras; options are blind spot monitoring, adaptive cruise, full-speed forward collision warning, parking and driving assistance, 360-degree cameras, drowsiness detection, traffic sign recognition, rear view mirror cameras, cargo box illumination, front parking sensors, auto high-beams, cornering fog lamps, and rain-sensing windshield wipers.
Styling and design
Colors for 2025 are Diamond Black, Bright White, Ivory White Tri-coat, Delmonico Red, Flame Red, Hydro Blue, River Rock, Baltic Grey, and Billet Silver.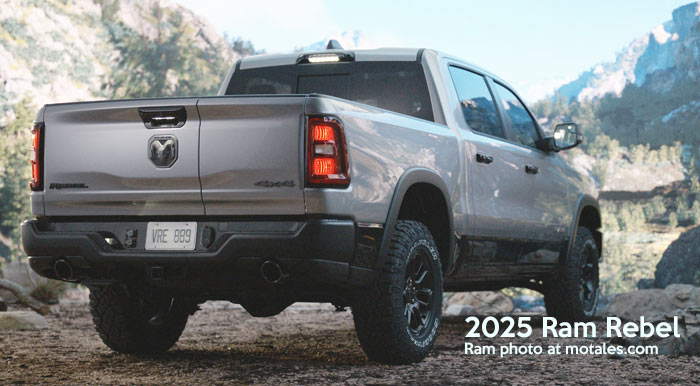 The following styling commentary is provided by Ram Communications.
Tungsten's Indigo/Sea Salt interior includes new platinum patina/semi-bright dual-textured metal accents, featuring diamond knurling, suede-wrapped headliner, A- and B-pillars and visors, and heated and ventilated premium quilted Natura Plus leather driver and front passenger seats with 24-way power, including memory settings and a massage function, power lumbar support and four-way powered headrests. Other features that give Tungsten a well-crafted, high-quality feel and appearance include a Tungsten badge on the center console featuring inlaid metal lettering and diamond knurling, which also proudly displays the vehicle identification number or VIN, brushed platinum patina aluminum litho bezels, a unique crystal-effect shifter center cap, an ultra-premium Klipsch Reference Premiere audio system with 23 speakers, all-new class exclusive dual wireless chargers and a metal pedal kit.

The new 2025 Ram 1500 sets the benchmark for pickup truck interiors once again with a variety of authentic, premium materials that are both comfortable and durable. The interior design team focused on premium textures, colors, materials and continuing to enhance functionality for unexpected luxury throughout. Authentic and premium materials include carbon-fiber, metal and leather elements that combine to deliver a level of luxury only seen in a Ram truck.

In addition to the new Tungsten model, new heights are achieved with enhanced colors and materials seen throughout the 2025 Ram 1500 lineup, including (or, to be consistent with Ram, "featuring"):
Bighorn/Lone Star features a new Gridiron paint with laser etching decorative trim accents on the dashboard, doors and console and new Gear Embossed seat insert accent material in Diesel Gray or black
Laramie features new Chevron film decorative trim accents and introduces a new optional Bison Brown/Sea Salt Gray two-tone interior in addition to the standard black interior
Rebel features a new red/black ombre mesh insert material on the standard cloth/vinyl seats
Limited Longhorn features the new Barn Wood 45 open pore real wood veneer with an improved sawcut effect. Longhorn is exclusively available with the all-new Bison Brown monochromatic interior and massaging front seats
Limited features new Black Ebony open pore real wood veneer decorative trim accents. In addition to the standard black monochromatic interior, Ram 1500 Limited features a new optional black/ebony red interior color package for a dramatic two-tone effect and massaging front seats
The new 2025 Ram 1500 is reimagined with a modern, contemporary exterior design that telegraphs the bold, heroic presence Ram is known for. The latest iteration of Ram's light-duty truck is instantly recognizable while incorporating a sleeker, more aerodynamic appearance. New premium LED headlamps, including twin bi-functional projector headlamps, are standard on Limited and up. A new, larger, forward-leaning grille signifies a heroic presence while taking boldness to another level. The iconic Ram grille caters to a wide variety of buyers and is available in eight unique interpretations as dictated by the particular model. A new, prominent R-A-M badge has been lifted to increase the presence and make a proud statement.

A drawn body-side character line stretches from front to rear, tying together the front fender, cab doors and bed fenders for a consistent horizontal profile. The bed and cab are sub-flush to reduce aerodynamic disturbances. All-new taillamps with a jeweled appearance across the lineup, including LEDs with Blind-spot Monitoring, available on select models.
Also see Ram 1500 REV and 2025 Ramcharger.
Current and future
Follow us on Post! It's like Twitter, but without ads or Nazis!
Books by MoTales writer David Zatz
Copyright © 2021-2023 Zatz LLC • Chrysler / Mopar car stories and history.