Birth of the 1966-1968 Dodge Charger
The first Dodge Charger had turbine-inspired styling and surprisingly low sales; the 1968 redesign really put the car on the map, and continues to be the "prototypical Charger" that today's cars, from the 305 horse V6 to the supercharged Hellcats, take their cues from.

Designer Diran Yazejian wrote that the 1966 Charger was created as a response to Lee Iacocca's 1964 Mustang. Plymouth's fast answer was the Barracuda*, a Valiant fastback, which was mildly successful. The Dodge response, the 1965 Dart GT, didn't really fill the bill.  
* The Barracuda came out two weeks before the Mustang, but the project didn't start until the debut of the Mustang was known.
What they wanted was a mid-size specialty car, so the Dodge Studio (principally, the late Carl Cameron), using the all new 1966 Coronet, changed only the roof, quarters, deck lid and grille to come up with a very competitive specialty car for 1966 1/2.  After the die models were complete,  parts were made and used to make an extended body show car which was shown before the production car; it led the public to think the Charger was designed first. 

The 1968 Charger was an anomaly.  Bill Brownlie, Dodge Studio Executive Designer, wanted an evolutionary design from the 1966—a fastback.  Meanwhile, off in a corner of the Dodge Studio, Richard Siass was making a 1/10th scale "speed form" clay model.  It was "aircrafty" and had the double diamond shapes built into its form, but it wasn't a fastback.  It was such an exciting shape that Chuck Mitchell,  Chief Designer, wondered if it could be morphed into a B body size car. 

Since the program hadn't yet started, a full size clay model was started while hidden behind two 20-foot black boards.  Frank Ruff, B Body Car Line Manager, used his experience and Richard Siass' vision to direct the clay modelers to what soon looked like the 1968 Charger. Everybody knew it was a winner.

While still behind the boards, it was informally shown to Bob McCurry, Dodge Division VP.  He approved it on the spot, and it was moved out onto a regular platform in the studio, finalized and refined, and released to Engineering.  There never was a traditional design program as such, which was an anomaly. 

The "sail panels" made it look fastback enough to satisfy Brownlie.   Along the way, during the grille and lamp cycle, Product Planning wanted to cancel the concealed headlamps to save money. It was mocked up both ways with a huge mirror at the centerline so they could be seen both ways.  Bob McCurry walked in, looked at both sides, said two words—"Keep 'em"—and left.  The only thing I designed on the car was the tail-lamps.  
Burt Bouwkamp, then Dodge chief engineer, added (via Allpar):
The original Dodge Charger was born as a result of a new market plan for Dodge that was mandated by Chrysler's new-for-1962 President, Lynn Townsend. His vision was that the Chrysler cars competed with Oldsmobile and Buick, Plymouth competed with Chevrolet and Ford, and Dodge competed with Pontiac. A logical plan, but that is not what the Dodge dealers or the Dodge sales division wanted. They wanted to continue to compete with Chevrolet and Ford - and Plymouth!

I was appointed Chief Engineer and Manager of Dodge Passenger Car Product Planning in 1964. ... I was not really a Chief Engineer, but in those days a car company had to have a Chief Engineer, so that was in my job title. I was really just the Manager of Dodge Passenger Car Product Planning. (In the Product Planning Office, we facetiously defined Product Planning as a series of product mistakes sufficiently corrected to show a profit.)

Shortly after my appointment, I was asked to go to Mr. Townsend's office for the first of three one-on-one meetings that I had with "the Boss." ... Lynn's message to me was "think Pontiac." He wanted to be sure that I got the message that there was a new market plan for Dodge. [Dodge dealers, in contrast, wanted to compete with Ford, Chevrolet, and Plymouth.] The argument got pretty hot. ... the pressure got so high that in 1965 we were authorized to plan one Chevrolet-Ford-Plymouth competitive model. It was a 121-wheelbase C-body four door sedan with a 318 V8. We called it the Polara 318. ...

One of the Dodge Dealer Council requests was for a Barracuda type vehicle; the theme was the same — "we want what Plymouth has." This request was not as controversial to Lynn. He told me to give them a specialty car, but he said, "For God's sake don't make it a derivative of the Barracuda" — that is, don't make it a Barracuda competitor. So the 1966 Charger was born.

Money and timing dictated a derivative of an existing product, so the first Charger became a fastback derivative of the Coronet two-door hardtop. Considering the limitations of relatively short Coronet front sheet metal and long "B" body rear overhang, Bill Brownlie and his team did an exceptional job in designing this vehicle. You can fully appreciate this great design job by comparing the first Charger to the AMC Marlin...

We built a Charger "idea car," which we displayed at auto shows in 1965 to stimulate market interest in the concept. It was the approved design, but we told the press and auto show attendees that it was just an idea and that we would build it if they liked it! It was preordained that they would like it.

With a January 1st introduction, we sold 37,000 Dodge Chargers in 1966. The interior had four bucket seats and a full length floor console. We removed the rear seat floor console the next year, because customers complained about the console interfering with access to the left rear seat from a curbside entrance. ... We only sold 15,000 Chargers in 1967, which shows that the desire for this unique looking fastback was largely satisfied in 1966.

The fastback shape was not as good a race car as we had hoped. The body shape caused so much lift at the rear wheels above 180 MPH that the drivers had difficulty controlling the car at Daytona, especially in the D-shaped curve in front of the main grandstand. The drivers said it was like driving on ice. To add downforce and make the car handle better at these speeds, we riveted a two or three inch high spoiler to the rear of the liftgate. The spoiler was approved by NASCAR because we made it a dealer installed option. With that addition, the 1966-7 Charger was competitive, but it was no better than Richard Petty's notchback Satellite. A bright spot came on July 4th when Sam McQuagg won the Firecracker 400 in a spoiler equipped Dodge Charger.

... [For the 1968 Dodge Charger], we proposed a unique skin, including door outer and roof but with a common cowl, windshield, and roof rails with Satellite and Coronet hardtops. The increased degree of uniqueness for Charger was obviously more expensive then the 1966-7 formula, but it was approved.

Another controversy arose during the design of the '68 Charger — the decorative gas cap. It was a polarizing design; management was either strongly for it or strongly against it. I did not get directly involved because Chuck Kelley (Dodge's B-Body Product Planning Manager) and I felt that the car design was so good overall that it would be successful either way. Finally, the Corporate Product Planning Committee decided in favor of the Design Office proposal for a decorative gas filler cap.

... In the 1968 model year, we sold 96,000 Chargers, which was all we could build. The '68 Charger appealed to young people; the median age of the Charger buyer was only 30 years old, which was 20 years younger than Dart, Coronet, Polara and Monaco buyers.
Later, Burt Bouwkamp wrote:
The flying (C pillar) buttress roof design was a compromise between Bill Brownlie and me. Bill wanted a fast back design but I did not want to spend the money (at least $25/car) on the interior we would need if we exposed the luggage compartment. The tunnel roof backlite was the compromise.

Dodge did later build around a thousand fastback Chargers for NASCAR racing, because the fastback design was aerodynamically better. In 1969 and 1970, NASCAR required that we build at least 500 of a design to qualify as "stock;" in 1970, they upped that number to 1,500.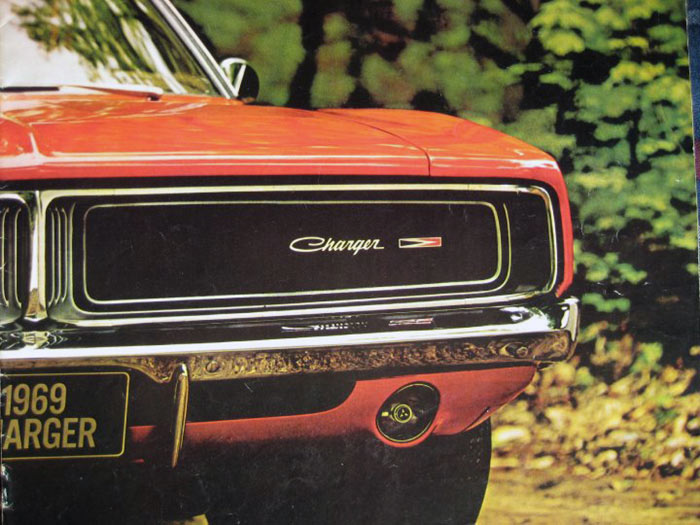 The original 1966 Charger saw fewer than 40,000 sales, while the 1967's numbers made 1966 seem like boom times. In 1968, as Diran wrote, sales were assumed to be around 20,000 and ended up at around 96,000. 1969 Charger sales were nearly as good, still well over 80,000. The 1970 figures were not quite as good, because Dodge was focused on selling the new Challenger; and buyers could opt for a cheaper Duster 340 at Plymouth, handy during a recession year. Auto sales down for most of the industry, too; and it's possible the new grille didn't help. There are many reasons for the 1970 dip.
The redesigned 1971-74 models did well, and in fact the best selling 20th-century Dodge Charger was the 1973 version. Moving the car to the Cordoba body, with little visual difference, brought sales down quite a bit, closing out this version of the car.
Thanks to John Rush.
Current and future
Follow us on Post! It's like Twitter, but without ads or Nazis!
Books by MoTales writer David Zatz
Copyright © 2021-2023 Zatz LLC • Chrysler / Mopar car stories and history.