Quick stories from Chrysler's past (volume 3)
Designing turbine blades
This picture is of the centrifugal compressor from Chrysler's turbine engine. I designed the blades (did the drawings) in 1950 under the direction of Al Bell, an engineer in Chrysler's Research Engineering Department. I was a student engineer in Chrysler Institute of Engineering Class of 1951 on a three month work assignment. (I learned that I did not want to work permanently in Research.)
We did not have computers in 1950, so the design involved drawing turbine sections every fraction of an inch on a drawing board with a T square, triangles, French curve instruments, and a Friden calculator. The calculator was needed to determine the vane cross-sectional area every fraction of an inch. It took thousands of calculations.
It was a talented department in 1950. The executive engineer was George Huebner, and the chief engineer was Ed Mason. The engineers were:
Al Bell (Al left Chrysler and became GM's top turbine engineer)
Bill Chapman (Bill left Chrysler and became Ford's top turbine engineer)
Sam Williams (Sam left Chrysler started his own small turbine engine company, Williams Research, and did a lot of work for the military. Sam was nearly blind and had a "reader"—a German lady—assigned to him.) 
Jerry DeClaire (became Chrysler's top turbine engineer, under George Huebner)
Chrysler provided the automobile industry's technical talent for turbine engines. Ford and GM did research of turbine engines for truck application, while Chrysler stayed with car applications. All three manufacturers determined that the turbine engine could not compete with the reciprocating engine.
[Editor's note: Chrysler finally found a use for turbine engines—they drove M1 "Abrams" tanks. Later M1 tanks use newer engines, though the Army was quite happy with the turbines for years.]
Design area flooring and corporate logos
I made this display frame to show some stuff accumulated over the early years. The frame is made from clear hard maple flooring that been laid down on the entire floor area at Level 3 of Building 128 in Highland Park (Michigan). As Styling was moved to the new Walter P. Chrysler "Styling Dome," my group became the first occupant of this newly available space.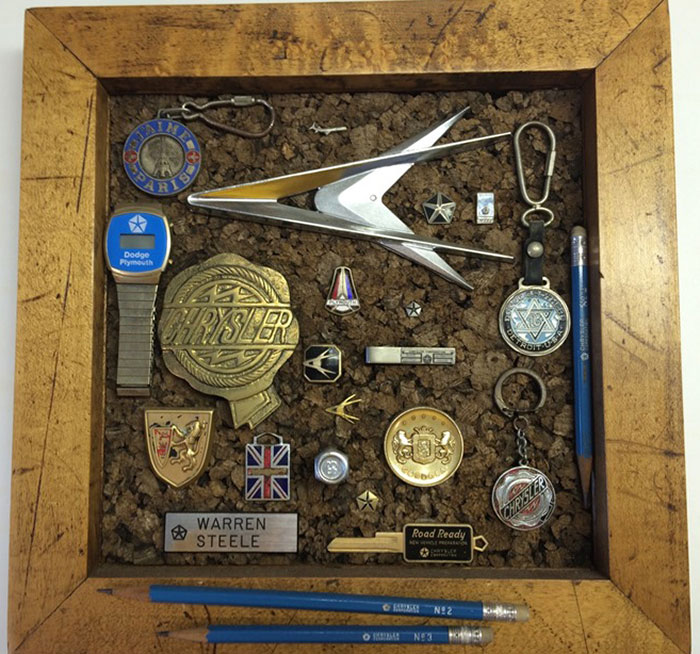 As the clay-model studios were turned into offices, the old wood flooring from the 250' x 750' room was being removed and tossed out. It was a shame; this beautiful wood was costly but unrecoverable, because during original construction it had been given a black, tar-like adhesive which rendered it unusable for anything but my one frame. But it must have burned well.
I took an edge-on photo to demonstrate the wood thickness. The groove was to accommodate steel splines to make certain no movement occurred while clay bucks were rolling about. This project must have had huge cost.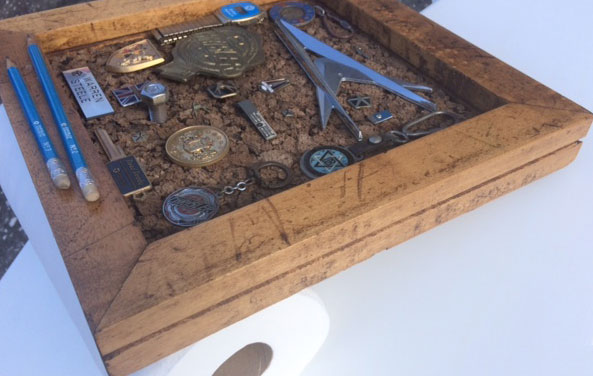 The scratch grooves represent years of full size clay car bucks, each weighing tons, being moved around. We know these bucks weighed many tons because one of Charlie's jobs was to order huge slaps of clay from time. Clay was costly, but not recyclable due to dirt and paint contamination.
Within the frame you can see:
Top center—a Barracuda tie tack
Center below: a Forward Look ornament for a Plymouth
Lower right- a gold Ricardo Montalban Dodge Monaco hood ornament
Below this, a tiny Pentastar gold tie tack given to managers by Lynn Townsend at a huge meeting in which he announced this new corporate logo
Lower left was a gold ornament from my 1960 Chrysler Windsor
My wife worked in the Styling office for Fran Cogsdale, who shepherded the search for a new corporate logo. After a series of proposals, the Pentastar was selected. Each of the five points represents things like Engineering, Quality, and others I can't recall now.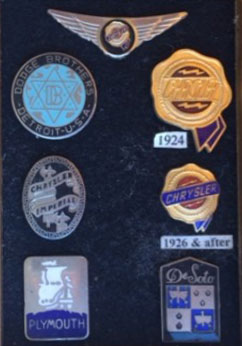 You know, one could have a lifelong job chasing down the various hood emblems. Best to stick to corporate logos. We had an entire department dreaming up these emblems, and one of the guys there gave me one lapel pin for each car division.
Buying Mitsubishi
The plan was to purchase 35% equity in Mitsubishi Motors (MMC), with yearly steps of 15% - 10% - 10%, and to sell their products through Chrysler Corporation dealers in the USA and Canada. The investment was Lynn Townsend's doing, as President and CEO. Chrysler never went through with the yearly equity installments beyond the initial 15%—we reneged because we came on hard times and didn't have the money.
I was Executive Director of Japan Operations from 1983 to 1987 and was one of two Americans on Mitsubishi's Board of Directors.
Fifteen years later (in 1985), Lee Iacocca told us to increase our equity in Mitsubishi Motors, and we did—we increased it to 24%. Lee was subsequently disillusioned with the management of MMC and after I retired in 1987, he disposed of all Chrysler's equity in both MMC and the Chrysler-MMC 50/50 joint venture in Illinois, Diamond Star Motors. I felt bad about that divorce, because I thought MMC and Chrysler needed each other. [Editor's note: subsequent events likely proved Burt to be correct.]
Books by MoTales writer David Zatz
Copyright © 2021-2023 Zatz LLC • Chrysler / Mopar car stories and history.