2007-12 Dodge Caliber: the "chunky look"
The brand new 2007 Dodge Caliber was the brand's sole compact car, but unlike its predecessor, the Neon, the Caliber was not a sedan. Instead, it was a compact hatchback with crossover cues, between a sedan and its platform-mate, the Jeep Compass. If the Caliber was introduced today, it would have likely been marketed as a crossover rather than a hatchback, so in that way it was a bit ahead of its time; but at the time, compact sedans still outsold hatchbacks and crossovers.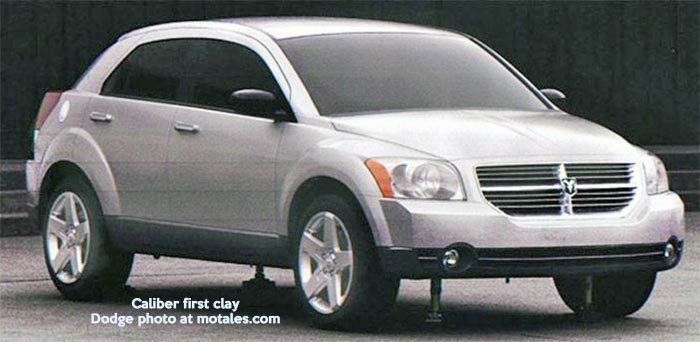 The Caliber shared a platform and assembly line with the Jeep Compass and Patriot; all three were created from a new platform based on that of the Mitsubishi Galant. The Patriot resembled the old XJ Cherokee more than the Caliber, while the Compass resembled the Caliber in rough shape.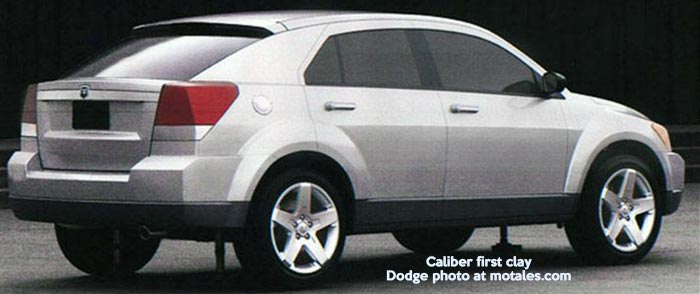 The new car's 103.7-inch wheelbase was between those of the first and second generation Neons; the car was 1.4 inches wider and 4.4 inches taller than the second generation Neons it replaced. It had contemporary Dodge styling elements, including an oversized crosshair grille, much of which was closed off to air; big wheels (up to 18 inches); and prominent fender flares.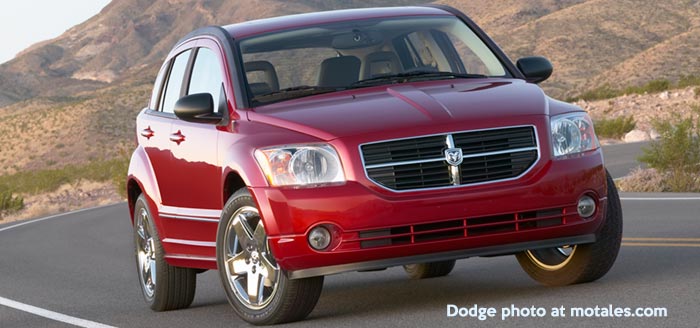 The interior was disappointing and had poor material quality, which was common for Chrysler products released under Daimler leadership. There were a few neat features (not all of which were standard or on the base model), such as optional flip-out speakers on the liftgate, an air conditioned beverage compartment, glowing front cup holders, a self-charging flashlight which doubled as the cargo bay light, a 110-volt outlet in the center console, and a sliding center console armrest with a flip-out cellphone or iPod holder. Some reviewers suggested that these were meant as a distraction from the poorly patterned gray plastics that dominated the interior. Most likely the "chunky" styling, meant to look aggressive, accentuated the problem.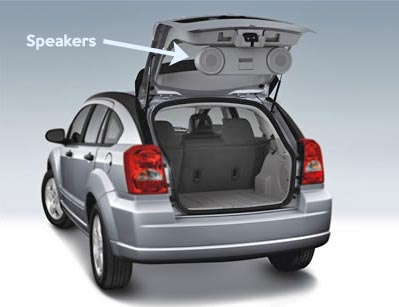 Genuintely useful features included standard side curtain airbags (unusual in a car of that price), a fold-forward front passenger seat which had a tabletop surface (standard on all but base models), and reclining rear seats (again, except on base models). A seemingly useful feature, YES Essentials™  fabric, was phased in during the first year; this scratchy-feeling, stiff fabric resisted microbes and soiling. After a few years, Chrysler quietly switched to more comfortable fabrics.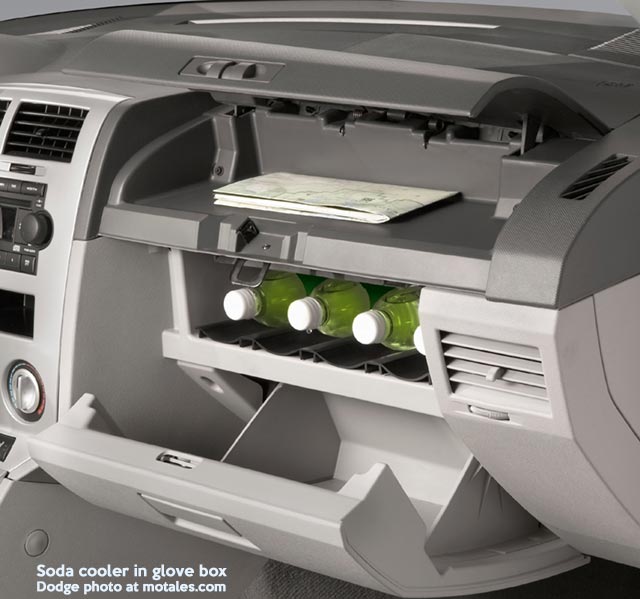 The 2007 Caliber had a choice of three brand new four-cylinder engines, the result of a Hyundai block modified by Chrysler, Mercedes, and Mitsubishi. These were a 1.8 liter rated at 148 horsepower and 125 lb-ft of torque, a 2.0 making 158 horsepower and 141 lb-ft of torque, and a 2.4 producing 172 horsepower and 165 lb-ft of torque. Each engine had a rough sound, compared by many to sewing machines, and had to be revved high to reach their rated power; in ordinary revolutions, they were not as responsive as the outgoing Neon 2.0 or 2.4 liter engines. They were "buzzword friendly" with intake and exhaust variable valve timing, which in theory should have made them more efficient than the Neon 2.0 engines.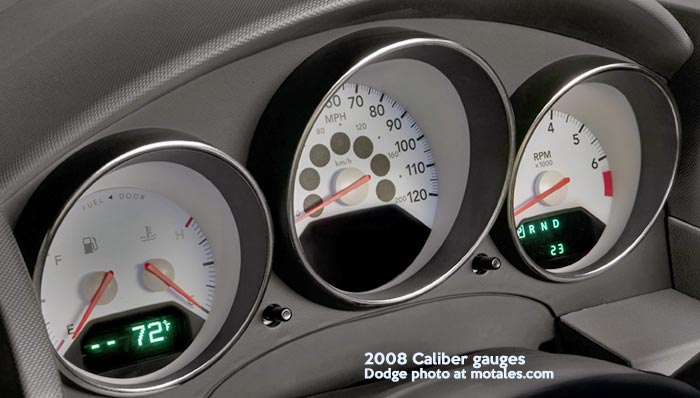 Europeans could buy a 2.0 liter diesel with 140 horsepower and 229 pound-feet (310 Nm) of torque, rated at 30 mpg city, 46 highway by European standards; it was coupled to a manual transmission, with no CVT option.
Metric
2007 Caliber
2005 Neon
Width
68.6
67.4
Height
60.4
56
Wheelbase
103.7
105
Length
173.8
174.4
Front / Rear
Leg Room
41.8 / 35.6
42 / 35
F/R Shoulder Room
54.2 / 53.4
53.4 / 53
Cargo (cubic feet)
18.5
13
Base power/torque
148 / 125
132 / 129
Top power/torque
172 / 165
none
cD (drag)
0.375
0.34
All wheel drive was optional—but only with the 2.4 and CVT, and therefore only on the R/T. The 1.8 was only matched to a five-speed manual transmission, and the 2.0 was only set up with a CVT—but the 2.4 came either way.
The T355 five-speed manual transmission came from Chrysler's own New Venture Gear, while the CVT was made by Nissan's JATCO unit; it included an AutoStick™ manual override system which simulated six gears (but only when operated manually). The electromagnetically controlled all wheel drive (AWD) system defaulted to front wheel drive, pulling in all four wheels only when needed.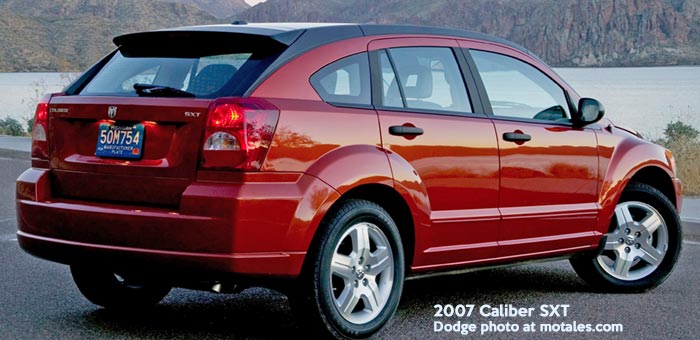 The CVT could only be replaced, not repaired. It was tuned for efficiency rather than familiarity, so when a driver moved the gas pedal somewhere from a third of the way to all the way down, the CVT went as quickly as possible to the ideal engine speed and stayed there. That produced a steady sewing-machine-like drone, without the rev, drop, rev, drop, rev of a traditional automatic; it was more efficient but many thought the car was slower than it was, without the "power cues."
The 2007 Caliber was sold in three trims. The SE ($13,985 including destination) had 15" wheels, a 1.8 engine, and a standard CD player. Buyers could pay extra for air conditioning, power locks, power mirrors, power windows, and the 2.0-CVT setup. The SXT made power locks, mirrors, and windows standard, along with air conditioning, 17" wheels, keyless entry, a split folding-and-reclining rear seat, a sliding console, and the folding front passenger seat. It also made numerous options available, including the flip-out speakers for the liftgate. Those who wanted the 2.4 liter engine (or optional AWD) had to get the R/T, which came with 18" alloy wheels and sport-tuned suspension and steering along with all SXT features and a few of its own. The SE weighed 2,966 lb; the SXT added 73 lb, and the R/T added 190 lb (to the SE). AWD added another 152 lb to the R/T's weight. All Calibers were made in Belvidere, Illinois.
Dodge marketers set up the Caliber as "not cute," unlike the Neon, going to the lengths of a commercial where a Neon trying to jump-start a newer Dodge exploded. The Caliber's chunky looks covered its lack of actual machismo; the five-speed Neon could easily outrun a Caliber while getting better gas mileage, with better handling. For many Dodge buyers, the Caliber seemed like a step down; but it was clearly a step forward in safety—the Caliber got five stars in every crash test, and the IIHS assigned Good ratings in all but one test, while the Neon performed like a mid-pack 1995 car even in 2005.
2008 Updates
While sales were not bad, they were less than half of the company's projections, so the 2008 Caliber was dressed up with more standard equipment; the SXT and R/T gained chrome accents, following criticism of the "cheap" interiors.
Dodge also gained more visibility with the Caliber SRT4, a worthy followup to the old Neon-based SRT4. Its 2.4 liter engine was turbocharged to reach 285 horsepower and 265 pound-feet of torque, providing brutal acceleration through its mandatory six-speed manual transmission. There was no all wheel drive, since that relied on the CVT, which was not capable of handling that much power. (The original SRT4's Neon-based 2.4 liter engine, which shared nothing in common with the "WGE" 2.4, produced 230 hp and 250 lb-ft of torque; it too was only coupled to a manual transmission, for the same reason.)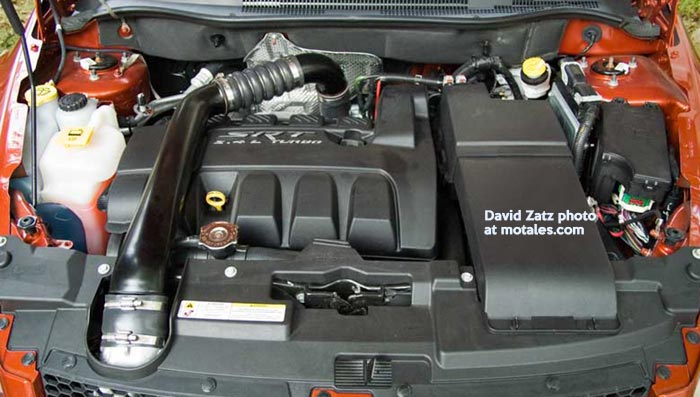 The Caliber SRT4 had been shown as a rendering at the Caliber launch; now it was real, and quite potent. Keeping the SRT4 under control were a lower ride height, four wheel antilock brakes, vented front discs from the Charger police package, and nineteen-inch aluminum wheels. The SRT4 had all the R/T's standard gear as well as a different hood and front fascia, a center-mounted boost gauge, and sport seats with a great deal of bolstering; not to mention different struts, control arms, knuckles, and lower crossmembers. The front dropped by 28mm and the rear by 22mm; flatter half-shafts reduced torque steer, while dampers were shortened to provide more jounce travel. Normal Caliber springs were tuned to 160 psi; the SRT4 had 210 psi in front and 240 in the rear. Brake pads came from the export 300C Hemi while rear brakes were adopted from the Sebring. The transmission came from Getrag rather than the usual New Process Gear.

The engine used a high-pressure die cast aluminum block with iron liners, cast aluminum cylinder heads, and a forged steel crankshaft; like the other WGEs, it used dual counter-rotating balance shafts for smoothness.
At $22,995, including stability control, brake lock differential, and other additions to keep it safe and under control, the Caliber SRT4 was a bargain for its class, though few buyers seemed to think it. 0-60 mph times were "in the low six second"  range, and 265 lb-ft of torque was available from 2,000 to 5,000 rpm.
| | |
| --- | --- |
| Compression | 8.6:1 |
| Fuel | 93 octane (premium) |
| Economy | 22 city, 28 highway |
The 2009 Calibers had more sound insulation, upgraded exhausts, and new radios with optional hard drives for storing music, but the AWD was dropped as buyers who really wanted it could get the similar Jeep Compass. Colors were changed, floor mats were expanded, body-color door handles were standard except on SE, and the SXT Security Group added an engine oil cooler with the 2.0 liter engine. The SRT4 gained Performance Pages, with acceleration times, G-forces, and braking distances, and a trip computer. The SXT had standard antilock brakes and the SXT Sport had standard MusicGate.
2009 was the SRT4's last year; despite impressive specs and brutal performance, the car did not even manage a thousand sales in both its model years, compared with the Neon SRT4's over-25,000 sales across three model years.
2010 Updates
Almost immediately after acquiring Chrysler from Daimler, Cerberus started putting money into the interiors of their cars; and when Fiat took over from Cerberus, they did the same. Thus, the 2010 Caliber had much better materials, including padded armrests and door panels, and active head restraints for the front seats. The 1.8L engine and SRT4 were both dropped due to slow sales.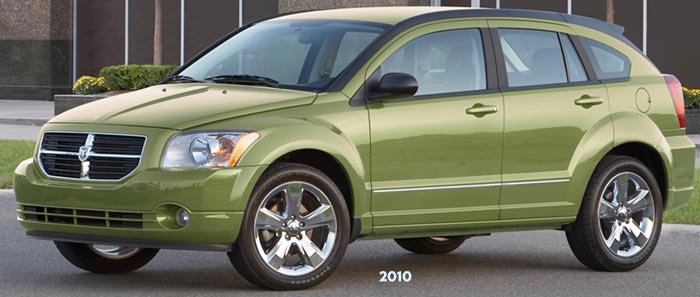 Dodge cars, across the board, replaced the old trim levels with new ones designed by marketers to appeal to specific groups of people. Thus, Caliber models were now Express, Mainstreet, Uptown, Heat, and Rush. The base price was $4,000 higher than that of the 2009 models, but the interior was stripped of the "chunky look" and shod in higher-grade materials;  a new shifter with new programming slightly dented efficiency but emulated gear-changing, making the CVT feel more like a regular automatic. The price increase was also matched, before long, with hefty rebates.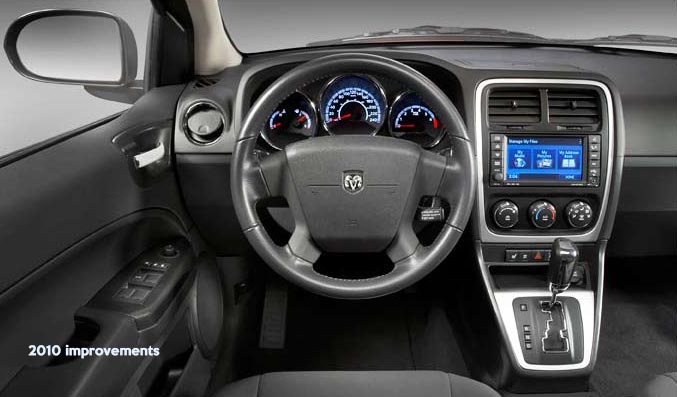 The Express had air conditioning, 15" steel wheels, cloth seats, power doors, mirrors, and windows, and cruise control; it had a five-speed standard and CVT optional. The Mainstreet added 17" alloy wheels, a retuned suspension, fog lamps, and split folding rear seats. The Uptown had four-way discs, premium sound, power driver's seat, heated leather seats, and a flip down speaker in the liftgate; with the Uptown, the 2.4 liter engine became optional. The Heat was basically the same setup, but with 18" alloy wheels, sport tuned suspension and steering, and unique interior trim.
Finally, the Rush replaced the R/T, with a standard 2.4 engine, 18" chrome clad wheels, a spoiler, automatic climate control, premium audio, and a touch screen radio.
| | | |
| --- | --- | --- |
| 2010 | Caliber | Ford Focus SES |
| Price | $17,630 | $19,505 |
| Base transmission | Manual | Manual |
| Standard power | 158 hp | 140 hp |
| MPG (EPA) | 23 / 31 | 24 / 35 |
| Passenger volume | 95 c.f. | 93.4 c.f. |
| Trunk volume | 18.5 c.f. | 13.6 c.f. |
| NHTSA front crash | 5 star | 4 driver, 5 passenger |
| NHTSA side crash | 5 star | 3 front, 5 rear |
The 2011s were the same except for retuned steering and upgraded navigation systems.
2012 Updates
Dodge quietly returned to old trim levels for the 2012 Caliber, though the R/T was replaced by the SXT Plus. The SE was basically the 2011 Express except that the CVT was not even optional, and the 2.0 engine was standard. The SXT unlocked the option for the CVT, and added 17" alloy wheels, a sportier suspension, fog lamps, a chrome grille, and body-colored (rather than black) exterior mirrors. Inside, buyers got a power driver's seat, reclining rear seats, and a flashlight in the cargo area. The SXT Plus included 18" alloy wheels, nicer seat materials, disc brakes all around, and sportier accents, with a standard CVT and optional 2.4 engine. The changes were somewhat pointless, as Caliber production ended in 2011; after a long pause, it was replaced by the new Dodge Dart.
The Caliber sold fairly well at first, but not nearly as well as it was supposed to: projections for the 18-month-long 2007 model year were for 370,000 sales. Actual sales in 2006 and 2007 combined, including some 2008 Calibers, were roughly half that.
The chart below shows the Caliber along with all three "PM" body cars (Caliber, Compass, and Patriot). The Compass launched later in 2006, with just 18,597 sales in that calendar year; the Caliber dominated that first year of sales. For 2007, the Patriot launched; the Caliber was still the best seller for the year. In 2009, the Jeep Patriot came quite close to Caliber sales as the Compass plunged to 11,739. With all three cars having fresh new interiors and the CVT ejected from the Jeeps (except with the top AWD setup), in 2011, both Patriot and Compass easily outsold the Caliber, leading to a dismal 2012. Patriot and Compass sales in 2013 (with no Calibers for sale) shot up to 127,790—and in 2014, they hit 154,726.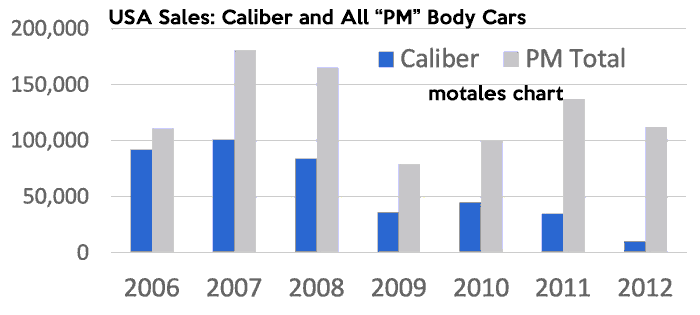 The Caliber had missed the mark, though it had many clever features. It was not as aerodynamic as the Neon it replaced, though it had more cargo and passenger space; it was far safer but could not reach Neon mileage or acceleration (at least, not with the manual transmissions). The crossover look was somewhat prescient, but the Compass and Patriot were more clearly crossovers, and they took the lion's share of sales despite having higher prices. The second generation Calibers of 2010-12 should have done better, but they lost their price leadership and the general consensus was that there were better choices.
Would the Caliber have done better as a sedan? In the late 2000s, compact sedans were still selling quite well; but the interior design (and materials), the CVT, and the tuning of the early WGE engines all worked against it.
Current and future
Follow us on Post! It's like Twitter, but without ads or Nazis!
Books by MoTales writer David Zatz
Copyright © 2021-2023 Zatz LLC • Chrysler / Mopar car stories and history.