Jeep Renegade: an oddly capable Fiat-based crossover
This page includes the 2019 upgrades and a review and is current through May 2022.

The Jeep Renegade was converted from a Fiat platform. The plan was for a quick and cheap adaptation, mostly done in India, but Jeep leaders were not happy with the results. They convinced CEO Sergio Marchionne to do more—and, though it cost two years and a hefty sum of cash, they achieved far more off-road capability and body strength than most other vehicles in its class. The Trailhawk version had 8.7 inches of ground clearance and better off-road clearance angles than the Cherokee. The Renegade might not be able to take on the Rubicon Trail, largely because of a lack of power, but it still has a tough body.

The Renegade was engineered as a world car and has a Fiat 500X version; different regions had vastly different powertrain options. The two year delay meant that the 500X was also delayed. Renegades for North America were made in Italy, on a line shared with the 500X, given that Europe was its primary market.
Renegade offroad
Back in 2017, I took the Renegade Trailhawk through Chrysler's offroad course. It was surprisingly capable, taking some quite hard knocks and blows in stride (see our video). The suspension absorbed shocks and blows surprisingly well, and the body didn't mind being balanced on one wheel, plunging into deep holes, wading through water, or being slammed against the ground repeatedly (not all of that is in the video).
The Trailhawk's 2.4 liter engine had trouble with one steep hill, which took a few tries before restorting to low gear and high revs. It seemed like it would take a pretty bad path to stop the Renegade and a much worse one to damage it, but the lack of engine power made itself known. One Jeep official said that the best approach was to give it all the gas it needed and let the traction control systems do the work, and that approach did work very well for going up hills; the other option was using the low gear (on one particularly steep hill, both were needed). Overall, though, the little Renegade surprised me with its competence.
Powertrain
In the United States, two engines were available at first. The Fiat 1.4 liter turbocharged "FIRE" engine had MultiAir and required premium fuel; it generated 160 horsepower and 170 pound-feet of torque. The Chrysler TigerShark engine had Fiat's MultiAir 2 and generated 184 horsepower with 177 pound-feet of torque, taking regular fuel (but more of it). Numerous diesels and the 2.0 gasoline engine were available outside the U.S. and Canada; the 1.4 engine had a stop-start system outside North America.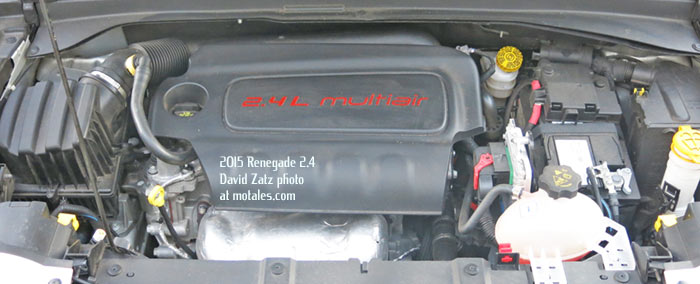 Later, the Renegade switched to an FCA "GSE" 1.3 liter turbocharged engine which had characteristics (and engineers) of both companies' approaches—and about the same output as the 2.4 liter engine, but with better economy.
Engine
1.4 Turbo
2.4 (2015-18)
GSE 1.3T
2.4 (2019)
Horsepower
160
184
177
180
Torque
170 @
2,500-4,000
177 lb-ft
@ 4,400
200
@ 1,750
175
Other engines, only used outside the United States and Canada, were:
| | | | |
| --- | --- | --- | --- |
| Engine | Horsepower | Torque | Notes |
| EtorQ 1.6 | 108 | 112 | Old Mini engine updated by Fiat, based on Neon 2.0 |
| 1.4T | 138 | 170 | MultiAir gasoline engine, ex-US tune |
| 1.6TD | 118 | 236 | MultiJet II diesel |
| 2.0TD | 138 or 168 | 258 | MultiJet II diesel |
The sole automatic was the 948TE, a nine-speed made by Chrysler using a modified ZF design. It had a wide 9.81 spread, providing an aggressive first gear ratio of 4.71 for low-end performance and a top overdrive of 0.48:1. Electronic Range Select let drivers can limit the highest gear.
The nine-speed had a 4.334:1 axle ratio with the 1.4 and 2.0 engines (AWD) and the Trailhawk. All other cars had a 3.734:1 axle ratio. While ZF designed the nine-speed to have over a hundred shift maps, twenty were actually programmed by FCA; the transmission chose a map based on the engine choice, longitudinal and lateral acceleration, grade changes, temperature, speed, and stability control programs.
Jeep Renegade All Wheel Drive Systems
The front wheel drive Renegade used a power transfer unit to drive the rear wheels when needed. Jeep Active Drive, standard on AWD models, had yaw correction, torque distribution, and brake-based traction control. A variable wet clutch controlled power to the rear wheels.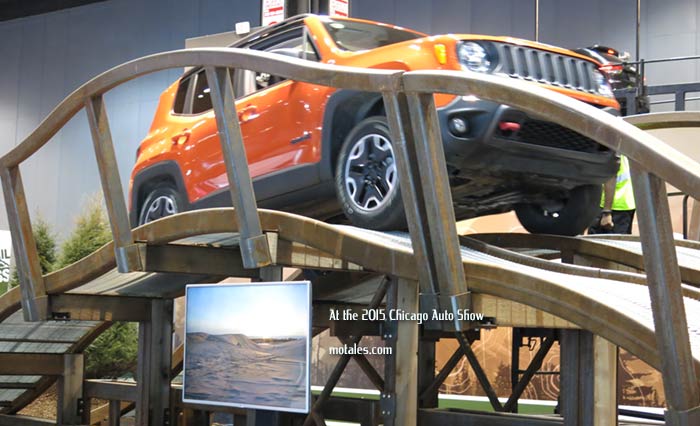 The off-road-capable Trailhawk model added front tow hooks (in most countries), skid plates, and all-terrain tires. Different fascias provided better approach and departure angles, and ground clearance and wheel articulation were both higher than in normal Renegades. Higher ground clearance on the Trailhawk meant still water up to 19 inches could be crossed.
The Trackhawk also had a two-speed power takeoff, adding a 4.3:1 low gear; that provided a first-gear ratio of 20.1:1. When in low gear, the front and rear shafts locked, and Hill Descent Control and Hill Ascent Control became available. Hill Control kept speed at driver-selected ranges of 1-5 mpg; stability control was shut off in low gear.
| | | | |
| --- | --- | --- | --- |
| 2015 Renegade | FWD | AWD | TrailHawk |
| Approach angle | 17.9° | 21.0° | 30.5° |
| Breakover angle | 21.2 | 24.0 | 25.7° |
| Departure angle | 29.7 | 32.1 | 34.3° |
| Running clearance | 6.7 | 7.9 | 8.7 |
The traction control system was key to the Renegade's off-road abilities, which brought much criticism from traditional Jeepers. The "Selec-Terrain" setup controlled the powertrain, drivetrain, brakes, and stability control, providing five options:
Standard (automatic) tried to drive just the two front wheels for efficiency but went to AWD if necessary.
Sport altered traction control and stability control thresholds, targeting a rear drive bias (front/rear torque split of 40/60) to give the feel of a rear wheel drive car.
Snow started in second gear, set the brakes up for slippery surfaces, and used full time all wheel drive with a default 60/40 front/rear split.
Mud/Sand was similar to snow, mostly differing in brake programming and a rear drive bias.
Rock (only on Trailhawk, and then only in low gear) was similar to Mud/Sand but with higher brake lock differential capacity; Rock also locked the differential.
Suspensions and Body
The body started out with Fiat's SCSS small car platform, and was converted to a new "small-wide 4x4" architecture with a modular suspension system so vehicles with the same core dimensions could share suspensions and powertrain components—if the wheelbase, track, front overhang, length, and width were the same. This basic framework was used by the Alfa Romeo Tonale (launched in 2022) and Dodge Hornet.
Jeep Renegade was engineered for global use, and, as noted earlier, was sent back to the drawing board so it could tackle Jeep's offroad test course. 70% of the upper body structure and frame used high-strength steel and were bonded into a single unit by structural adhesives. This was the highest percentage of high strength steel used by Jeep to date.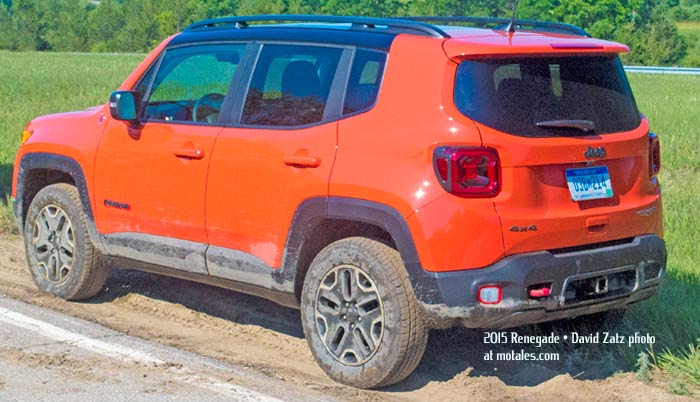 Aluminum was used for the hood, front cross beam, and rear crash box, while high-strength and hot-stamped steels were used in many other places for higher roof strength and thinner pillars. Chassis-to-body interfaces had high stiffness to transmitted relatively little low-frequency noise.
The MacPherson front suspension had high rigidity, and provided up to 170 mm (6.7 inches) of articulation despite low weight. The front cross member included a third-load line for crash energy absorption. A new "split" shock absorber mounting brought road vibrations to the body structure through different routes. In back, a Chapman setup used dual lateral links and half-shafts, attached to an isolated cradle. The setup had coil springs and strut-type shock absorbers, tuned for high spring rates which improved roll-steer and provided up to 8.1 inches (205 mm) of rear wheel articulation. The Koni front struts and rear shocks have frequency selective dampening to reduce high-frequency inputs.
The power steering has electric power boosting, so it is tunable and avoids hoses and fluids; the electric steering made driving-steering torque systems (which counter split-traction, torque steer, and pull drift) possible. The power steering motor is mounted on the steering column. Its lack of parasitic losses increase gas mileage by up to 3% compared with fluid systems.
Noise, vibration and harshness (NVH) reduction includes laminated acoustic windshield glass, body-cavity silencing foam, under-flush rolled-framed doors with triple seals and acoustic wheel-well liners to absorb road noise and quiet the cabin.
Design
The Jeep seven-slot grille includes traditional circular headlamps; the front fascia is in two pieces, with molded-in-color on the lower portion for durability. Short overhangs and trapezoidal wheel arches are traditional Jeep cues with functional effects (the wheel arches avoid clinging mud from building up). Molded-in-color lower accent cladding provide protection from rocks. The original "X" tail-lamps were inspired by military equipment—the first Jeep was a military vehicle—and in back, again, the fascia uses molded-in color. A trailer hitch receiver is optional. Aero tweaks include a rear spoiler, underbelly pan, wheel design, and sill spats.
Two optional "My Sky" open-air roof systems were available; one was removable, and the other had a power tilt/slide setup. The lightweight roof panels stow away in the cargo area.
The 2015 Renegade debuted with ten paint colors (some tied to specific trims): Colorado Red Clear Coat, Omaha Orange Clear Coat, Solar Yellow Clear Coat, Mojave Sand Clear Coat, Commando Clear Coat, Sierra Blue Clear Coat, Glacier Metallic Clear Coat, Black Clear Coat, Alpine White Clear Coat, and Anvil Clear Coat.

Inside, "Tek-Tonic," styling had "soft and tactile forms" meeting "rugged and functional details," such as the instrument panel intersecting with the passenger grab handle, integrated into the air vent. The center vents with anodized-style accents were inspired by performance goggles and boots.
The steering wheel had integrated audio, voice, and vehicle controls, with a 360° heated steering wheel optional. Buyers had a basic 3.5-inch monochrome gauge cluster trip computer or a 7-inch TFT color display which allowed for customization.
The lower panel had climate controls, a dampened glove box, and the media center with USB, auxiliary input, and 12-volt power; the rubberized tray had a topography map of Moab.
While the interior was fairly bare bones in appearance, designers did work to make sure surfaces were soft-touch, wrapping the center console armrest (which had an adjustable position) and the door panels (which had pockets). The back seats were 60/40 by default, with optional 40/20/40 splits including a cargo area pass-through. The cargo area itself had 12.4 cubic feet of storage (350 l), or 30.7 cubic feet (869 l) with the rear seats folded down. The front passenger seat also folded forward, resulting in a five-foot length from the dashboard to the hatch. Interior schemes were black with contrasting finishes and stitching; black and warm sand with embossed cloth fabric; black and red; and dark brown and gray, with orange details.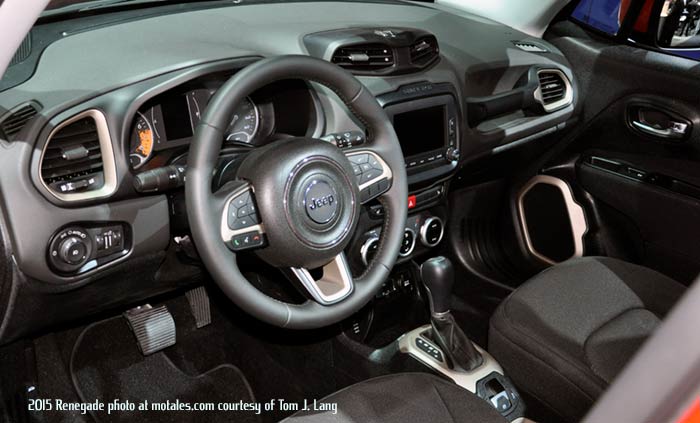 The stereos had a five-inch or 6.5 inch screen. The smaller one was a Microsoft/Fiat design, somewhat problematic, with optional TomTom navigation. The 6.5 inch was the QNX-based Chrysler setup (later moving to Android). They included Bluetooth, HD Radio, satellite radio and travel information, USB ports, and auxiliary audio jack input; American models with UConnect access had one-button emergency assistance or roadside assistance, and could read text messages aloud. Some of this capability after 2022 required an adapter kit, and the one-button emergency assistance disappeared.
Sales and pricing
The 2015 plan was for around 320,000 per year for the Renegade and 500X combined. In the United States, it was priced below most competitors, even with the $995 destination charge (later increased). AWD was a $2,000 option at the time.
The base model, dubbed Renegade Sport, had limited interiors, both based on black, and had a standard Fiat 1.4 with a manual transmission. The 2.4 automatic setup raised the price by $1200. A backup camera was $195, and aluminum wheels were $595; the fixed removable roof was $1,095. The next model up, the Latitude, started at $21,295, and made the brown-and-gray interior possible. Engine options were the same, but going to the 2.4 automatic cost $1,400—and included 17-inch aluminum wheels. Buying this model made a wide variety of options available.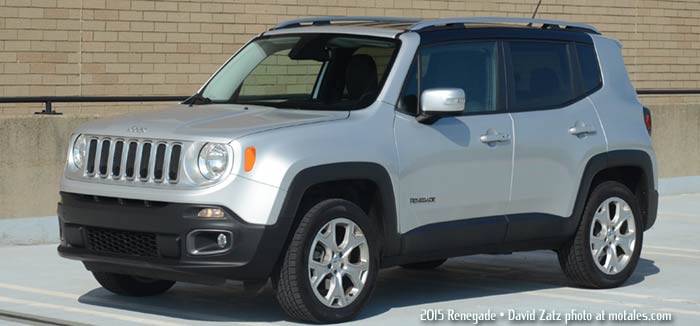 The Renegade Limited started at $24,795 but had the standard big engine and automatic, with leather interiors (brown or gray). The Limited allowed buyers to get the forward collision warning, lane departure, and rear parking assist in a $995 package. Trailer towing was another package, only with AWD, at $495.
The one model with all the off-road goodies was the Trailhawk, starting at $25,995, with the 2.4, 9-speed, and AWD. Only black interiors were available. Numerous packages were available, and blind spot/rear cross path detection became available. The top package was Trailhawk Premium, at $1,495, adding black leather seats, 40/20/40 rear seat, dual zone climate control, heated front seats and steering wheel, power driver's seat, windshield wiper de-icer, remote start, and keyless entry systems.
Driving
The 2015 Jeep Renegade was a fairly fun crossover despite a jittery feel. The 2.4 accelerated decently in 0-60 sprints with the 9-speed automatic, but it had a touchy throttle so smooth launches were harder. The transmission had a tendency to lurch into gear, a problem resolved with the 2016s. The car sometimes shuddered on shutoff, something else that was fixed in later years. The parking brakes even shook the car as they engaged.
The 2.4 needed to rev high to make power, and the transmission was a bit slow to downshift, which didn't help. The engine had a good sound at idle, getting less pleasant at full acceleration, as was the 2.4's custom.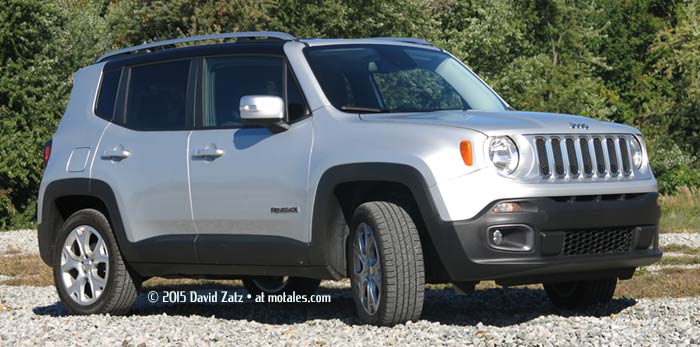 The Renegade had a good amount of interior space and quite a lot of headroom. The short wheelbase and tight springs made for a busy ride but agile handling, and we could whip around tight corners, or launch around a corner without spinning the tires. The Cherokee was much more calm and composed cars, but the Renegade was more fun with the tight steering, jerky throttle, and short wheelbase.
Seats were comfortable and well cushioned throughout the Renegade's run (in both generations), and aside from the gauge cluster and stereo, upper level models had a reasonably upscale interior (which was improved by the later UConnect 8.4).
Rear seats were lower to the ground than the fronts, making them uncomfortable for tall people while reducing the forward view. The trunk was surprisingly large and had a subfloor with and a storage area under the subfloor, possibly for the optional spare tire. Wind noise was low, given the shape of the car, and sound insulation was good.
Our car had the optional 6.5" UConnect touch-screen. The center stereo screen is attractive, but the type in the navigation system is too small, a problem made worse by dark type in lists. The human eye is not so good at making out small shapes in orange or red type, and that's the Renegade's chosen accent color. It looks great but it's harder to read.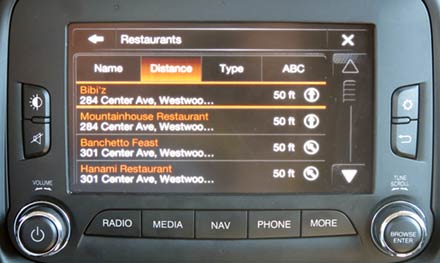 The stereo sound was good and clear, with options to change bass, treble, and midrange. Some nice options were being able to choose between having the radio come on, stay off, or remember the last setting when starting the car. In addition, you could have a different default volume for the auxiliary input. USB card navigation was by folder, artist, album, or random; it had voice control. Even on the first models, navigation was fast, and the only nuisance was having to turn on the stereo to get the maps.
Headlight controls were Chrysler-standard except for backwards control on the rheostats. The electric parking brake can be set to lock, but not unlock, automatically.
Center gauges were customizable on all but Sport; the tachometer and speedometer were physical. This allowed for superb turn by turn directions and many extra gauges (though they could only be seen one at a time). The tachometer went to 8,000 though the engine redlines at under 7,000, and the speedometer went to a stunning 160 mph, likely to be usable as kp/h—though that's still over 100 mph.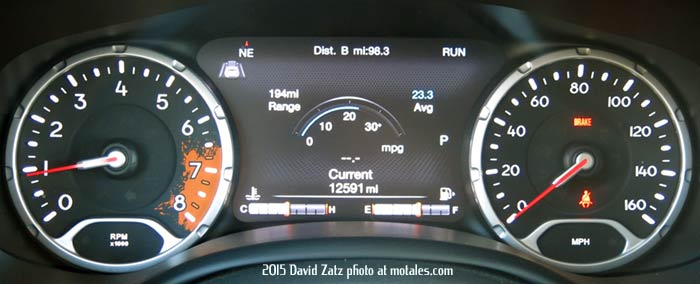 Forward visibility was good, and setting the windshield far away from the driver made the car feel spacious. Wide sun visors helped, too. Rubber floor mats were curved on the sides to hold mud or slush. Our test car had a badly tuned (paranoid) blind spot warning, but the rear cross path warning was absolutely useful for backing out from between two massive SUVs with no visibility.
The Jeep Renegade Sport cost $17,995 after incentives; air conditioning, power heated mirrors, and cruise control, as a package, added $1,495. Our Limited started at $27,790, including all wheel drive; it had a backup camera, side curtain front and rear airbags, side front airbags, Selec-Terrain, individual tire pressure monitors, seven-inch trip computer, dual-zone climate control, heated tilt/telescope steering wheel, fog/cornering lamps, windshield wiper de-icer, heated mirrors, and many other features. The bigger telematics screen was not included there, but did show up in our test car—whose options brought it to $31,390. That included $995 for the advanced tech group; $1,245 for navigation with traffic and the big screen; and $595 for an alarm and blind spot and rear cross path protection.
The Jeep Renegade was a fun and fairly comfortable car which demanded more attention than the Compass but provided good cornering and a spacious feeling interior.
Minor Updates
The 2016 Jeep Renegade added optional Beats audio, rain-sensing wipers, and new colors. A new standard feature, added in late 2017, was "keyless go" (pushbutton start, finger-sensing door handles); HID headlamps and automatic high beams became optional on all models at that time. Other 2017 changes were standard passive entry on Limited and a seven-inch trip computer in the UConnect 6.5N package on Latitude.
The 2018 Jeep Renegade buyers had a standard seven-inch UConnect 4 screen (except the Sport, which kept the five-inch, but even there the seven-inch was optional). The 8.4 inch screen, long standard on the company's big cars, was now optional on upper trims. Minor interior changes brought more storage capacity; the Selec-Terrain dial was altered and the USB port was moved to make room for two new storage areas. Finally, there were new colors, bezels, and seat fabrics; and a dual pane sunroof optional on all but Sport, which had the optional removable My Sky.
Second generation-ish: 2019 Jeep Renegade
When is a generation not a real second generation? When it's a facelift with a powertrain upgrade. The round headlights were switched to LEDs, complete with fancy insets; side mirrors gained turn signals; and the grille and tail were refreshed. The interior was updated, as well. The main change was under the hood, though, and many would say it was about time.
The old 1.4 liter FIRE engine was replaced by a brand new 1.3 liter "Global Small Engine" (GSE) turbocharged powerplant, developed by both Chrysler and Fiat engineers—from Michigan, Italy, and Brazil, and taking parts of the old Neon engine, the new Pentastar V6, and the Fiat Twin-Air and FIRE.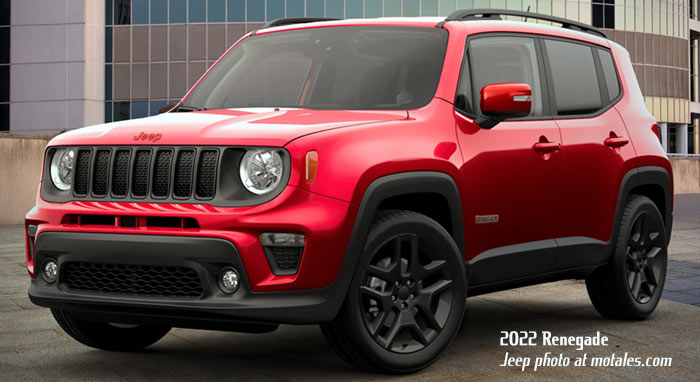 The GSE engine may have had just 1.3 liters, but it was more powerful than the old 1.4 and the old 2.4; and it was less "peaky" than the 1.4, with a smoother power curve. The 200 pound-foot peak torque number came in at just 1,750 rpm. The only real downside was the 91 octane (premium gas) requirement (lower grades could be used but with lower performance). The 1.3 was made in Poland for the Renegade, with U.S. production following.
The Chrysler 2.4 liter engine was still available for a time, and it was even standard on the Sport and North trim levels; what's more, it had gotten a power boost (with no explanation) to 180 hp and 175 pound-feet of torque.
2019 Renegades weren't all good news; the manual transmission was gone from the U.S. and Canada, leaving only the nine-speed automatic.
The following chart only shows economy for automatics. The 2015 manual transmission had higher city mileage, and lower highway mileage (with the 2015 1.4 FWD, 24 city, 31 highway).
| | | |
| --- | --- | --- |
| Economy | FWD | AWD |
| 2015 1.4 | 22/30 |   |
| 2019 1.3 | 24/32 | 23/29 |
| 2015 2.4 | n/a | 21/29 |
| 2019 2.4 | 22/30 | 21/29 |
| 2019 Trailhawk |   | 22/27 |
The greater power of the 1.3 engine made it a better option for all wheel drive; but looking at the difference between 2015 and 2019 Renegades, the 1.3 brought an extra 2 mpg with more power, while the 2.4 tayed at the same fuel economy.
The ground clearance in 2019 was 6.7 inches with FWD, 8.0 on AWD, and 8.7 inches with the Trailhawk. Curb weight ranged from 3,166 pounds (2.4 FWD) to 3,335 lb (1.3 AWD); the Trailhawk weighed in at 3,532 lb. The drag coefficient was 0.35 with the FWD model, 0.37 with Trailhawk.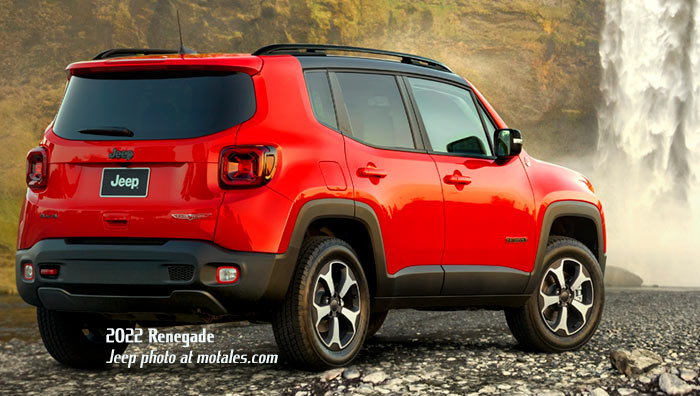 Every Renegade besides Trailhawk had active grille shutters and stop-start systems. A new option group included lamps for headlamps, daytime running lights, cornering fog lamps, and taillights.
A new Advanced Tech Group has added adaptive cruise control, parking assistance, and front parking helpers. The Latitude was renamed North.
Minor changes
2020 Jeep Renegade 2.4 fuel economy rose by 1 mpg to 22/30 with FWD (other variants stayed the same). With front wheel drive, the 1.3 engine was good for 24 mpg city, 32 highway; the 2.4 was exactly 2 mpg lower.
The 2021 Jeep Renegades gained standard blind-spot monitoring and rear cross path detection, forward collision warning with braking (except on Trailhawk), and lane keeping—items which in 2015 were limited to being options on the top model. UConnect 4 with 7-inch screens was now standad on Sport, while higher trims got 8.4 inch screens. The 7-inch color gauge cluster display was standard on all but Sport. A new model was the Sport-based Jeepster, which had a dual-pane sunroof, hood decal, embroidered seatbacks, and "Tiki Bob" seat tags.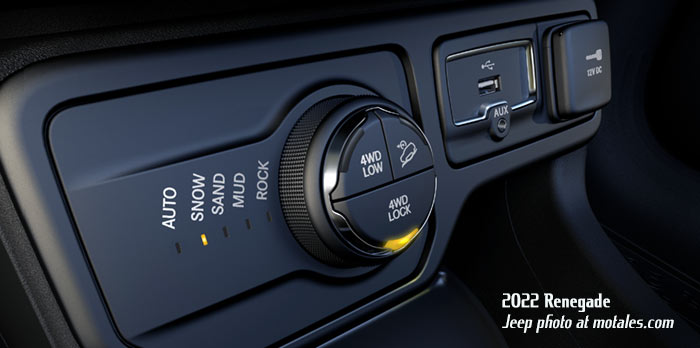 Life became a little simpler in 2022, with the 2.4 liter engines being dropped and front wheel drive all but done. The Renegade started at $24,195, around $2,000 below the Compass (which was on the same platform by this time) and nearly $10,000 below the Cherokee. The cheapest Jeep, still made in Italy (and elsewhere around the world, but the Italian Renegades were exported to the U.S. and Canada), was the most popular Jeep in Europe but the least popular in the United States. Buyers could choose from no less than six models—Sport, Latitude ($28,690), Altitude, (RED), Trailhawk ($30,790), and Limited ($30,595). For 2022, front wheel drive was dropped from all but the Sport—so the prices weren't quite as high as they might have seemed.
Other current cars and trucks

Ram ProMaster Commercial Van
Following the only large front-drive commercial van from 2014 to the present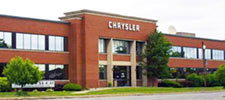 Mopar plants: rumors, what they make, and what they made
September 21, 2023 update including proposed closings, sales

Chrysler rumor wrap / upcoming cars and trucks
Sept. 6, 2023 update

Renegade: Fiat-based Jeeps
Oddly capable little crossovers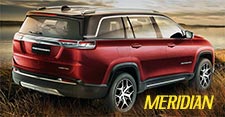 Meridian: Lux Compass with Three Rows
Sorry, it's only in India so far

GSE 1.3 Turbo
Modern "Firefly" Four-Cylinder

Ram ProMaster Commercial Van
Following the only large front-drive commercial van from 2014 to the present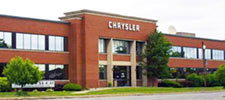 Mopar plants: rumors, what they make, and what they made
September 21, 2023 update including proposed closings, sales

Chrysler rumor wrap / upcoming cars and trucks
Sept. 6, 2023 update

Renegade: Fiat-based Jeeps
Oddly capable little crossovers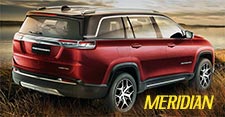 Meridian: Lux Compass with Three Rows
Sorry, it's only in India so far

GSE 1.3 Turbo
Modern "Firefly" Four-Cylinder
Current and future
Follow us on Post! It's like Twitter, but without ads or Nazis!
Books by MoTales writer David Zatz
Copyright © 2021-2023 Zatz LLC • Chrysler / Mopar car stories and history.