Car Spotter: Sam Spade finds a D-200 "Power Wagon"
I was just sitting there, see? Back in September of '14. Beautiful sunny day. Glass of wine in my hand. An open-air lunch with my family. On a Hawaiian Island. Maui, to be exact. I was just sitting there, see, mindin' my own business. And then sherolled in. She was tall. Mature. Weathered, but all there. Solid, like a Cuban coconut.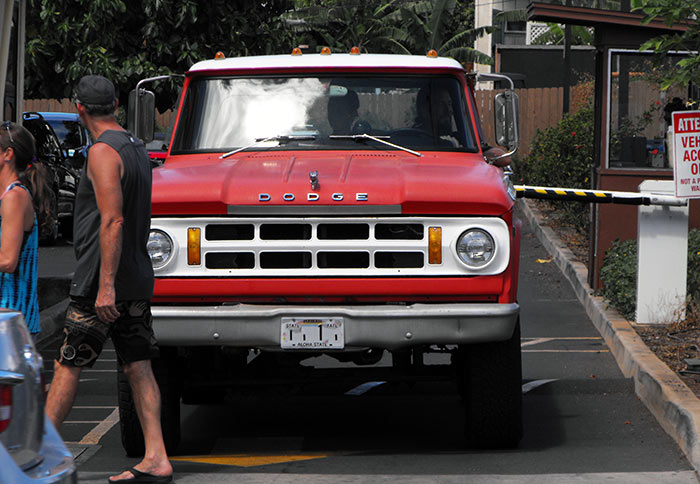 She was red. Faded red, with a white roof and white-and-chrome trim. Said "Dodge 200 Power Wagon" on her flank. Made me sit straight up in my chair. Heck, made me run out in the street to get a closer look at this dame. I almost got hit by a Kia, but it would have been worth it.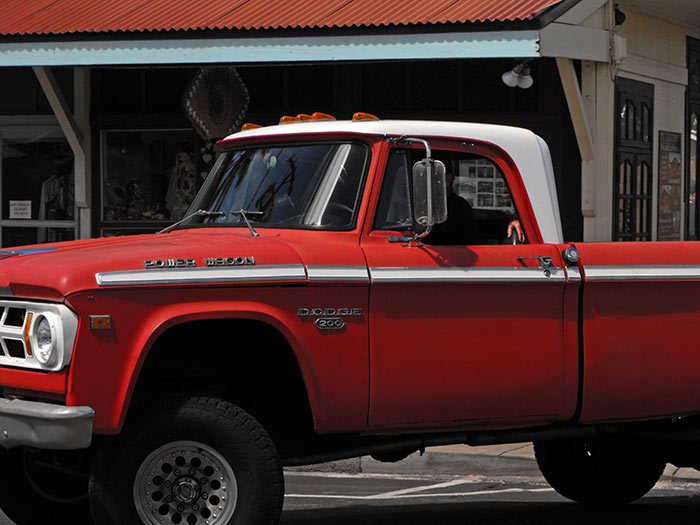 No rust. Lifted. The opposed wiper arms, grille and likely aftermarket side marker lights whispered "1968" to me. A guy was driving. Had a girl in the middle and a dog on the right. Romantic. I knew that dog might get the middle seat someday, but for now, everyone had their place.
She had aftermarket wheels, a 128" wheelbase and a ¾ ton chassis. Four wheel drive, absolutely. She could have had a 251" six, a 318 or a 383. I'll never know. She probably had a 4-speed tranny.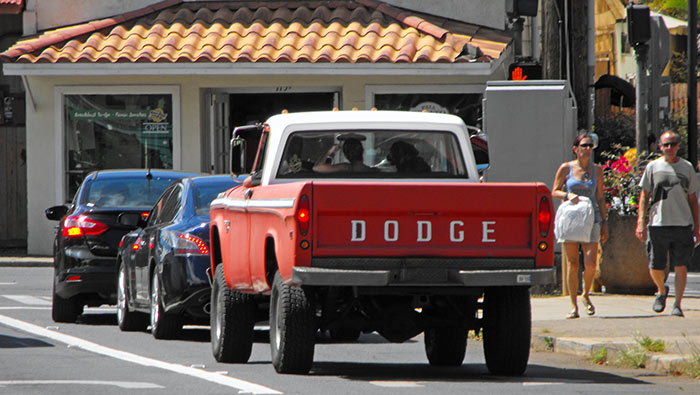 I managed to fire off three photos before she drove off into the mid-day sun. Of all the trucks on all the islands in all the world, she had to rumble past me…. I just stood there in the street and watched her roll away. She's with me now, in my dreams. Palm trees, white sand and that red pick-up truck.
Thanks to Ed Botchie and Dave Zatz for guiding me back to 1968. Thank you, Rick Blaine, and thank you, Sam Spade.
---
This story originally ran in the National Chrysler Products Club Journal.
Other Car Spotter articles by Tom Buss
Books by MoTales writer David Zatz
Copyright © 2021-2023 Zatz LLC • Chrysler / Mopar car stories and history.