Car Spotter: circa-1970 Dodge C-series medium duty truck
In May 2012, I spotted this Dodge truck at a farm stand on Route 9 in central New Jersey.  The box on the back is what some call a "grain body," which is a large, open container.  When driven slowly alongside a harvesting machine (combine), the box is filled with grain or corn from the field.  When the truck's container was full, the combine waited for an empty truck while the full truck took the grain somewhere for storage or processing.
I consulted with a Mopar friend regarding the details; he helped me with his personal knowledge and material from author Don Bunn, who has written several great books about Mopars.  Here is our best guess about the details of this truck:
In 1969, Dodge started using single headlights, so this truck is from 1969 to 1971.
This is a medium-duty truck, with classes between C500 and C800.  We think it is a C600 with a gross vehicle weight of 30,000 lbs, based on the single drive axle and container.
A major advantage of these trucks was their ability to carry more weight on a shorter frame, making it easier to drive in urban areas. 
Another advantage was their engine accessibility.  Four latches would release the hood and side panels.  Raise the hood; swing the hinged side panels out to the front and a mechanic could actually stand in the engine compartment for servicing. 
These trucks were available with diesel or gas engines.   The gas engines were likely 318 or 361 cubic inches.
Dodge stopped making medium and large trucks in 1975, so this is a rare find.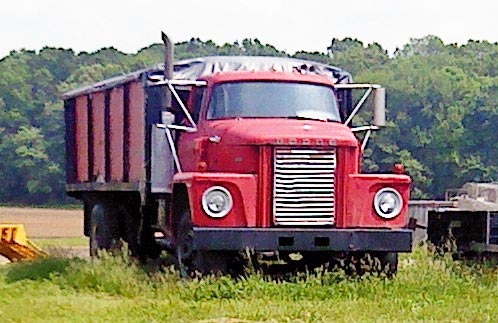 I was back through the area in July and the truck had been moved.  From a distance I didn't see any rust, no visible parts were missing, and the weeds weren't engulfing it, so I believe this truck is used regularly for farm chores. 
I like the idea that a 45+ year old Dodge truck is still in service here in the Garden State.  If I had this truck, I'd want to put a roll-back platform and tow bar on it so I could take the truck and two of my cars to shows.  A nice day dream about a nice Mopar, indeed. 
---
This story originally ran in the National Chrysler Products Club Journal.
Other Car Spotter articles by Tom Buss
Follow us on Post! It's like Twitter, but without ads or Nazis!
Books by MoTales writer David Zatz
Copyright © 2021-2023 Zatz LLC • Chrysler / Mopar car stories and history.