Car Spotter #17: 1966 Chrysler 300

Parts or restoration?  This 1966 Chrysler 300 was for sale near U. S. Highway 79 in the northeast outskirts of Buffalo, Texas in June 2020, during the depths of the Covid panic.  The asking price was $1200, "body, no motor." 

For a restoration, it needs lots of work, and it's not perfectly straight; the passenger side front fender was dented, and the vinyl roof needed replacing.  In addition to the engine, the rear taillight lenses and housings were missing.  I like the design, but I like the design of every 300.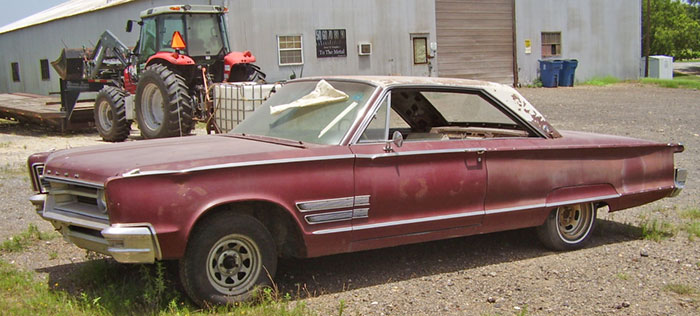 Its base engine would have been a 383 with a Carter AFB (325 bhp, 425 lb-ft of torque); this was the first year for the optional 440, so that might have been under the hood.  A three-speed manual transmission was standard, and a four-on-the-floor was optional—the last four-on-the-floor in a Chrysler until the 1982 LeBaron with a sideways four-banger.  It looks like this car originally had the TorqueFlite 727 automatic with a console shifter.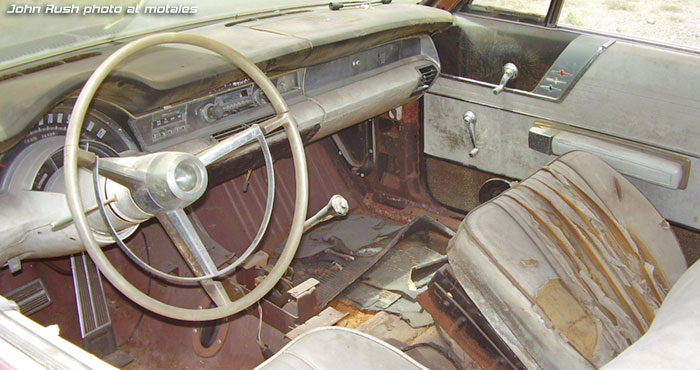 Without options, the car's factory price was $4,005; it weighed 3940 pounds, so it cost slightly more than $1/pound. 
This was one of 24,103 two-door hardtops from a total of 49,598 Chrysler 300s produced for 1966; that was the highest number of 300s made during any model year in the 20th Century.  (A note in the Standard Catalog of Chrysler states that 2353 4-door sedans were made for Canada, where they were called Saratogas; if true, these should be subtracted from the total, which also included four-door hardtops and convertibles.)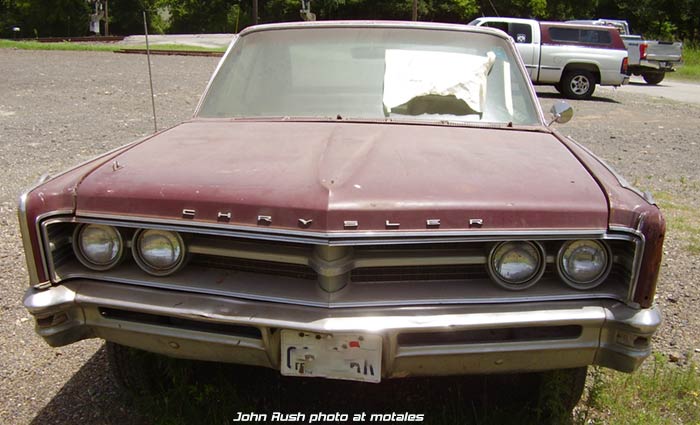 The 300 was originally on the larger New Yorker's 126" wheelbase; it was moved to the Newport's 122" wheelbase starting in 1962, and sat on the 124" wheelbase used by all large Chryslers (except station wagons) from 1965 through the end of its production in 1971.  The cross bar grille, common to most Dodge cars and trucks starting in the mid-1980s, was a standard 300 feature from the 1960 to the 1969 models.
This car was no longer in that spot after about 2 months, so I assume that it was sold.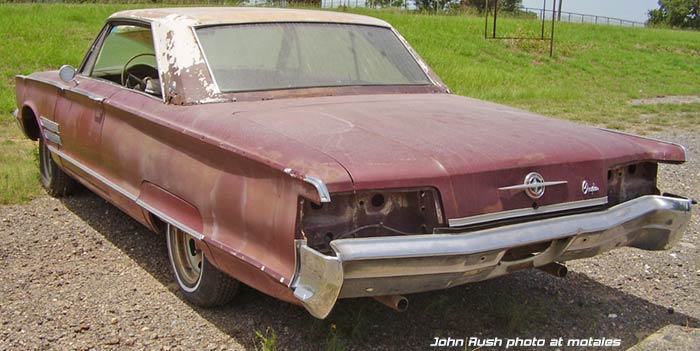 The 300 was initially a premium-priced performance car produced in limited quantities, often called a "Letter 300" or 300 "letter car," as it had a different letter for each model year (300B, 300C, 300D, etc).  For the 1962 model year, the "non-letter" Sport 300 was launched to take the place of the discontinued Windsor, as executives tried to take advantage of the 300 letter cars' strong reputation.  Its base engine was the 383 with a 2-barrel carburetor through 1964.  When that became the base engine for the 1965 Newport, the non-letter 300 was upgraded to a 4-barrel carb.  The performance priority had by then shifted to mid-sized cars; the 1965 300 L was the last "Letter 300."
Other Car Spotter articles by Tom Buss
Follow us on Post! It's like Twitter, but without ads or Nazis!
Books by MoTales writer David Zatz
Copyright © 2021-2023 Zatz LLC • Chrysler / Mopar car stories and history.