1940s Dodge pickup: Car Spotter #20
This time I bring you, alas, another pick-up. I'm seeing a lot more trucks than cars, but I have some vintage cars coming your way in future articles.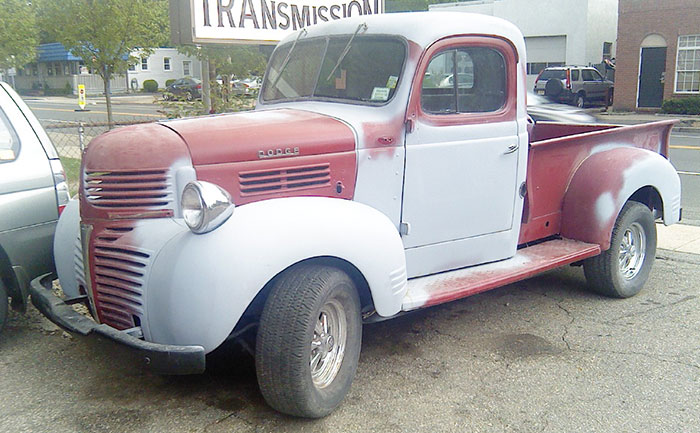 At some point between 1941 and 1947, this Dodge pick-up came to be. This body style premiered in 1938, but I believe this truck is somewhere between '41 and '47 because I see some styling changes that started in '41. Parking lights were moved from atop the headlights to cowl mounts, and headlights were moved from inboard of the fenders to dead center on the fenders. Though this truck doesn't have its hood ornament, '41 and up didn't have the "leaping ram" any longer, but a more subtle ram that flowed back toward the cab.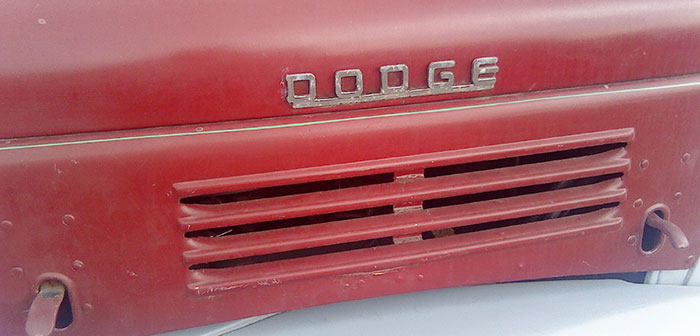 Dodge used the "Job Rated" sales campaign from 1940 until 1947. Though not intended for light-duty pick-ups, the philosophy soon spilled over. The idea was for an owner to buy a pick-up that matched their needs. This included the choice of engine, clutch, axles, frame length, tires, transmission, springs, and brakes. For example, why buy a one-ton pick-up when your job only required a half-ton?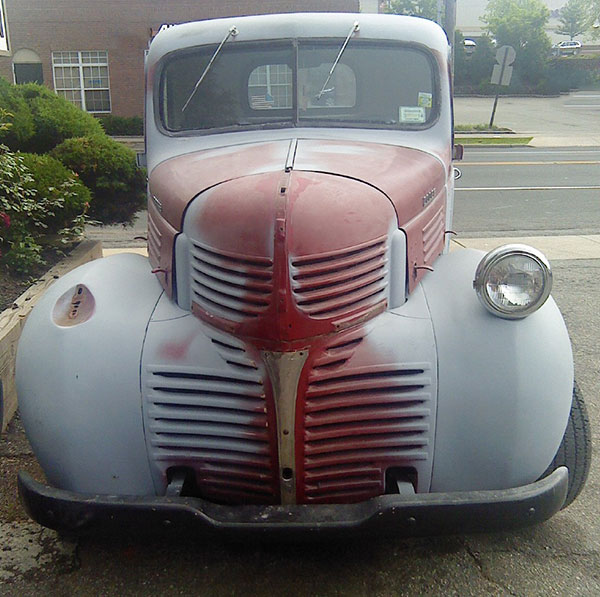 This truck must have had a few options because it has dual wipers. Pick-ups were available in half-ton, three-quarter-ton, one-ton, and one-and-a-half ton. Pick-up beds were oak with steel skid strips, always painted black. The lower body was also always painted black, while the cab, hood, bed and wheels could be another color. Engines were 201.3 ci or 217.8 ci in-line flat-head sixes. If needed, you could hand-crank the engine through an access hole in the lower grille.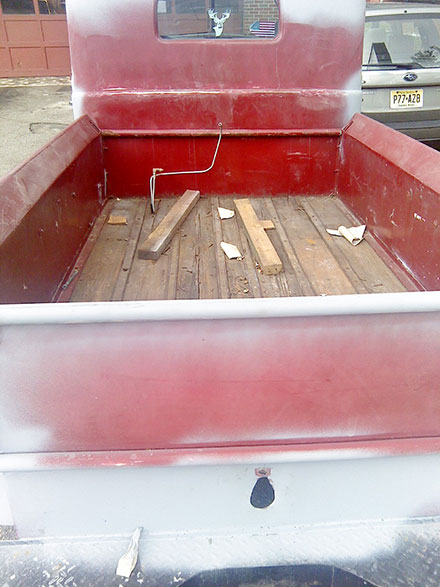 World War II halted civilian truck production on March 4, 1942. Production resumed on April 4, 1945, but only for buyers who could prove they made a significant contribution to the war effort. Parts that were normally chromed were painted instead, due to the war.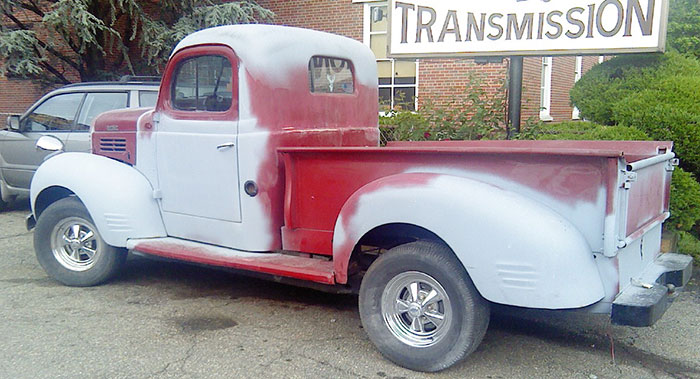 Once upon a time this truck might have been drag raced because there is a fuel line in the bed. The bumpers, wheels, and tires are newer. I'd seen this little gem at a transmission shop in Madison, NJ many times over the years. I took these photos in 2015. I don't know if the owner planned a restoration or a mild customization, but the good news was that it was rust free and moved around the property under its own power.
Other Car Spotter articles by Tom Buss
Follow us on Post! It's like Twitter, but without ads or Nazis!
Books by MoTales writer David Zatz
Copyright © 2021-2023 Zatz LLC • Chrysler / Mopar car stories and history.