Car Spotter #18: 1967 Dodge Coronet 440
In December 2018, this 1967 Coronet 440 was parked near a repair shop along U.S. 79 in Palestine, Texas.  While I was photographing it, the owner introduced himself and said that it was for sale, $6,000 firm.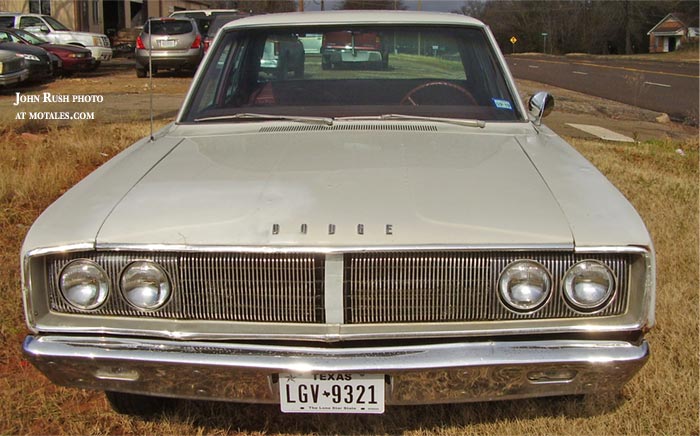 This Coronet had a 318 with a 2-barrel carburetor, automatic transmission, and just over 71,000 original miles.  He had purchased it a few years ago from the original owner, and wanted to sell it so he could buy a '69 Plymouth.  It started on the second crank, and was reportedly garaged since new. 
The car had spinner hubcaps that say "Plymouth," perhaps from a Satellite of similar vintage.  The a/c compressor had been replaced, and a Bose stereo added; otherwise, it was mostly original, and despite minor wear, in excellent condition.  To me, $6,000 seemed excessive for a sedan, but someone apparently thought otherwise, as the car was gone when I next drove by about two weeks later.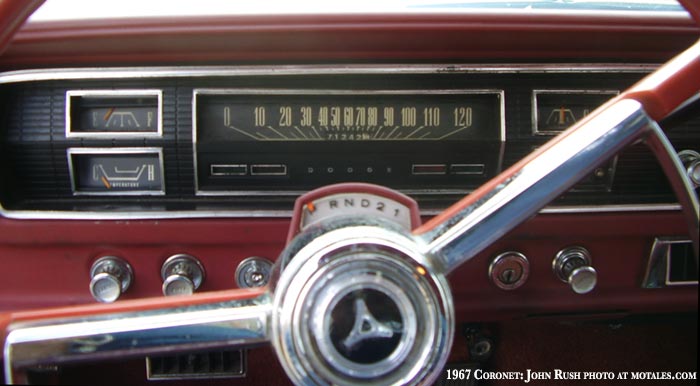 Production figures for 1967 Dodge models were rounded in the Standard Catalog of Chrysler, and weren't separated by body type.  The Coronet models were Deluxe (at the bottom of the line, when "Deluxe" should indicate a more luxurious and pricey model), 440, and 500. The Coronet R/T was introduced that year as a performance model, in 2-door hardtop and convertible form only.  (The "440" trim level, introduced with the 1962 model year, was not related to the 440 engine—which was optional on the Coronet 440 and 500, and standard on the R/T).
Dodge produced a rounded total of 184,000 Coronets with 1967 specifications; roughly half of them, 92,500, were 440 models, and about 83,900 of those (roughly 90%) came from the factory with V8 engines.  This doesn't include 24,200 station wagons, produced in both Deluxe and 440 versions.  The 273, also equipped with a two-barrel Carter BBD and rated at 180 bhp, was the base V8.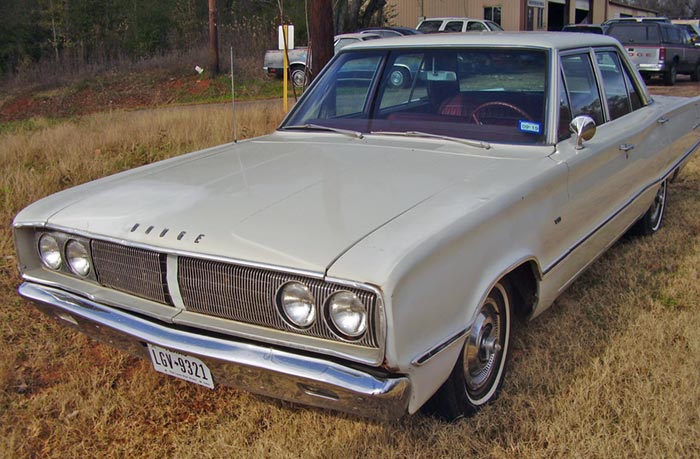 You can see John's 1992 silver-and-black Dakota with its black camper shell in the background.
Coronets were on a 117" wheelbase from the 1965 through 1970 model years.  They had been attractively redesigned for 1966; grilles and taillights were changed for 1967.  The 318 was rated at 230 bhp which would be roughly 155 hp (net) today.  The four-door sedan would have cost $2569 brand new with a V8 engine; the automatic transmission was a $163 option. ($2,569 in 2022 dollars is roughly $21,953.) The 318 was a $24 option, so it cost nearly 50 cents more per horsepower. Air conditioning cost another $274 and an AM radio was $44.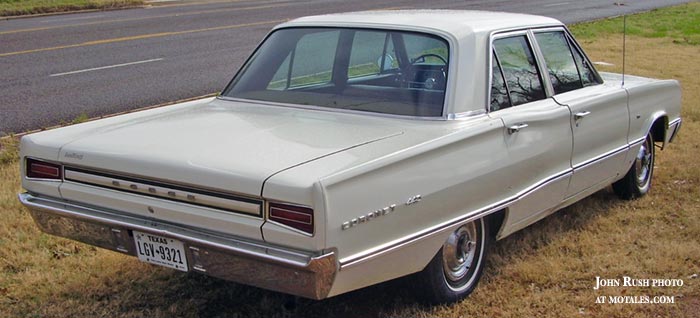 Had I bought it, I'd have used this car as an occasional driver.  But I remember when they were available for less than $1000, and even though its physical and mechanical condition (and inflation) could have justified its cost, I can't see paying that much for a sedan.  On the other hand, $6,000 would have been a bargain for a 2-door hardtop.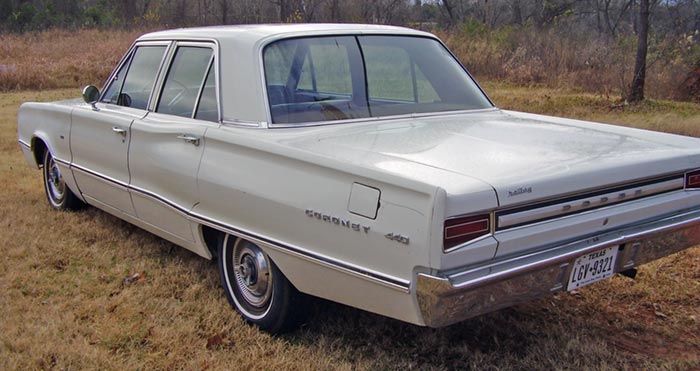 Other Car Spotter articles by Tom Buss
Follow us on Post! It's like Twitter, but without ads or Nazis!
Books by MoTales writer David Zatz
Copyright © 2021-2023 Zatz LLC • Chrysler / Mopar car stories and history.