Car Spotter: An Unusual Dodge Ram Minivan
Here is a circa 1984-86 Dodge Ram Van, but it isn't just your run-of-the-mill K-platform mini-van.
This tan van with brown stripes was customized by Celebrity Coach, Inc of Larksville, PA. I believe it to be a 1984-86 model because of the grille. I didn't determine what was customized, but I believe the stripes, the platform bed and the rear curtains are additions.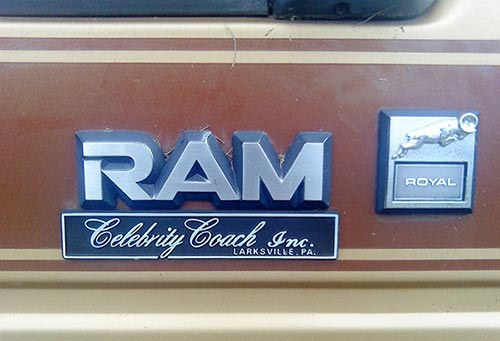 Note the lack of body rot; perhaps it wasn't driven very much. Even though cars were required to have a third taillight beginning in 1985, vehicles classified as trucks were exempt, so 1984-86 Dodge and Plymouth mini-vans didn't have a third taillight.
We go camping near Delaware Water Gap every year, and always saw this van sitting near Route 80 at a defunct used car dealer. I last saw it in September of 2014.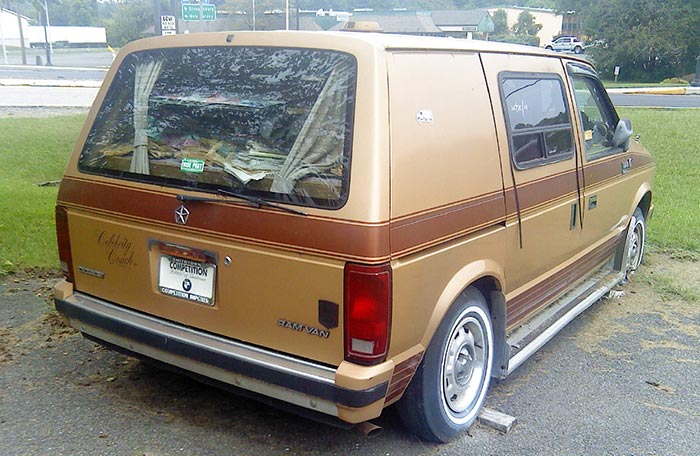 While not as exciting as muscle cars or old pick-ups, when was the last time you saw a 35 year old Dodge mini-van? If you didn't own one of these, you probably knew someone who did. Love them or hate them, these grocery-getters changed the auto industry.
See the book Mopar Minivans.
---
This story originally ran in the National Chrysler Products Club Journal.
Other Car Spotter articles by Tom Buss
Follow us on Post! It's like Twitter, but without ads or Nazis!
Books by MoTales writer David Zatz
Copyright © 2021-2023 Zatz LLC • Chrysler / Mopar car stories and history.