1951 DeSoto: Toothy-Grilled Car Spotter (#22)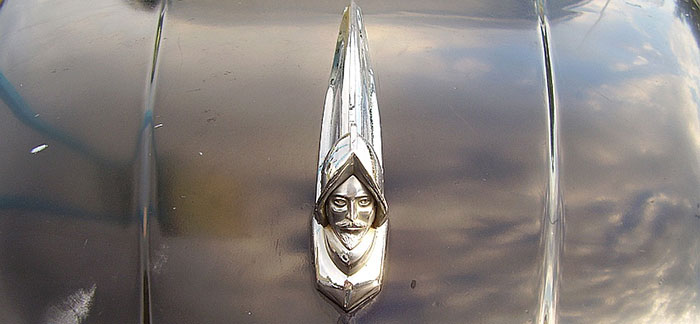 When I spotted this DeSoto during August 2016 in a repair shop parking lot along Ford Road, just west of its intersection with Inkster Road in Garden City, Michigan, I had a difficult time determining whether it's a 1951 or 1952 model, as they're essentially the same. Finally, I found a difference: the DeSoto name on the hood was in script for 1951 and in block letters for 1952, making this a 1951 model. Were it a Custom, its name would be in chrome on the front fenders; that location is vacant on this car, so it's an entry-level Deluxe. (Other differences: the 1952 models had the Deluxe name on the front fenders; and, as a running change, when the Firedome was introduced in early 1952, an air scoop took the place of the hood ornament.) 1951 DeSotos were made from December 1950 through to November 1951, arriving in dealerships in late January 1951.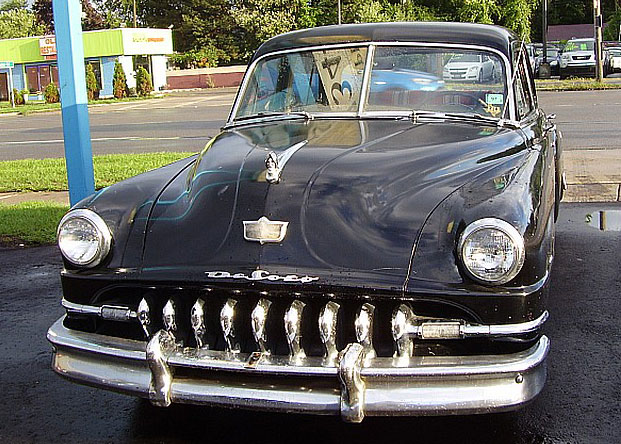 The DeSoto was redesigned in 1949, and the 1950 model was very similar, though it (and other Mopars) had the first bonded (rather than riveted) brake pads, dubbed "cycle bond." For 1951, the hood, deck lid, and fenders were mildly altered, and a new, "toothy" grille helped to define the DeSoto look through the 1955 model year. Hidden from view were new Oriflow shock absorbers, with "sea-leg" mountings, shared with all Chrysler Corporation cars. The wheelbase was 125.5 inches, as in 1950, but length grew by 1.2 inches to 208 inches.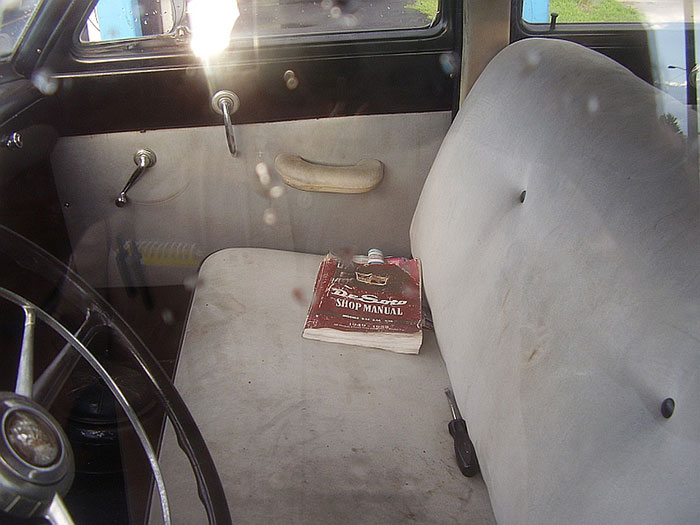 The flat-head straight-six engine was modified with a quarter-inch longer stroke, which increased its displacement from 236 to 250 cubic inches (Chrysler recorded it as 250.5 cid). The change raised its brake horsepower slightly, from 112 to 116 at 3,600 rpm, and increased torque from 195 to 208 pound-feet at 1,600 rpm. DeSoto advertised higher compression and longer-life valves, but either that language was incorrect or they were comparing against some other car company.
The pictured car has the standard 3-speed manual transmission with a column shifter; Chrysler did not yet have a fully automatic transmission, but did have an optional semi-automatic.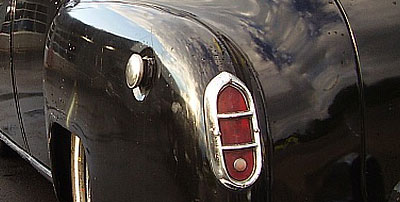 DeSoto produced more than 100,000 cars in calendar-year 1949, and did so again for the next two years, according to Ward's production figures (with the caveat that production does not directly correlate to sales). The Standard Catalog has specific production figures by model and body type, albeit grouped with the 1952 model year due to the Korean War; over the two years, DeSoto produced 13,506 Deluxe four-door sedans. The Custom was far more popular, and starting with the 1953 model year, the two models were combined into the somewhat ironically named "Powermaster" (the DeSoto with V8 power, appearing in early 1952, was called "Firedome.")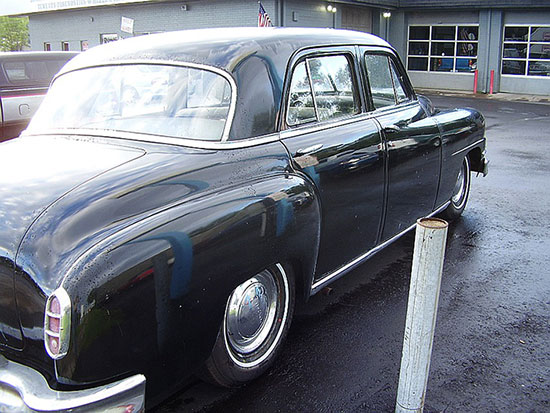 Brand new, the factory cost was $2227, and the weight was 3,570 pounds; both figures were without options. This car has an AM radio, which were optional; in those days, so was the heater. I don't recall if this one was equipped with a heater, but in Michigan's climate, I hope it was.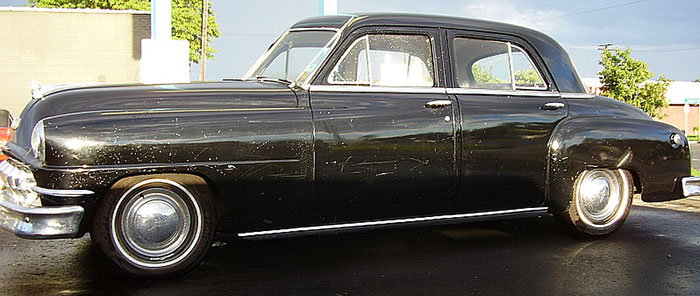 Among the listed options were full wheel covers; this car has them, but they don't look like the brochure photos for the 1951 and 1952 model years; the design may have changed within the production run, or these could be replacements for lost originals. (The standard hubcaps were smaller but still had an image of Hernando De Soto.)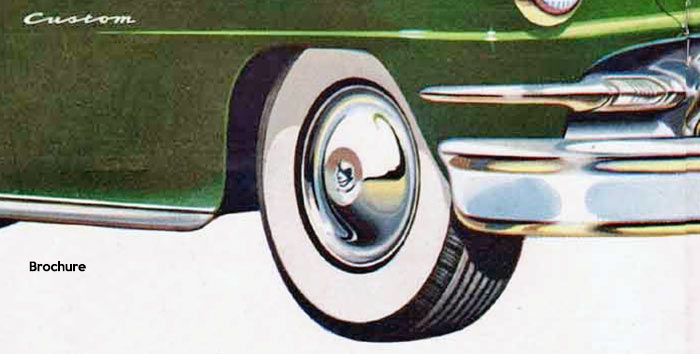 Two standard features on the DeSoto were electric windshield wipers (rather than vacuum powered) and combination parking lights/turn signals, according to the brochure. The brochure claimed that the DeSoto's new-for-1951 features included wider rear windows, waterproof ignition, and a new parking brake which took less effort to engage. An intriguing option was a "lighted hood ornament;" it doesn't look like this car had one. It does have the optional backup lights. No option prices were listed for this model year in the Standard Catalog.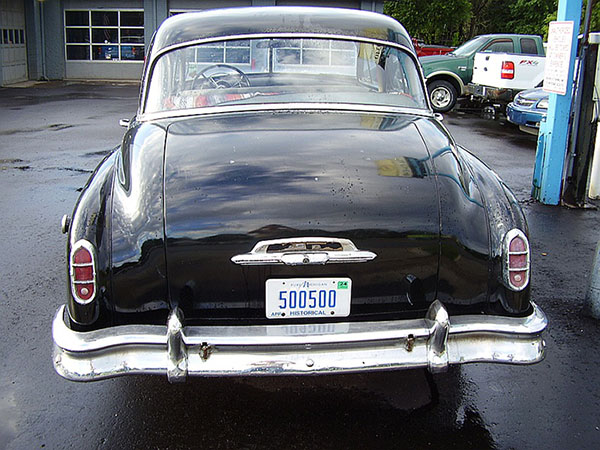 The car's condition is below excellent; its sides are scratchy, its weatherstripping is worn, and its taillight lenses are faded (good luck finding new ones). But the body looks straight. It's been a driver; maybe it still is, but if so, it's driven on streets where I normally didn't go, since this was the only time I saw it. Apparently, whatever repairs and/or maintenance it needed had been made, and the car was waiting for the owner to pay the bill; when I next drove by, it was gone.
1951 DeSoto Data from Chrysler
Chrysler was inconsistent with the spelling of "DeSoto," sometimes using the space (the 1971 brochure has the space whenever the name is printed) and sometimes leaving it out (internal documents and the badges themselves have no space between "De" and "Soto.") For 1951, the division had two official car codes, S-15-1 (Deluxe) and S-15-2 (Custom). The letter "S"  told you it was a DeSoto; it would be a D, but Dodge used the letter D. Imperials, at this time, were C—they were still Chryslers.
Chrysler Corporation vehicles ranged from 3,100 lb (Plymouth Concord) to 5,500 (Crown Imperial). The DeSoto Deluxe tipped the scales at 3,775 pounds—200 more than the heaviest Dodge—and the Custom added just ten pounds. The Chrysler Windsor, incidentally, was five pounds lighter than the DeSoto Custom. These are all road weights with six passengers, and may not be comparable to typical "dry weight" numbers of the day. Modern curb weights include all consumables (including a full tank of gas) but not people.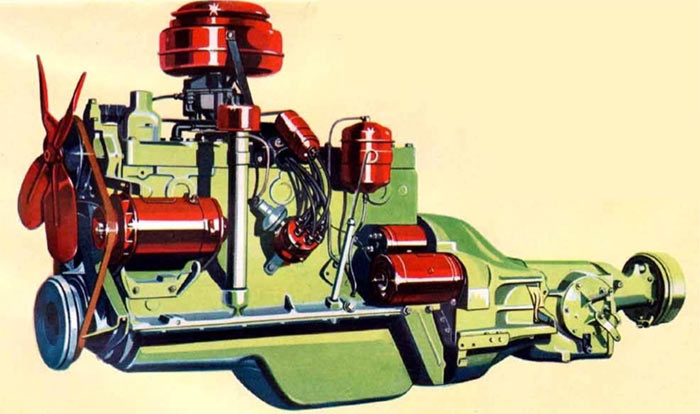 The engine was shared with Plymouth, Dodge, and even the Chrysler Windsor, with the same 7.0:1 compression—but Plymouth's was 218 cid and Dodge's was 230 cid. Chrysler and DeSoto shared the same size. Power ratings varied by size, as one would expect: 97 hp for Plymouth, 103 for Dodge, and 116 for DeSoto, with 175, 190, and 208 lb-ft, respectively. For DeSoto, the bore and stroke were 3 7/16"  x 4 1/2" (250.57 cubic inches); DeSoto used this engine, without major changes, into 1954, and then went V8-only with the 1955 models.
Rear axle ratios were 3.90:1 on both DeSotos; the only other car axle ratio in the corporation was 3.73:1 for 1951. Brakes were drum style, front and rear, across the corporation (except Custom Imperial, which had front discs), with 12-inch drums on DeSoto and Chrysler models; Plymouth had 10-inch drums, Dodge had 10-inch on Wayfarer and 11-inch on Meadowbrook and Coronet. Power brakes were only available on Chrysler New Yorker and Imperial—not Crown Imperial.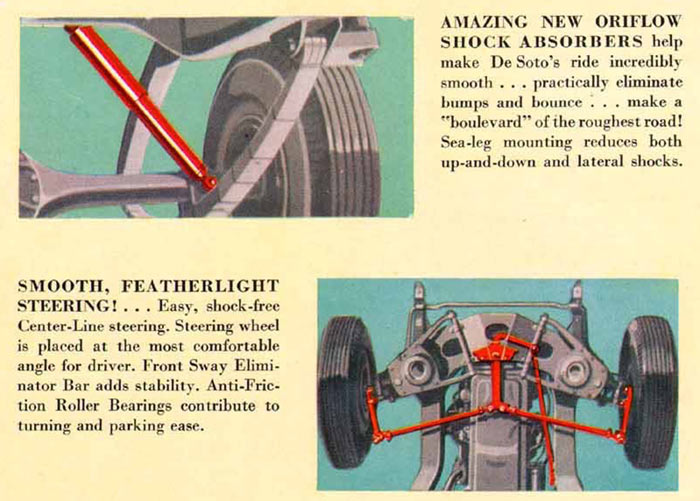 DeSoto's standard tires were 7.60x15; 15-inch wheels were standard on all Mopars for 1951. In these pre-radial days, they had four plies. The fuel tank held 17 gallons from Plymouth through DeSoto (and Chrysler Windsor), 20 on Chrysler; the radiator held 13 quarts on Plymouth, 14 on Dodge, 15 on DeSoto and Chrysler Windsor, and a stunning 25 quarts on the upper level Chryslers. (Part of the reason for this was because the Chrysler Windsor had a straight six and the upper Chryslers and Imperials had Hemi V8s—1951 being their very first year.)
Chrysler had four transmission variations in their official specs: the three speed, a three speed plus fluid coupling, the M-6 with fluid coupling, and the M6 with a torque converter. The M6 was dubbed "Tip-Toe Shift"  by DeSoto (Gyro-Matic by Dodge, Prestomatic by Chrysler). DeSoto Deluxe came with the 3-speed, with an M6-fluid coupling option; the Custom came with the M6 plus fluid coupling. The M6 with torque converter was reserved for higher level Chryslers. The fluid coupling basically kept a manual clutch but added a simple fluid coupling so the car could be stopped while in gear; the torque converter was a more advanced setup. The M6 was a four-speed manual transmission used solely in a semi-automatic setup; it was in essence a combination of two two-speed transmissions, so there were two gears and then standard and overdrive versions of them. Low was solely for starting out and towing uphill. Owners could shift the M6 like a four-speed or, after getting into a forward gear, leave it in Drive. For more, see Allpar for FluidDrive.
The 1951 Chryslers, regardless of marque, had split windshields, advertised as having "easier, more economical replacement." Chrysler had the industry's first single piece, curved windshield back in 1934, but went back to two-piece windshields shortly after. For 1951, Chevrolet, Hudson, Kaiser, Frazer, Mercury, Studebaker, and Ford also kept the split design, while Buick, Olds, Packard, Lincoln, Nash, and Cadillac had single-piece windshields.
According to Ward's, 1951 was a good year for DeSoto, with 121,794 cars made—around 6,000 down from 1950 but still in the six figures (These production figures are for the calendar year, not the model year, but the vast majority of 1951 was devoted to making the 1951 model-year cars.) DeSoto had a 2.3% production share for the year; Chrysler as a whole had a 23% share (largely due to Plymouth with 12%). This was an unusually good year for Chrysler Corporation, which took share from GM and Ford—it would never reach 23% again. Both Dodge and Chrysler outsold DeSoto through most of the 1950s, despite Chrysler's higher prices.
Outside of Chrysler, DeSoto's main competitors were arguably Oldsmobile and Mercury, which made 285,634 and 238,854 cars, respectively. Outside of the Big Three, the major competitors were Hudson and Kaiser, which made 93,327 and 99,343, respectively. It's worth noting that Oldsmobile, according to the Standard Catalog of American Cars, switched to an entirely V8-powered lineup for the 1951 model year, using a 303 cubic inch engine which had been launched in 1949. All of the Oldsmobiles other than the 98 were priced lower than the DeSoto Deluxe, and a few were under $2,000. The 1951 Mercury had just one model, with several body types, and most of those were cheaper than the DeSoto Deluxe; what's more, the Mercurys also had V8s, using a design available before World War II.
Other Car Spotter articles by Tom Buss
Follow us on Post! It's like Twitter, but without ads or Nazis!
Books by MoTales writer David Zatz
Copyright © 2021-2023 Zatz LLC • Chrysler / Mopar car stories and history.