Car Spotter: Hello, I'm a Truck
"Hello, I'm a Truck" came to mind when we ended up behind a rollback with this pick-up staring down at me.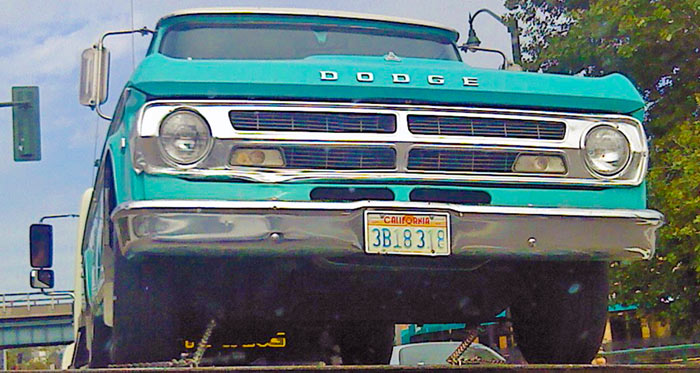 On our July 2012 trip, where we saw a '76 Dodge ice cream truck in San Diego, we also saw this 1970 or '71 Dodge pick-up in Encinitas. We'd met a Cali resident in San Juan Capistrano who recommended the Encinitas beaches for our daughter Cassandra. A morning drive on the South Coastal Highway did not disappoint. We were looking for a parking spot and found ourselves behind this truck. I followed the guy around the block, taking pictures as I drove. The driver must have thought we were crazy, but I figured this might be my only chance to see this truck up close.

The truck was light blue with a white roof. Except for a few small dents and dings, it was in excellent condition. After consulting with a friend, I think it was a Camper Special. It has an access door for campground hook-up, hold-down attachment points for a slide-on camper, large rectangular mirrors, an 8' bed and 128" wheelbase.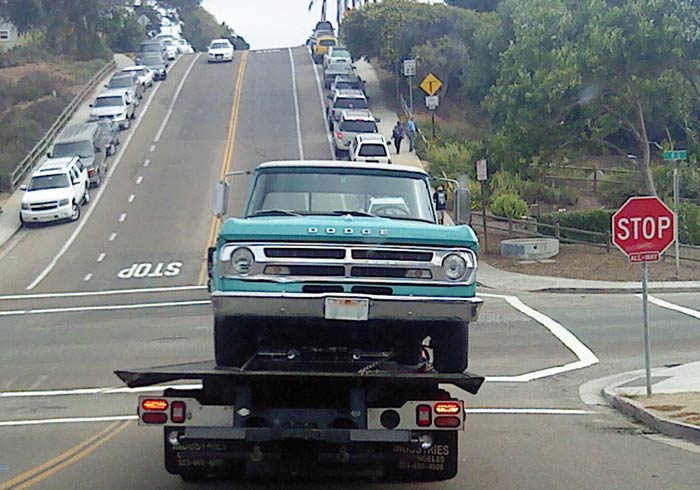 California lives up to its reputation for beautiful beaches and beautiful cars and trucks. I highly recommend a stop in San Juan Capistrano, Encinitas and a drive on the South Coastal Highway.
"Hello, I'm a Truck" was written by Bob Stanton and sung by Red Simpson. It was released in 1971 and was part of the CB radio/truck craze of the 1970s.

---
This story originally ran in the National Chrysler Products Club Journal.
Other Car Spotter articles by Tom Buss
Follow us on Post! It's like Twitter, but without ads or Nazis!
Books by MoTales writer David Zatz
Copyright © 2021-2023 Zatz LLC • Chrysler / Mopar car stories and history.