1970-71 Dodge W300 Power Wagon: Car Spotter #26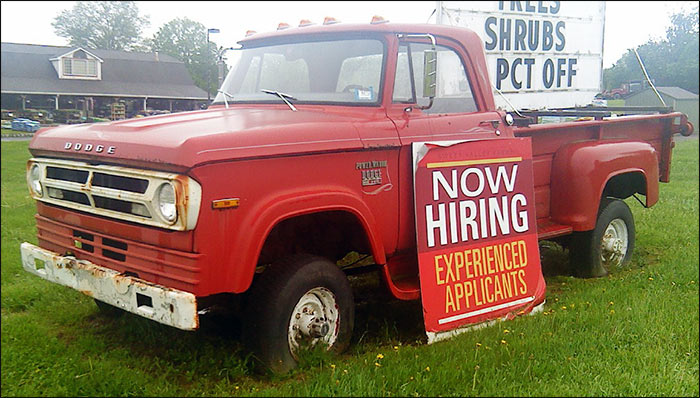 Alas, I bring you yet another pick-up truck. But this time I can tell you where it is, if you ever want to visit it. It has been in a grassy field for all of the 31 years I've been in New Jersey, because Sweet Valley Farms on Route 202 in Ringoes, New Jersey, uses it as roadside advertising. I drive through there once in a while to get to the New Hope/Philadelphia area, so I decided to take a closer look a few years ago.
It is a 1970-71 Dodge 300 Power Wagon—not the "real" Power Wagon, whose 1968 model year was the final one sold in the United States. Instead, Dodge applied the Power Wagon name to all its four wheel drive pickups. The Power Wagon badging does not quite match the Dodge badge, but this appears to be a factory issue, based on photos of other 1970-71 Power Wagons.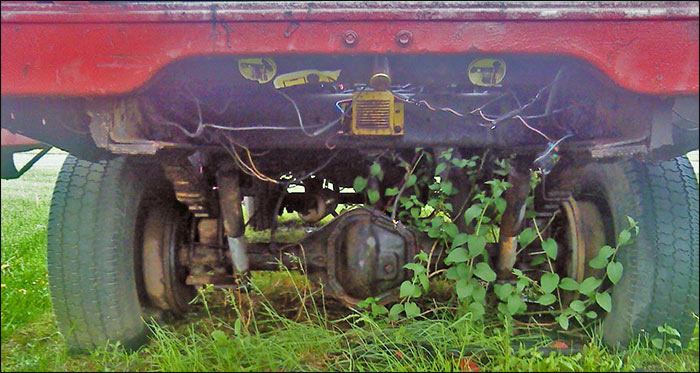 When doing my online and book research, I realized I might have more questions than answers regarding this Red Monster. I didn't feel comfortable opening the hood or doors. To my knowledge, it is not for sale, but still interesting to see.
The fender badges reveal a 300 series Power Wagon, not a 100 or 200. I finally realized why these pick-ups look like they're stretched upward, compared to other run-of-the-mill Dodges. I noticed the extra steel plate between the front bumper and headlights, and that the front fenders are taller than on other Dodge pick-ups. This all appears to be for added ground clearance.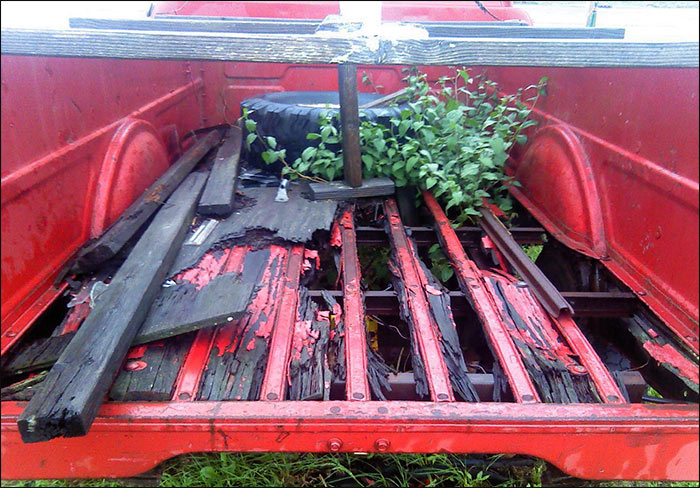 The Power Wagon name makes it clear this is a W300, with four wheel drive, not the rear wheel drive D300. It has a real step-side wooden bed floor that is rotting away which, I believe, is nine feet long from the factory. I suspect this truck had dual rear wheels at one time because of the placement of the brake drums. It is a 1970-71 because of the grille (introduced in 1970) and rectangular side marker lights.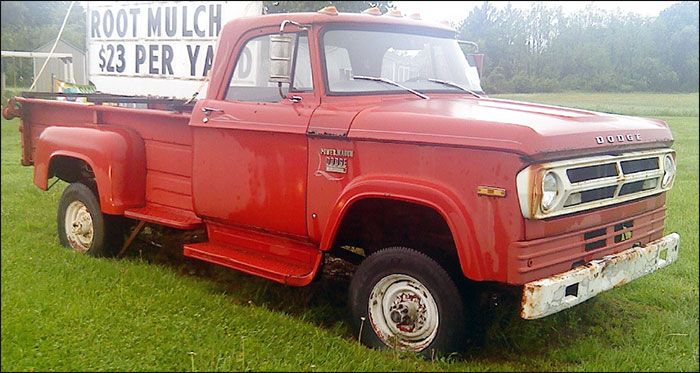 This Sweptline style pick-up was made from 1961 until 1971. In 1961, these trucks were marketed as having passenger-car styling and handling and were linked in advertising to the Dart passenger car (as a Dart-ish pick-up) that was new in 1960.
I don't know what engine or transmission this baby has; a typical W300 would likely have the base-level 318 cubic inch V8 with a simple two-barrel carburetor. The base transmission was a wide-spaced four-speed manual from Chrysler's own New Process Gear, the NP435; buyers could opt for either a LoadFlite three-speed automatic, or a close-spaced NP445B manual (the three speed manual was not available on the 300 level). The engine was specially made for trucks, with many extra durability features; the only optional engine was a 383 cubic inch V8 with stump-pulling torque. Power steering and power brakes were both standard.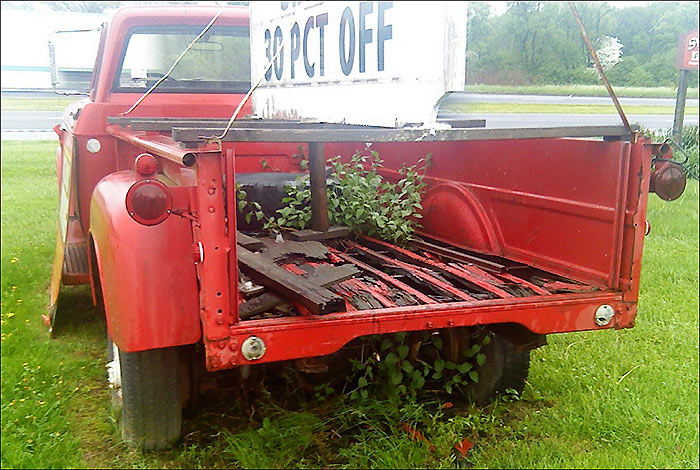 Dodge made 65,200 trucks in the 3-to-5-ton GVWR class in 1970, and 68,500 in 1971. That was around a 17% market share. However, total W300 production was, according to the Standard Catalog, just 1,053 for the 1970 model year and just 783 for 1971.
If you want to take a pleasure drive through New Jersey farm country, you might come across this Red Monster. Maybe you'll buy a plant or some veggies while you look it over…
Richard Henley commented:
All D300 and W300 during the Sweptline era have the extra panel under the grille, larger front fenders, and running boards under the cab, whether the truck was equipped with single or dual rear wheels. That was needed because the 300 had straight frame rails for easier aftermarket truck body mounting, as back then dually pickups were unheard of, and most one ton truck buyers added the body of their choice to the truck.
Since it has a nine-foot Utiline bed with the single wheels, it's probably a factory one-ton pickup, as a nine-foot Sweptline bed wasn't available, and a dual rear wheel would have been a factory cab and chassis. The rear axle was the same for single or dual rear wheels, so that would be the correct brake drum position on the rear, but a dual rear wheel truck would have different front hubs to account for the offset of the wheels used.
As for the engine, the base engine was the 225 slant 6, and I've seen quite a D and W300s with that engine [for that particular year, the brochure shows the slant six as standard for the 200 but not the 300]. Looked at through today's lenses, it would seem to make a crazily underpowered truck, but take my word for it, a 6 cylinder does just fine getting the payload a one ton can carry moving when you consider the 6.69:1 first gear ratio of the NP435 and the normal axle ratios were 4.88:1. By today's standards that would seem to make an ungodly slow truck, but considering the old bias ply tires and the roads of the day, that was good enough for a truck.
The usual transmission was the NP435, extra cost option was the A727 with heavy duty cooling, to my knowledge the NP445 didn't come out until 72. And I can't confirm but I've been told by a lot of people that the only cosmetic difference between a 70 and 71 is the grille. In 70 the grille shell was aluminum, in 71 it was steel, either painted or chrome.
Other Car Spotter articles by Tom Buss
Follow us on Post! It's like Twitter, but without ads or Nazis!
Books by MoTales writer David Zatz
Copyright © 2021-2023 Zatz LLC • Chrysler / Mopar car stories and history.