Car Spotter: 1950 Plymouth Special Deluxe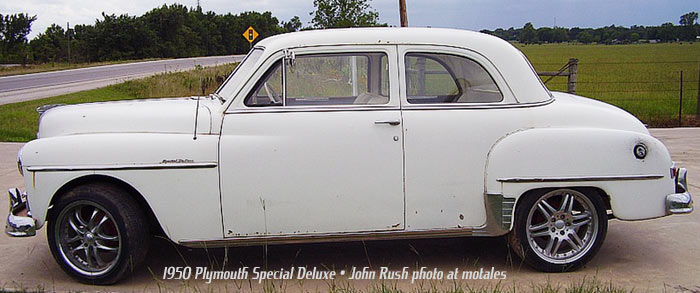 Near Milano, the town which hosted a fine Imperial and a neglected Valiant, I spotted this 1950 Plymouth for sale in June 2017.  While Plymouth sold 610,954 cars in the US in 1950, breaking its old 1937 record, few remain because of their old-fashioned styling and low power, which made them unexciting for most collectors in later years. They were created to be "larger on the inside and smaller on the outside," which would be perfect for 1980 and was apparently just fine for 1950—but not so good as the 1950s wore on.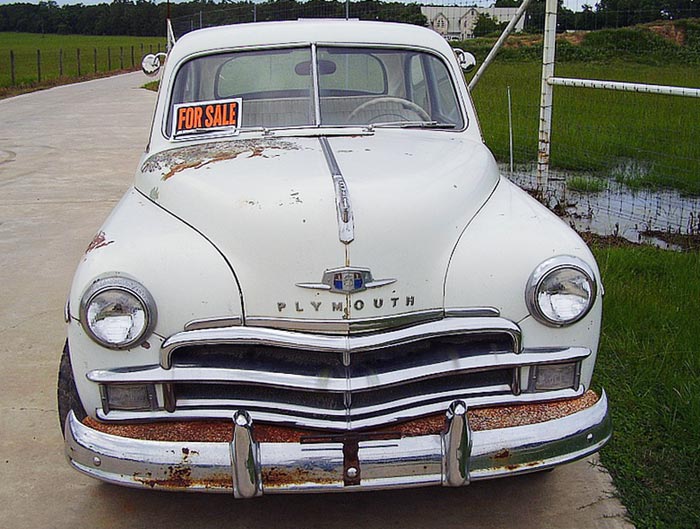 This was a Special DeLuxe, the last year for that model name as Plymouth moved the very next year to a more modern naming scheme—Concord, Cranbrook, and Cambridge.  Jim Benjamins, in the Illustrated Plymouth and DeSoto Buyer's Guide, described the 1950 Special Deluxe (technically, the P20)—to be "solid but outdated." They were similar in styling to the 1949 Plymouths—which were quite similar to the first post-war Plymouths. The most noticeable difference was a simpler front grille from the 1946-1949 models, which had more chrome bars in front.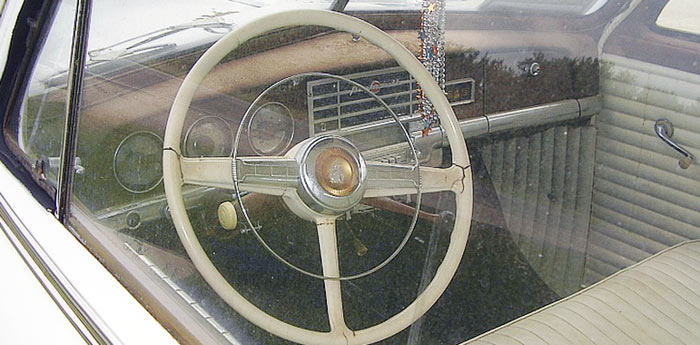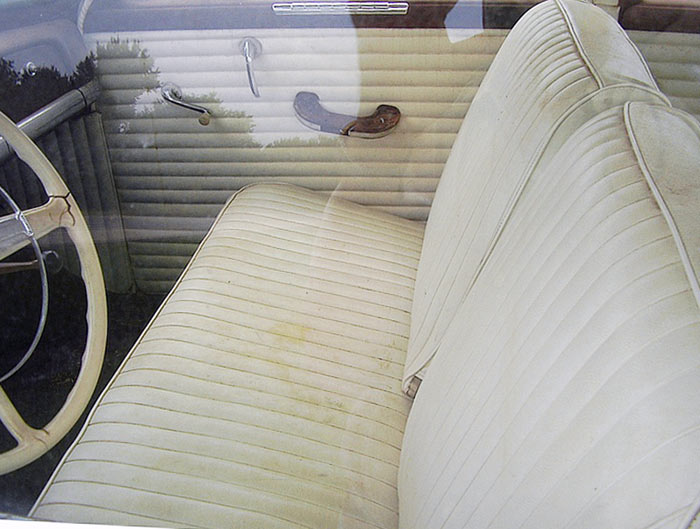 It has a straight body, but there's minor rust-through at the bottom of the doors; underneath, it looks like surface rust.  It's hard to say if the interior is original; if so, it's in very good condition for its age.  The wheels are after-market.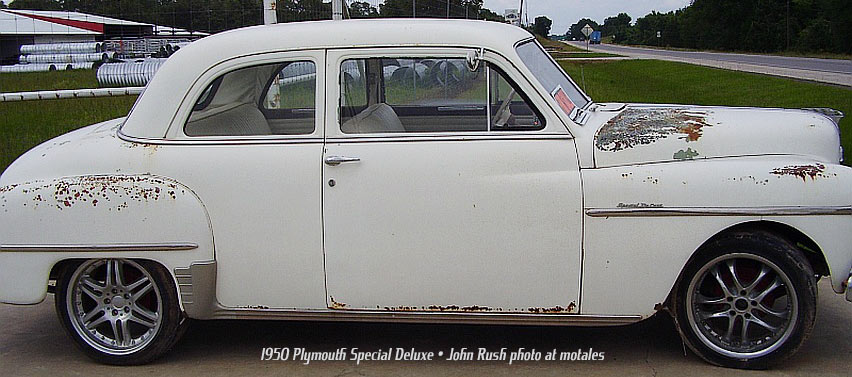 It has a three-speed manual transmission with a column shifter. I didn't see the engine, but I'm guessing it's the original 217 cid flat-head straight six (Plymouth did not have four-cylinders or V8s in 1950). That engine had a 6.6:1 compression ratio to make it work well with poor gasoline and a rated 95 horsepower (gross).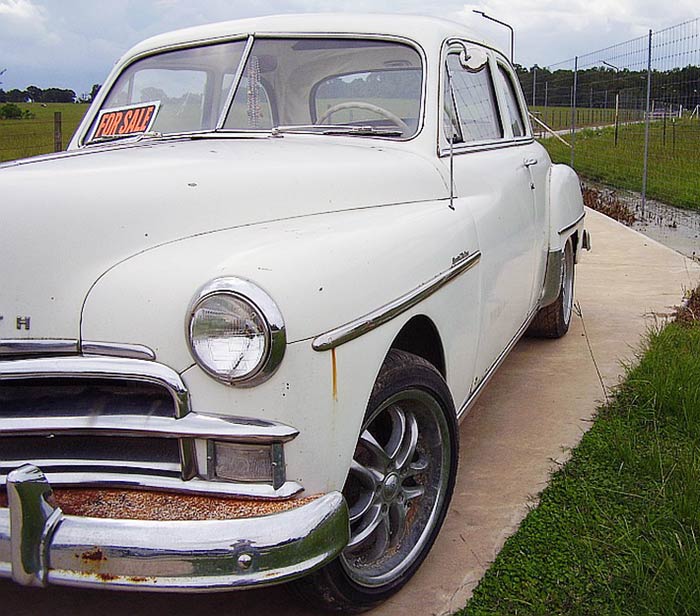 The asking price for this 1950 Plymouth was $2,950, and it sold within a month.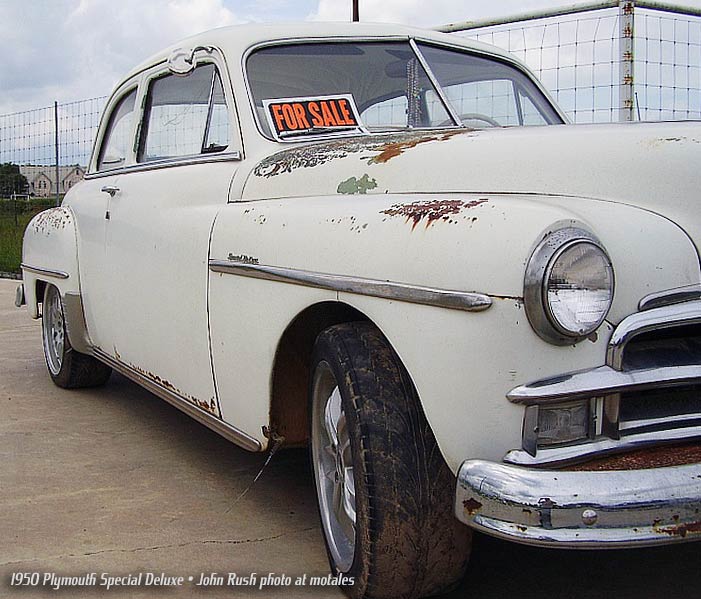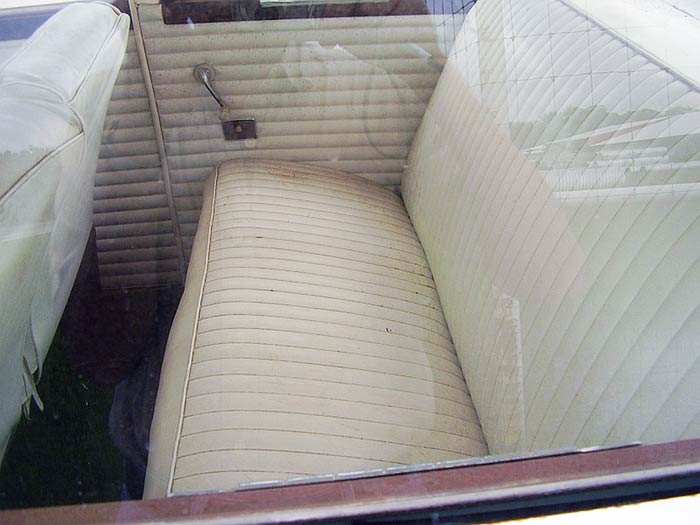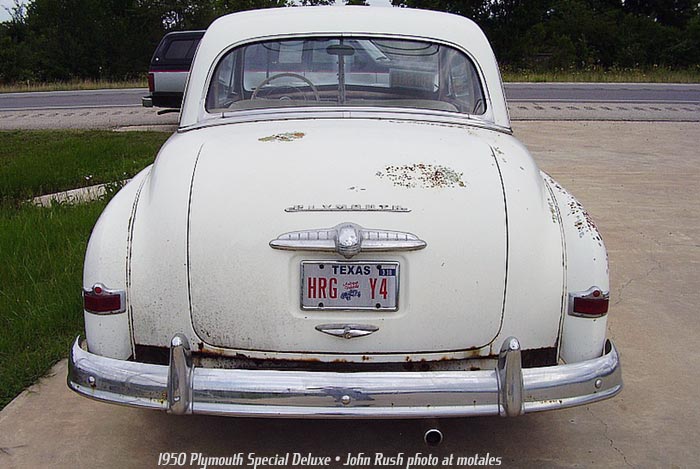 Other Car Spotter articles by Tom Buss
Follow us on Post! It's like Twitter, but without ads or Nazis!
Books by MoTales writer David Zatz
Copyright © 2021-2023 Zatz LLC • Chrysler / Mopar car stories and history.