The original Dodge Durango, 1998-2003: Successful heavy-hauler three-row SUV
The first Dodge Durango was based on the highly successful Dakota pickup, and hit the ground running; the remake under Daimler was disastrous, and the final recipe was to use a lengthened and retuned Jeep Grand Cherokee (as the Dodge Nitro was a lengthened and retuned Jeep Liberty).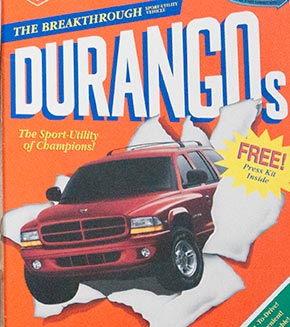 The development of the Durango was as innovative as the vehicle itself; and we cover that after running through the introduction and the year-by-year changes. We then conclude with some impressions of each generation.
1998 Dodge Durango Introduction
Needing a competitor in the ever-growing truck-based-SUV segment, Dodge released the first-generation 1998 Durango in 1997. Based on the Dakota's platform, it was technically a midsize SUV, but sometimes Dodge referred to it as compact.
The body-on-frame Durango could accommodate three rows of passengers (as an option) and tow up to 7,500 pounds. The first generation visibly shared with the successful Dakota, keeping the same front end and interior layout.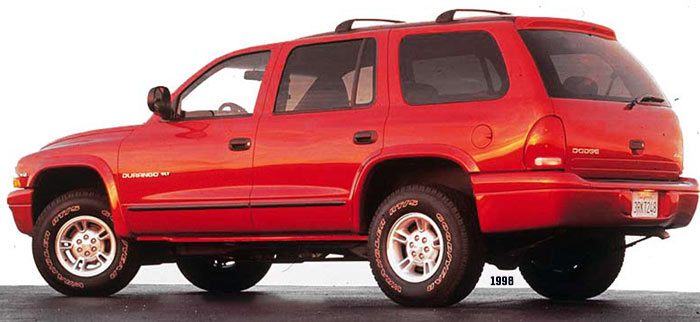 The Durango had two engines for 1998; both were V8s, dating back decades but upgraded for dramatic power, economy, and drivability boosts. The 5.2 liter V8 (318 cid) produced 230 horsepower and 300 lb-ft of torque, while the 5.9 liter (360 cid) produced 245 horsepower and 335 lb-ft of torque. All the 1998 Durangos had four wheel drive, and were sold in just two trims: SLT and SLT Plus.
There were actually two four wheel drive options, a part-time system and a full-time system, both using transfer cases. The part-time system was better for offroad use, but if left on, would scrub the tires and make tight turns impossible. There was only one choice of transmission, a four-speed automatic which essentially derived from the old Torqueflite 727 three-speed, but with an overdrive unit added on and electronic controls. This was a good reliable transmission, for the most part.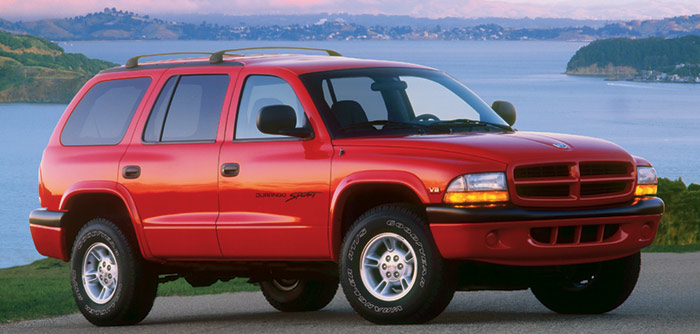 Industry firsts included hydroformed frame crossmembers; a unique third-seat folding mechanism; a second-seat fold-and-tumble mechanism; and an S-shaped rear spring main leaf. The Durango also had the largest bodyside aperture panel ever used by Chrysler.
Ride and handling were a key, and both surpassed most buyers' expectations. Part of that was because of an upgraded, fully boxed frame, three times stiffer than the Dakota 4x4's—despite the money that would be saved by sharing frames. The frame weighed only slightly more than the Dakota's (with the same wheelbase), due to computer modeling and new thickness optimization software. Splaying the frame outboard in back provided more interior space, as well as space for a 25 gallon tank, spare tire, and low restriction exhaust. Dennis Moothart, head of truck chassis engineering, wrote, "Stiffness couldn't come at the sacrifice of handling. Our target was the Dakota feel in an SUV frame, which meant keeping the weight gain to a minimum."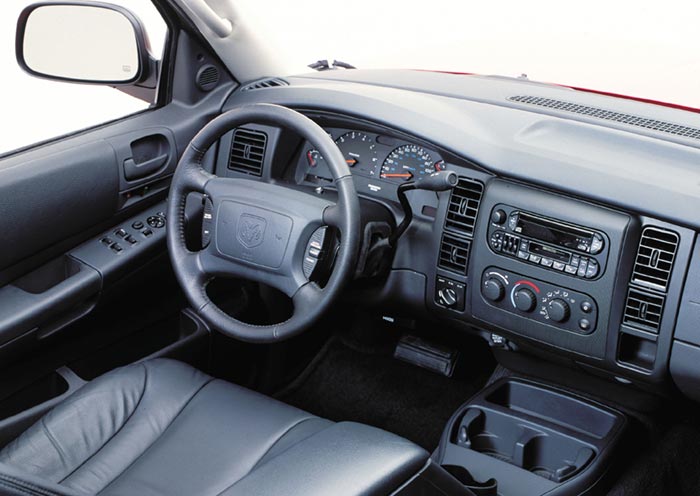 The Durango came with variable ratio steering and a quicker overall gera than Dakota, to make it feel more nimble; the ride height was dropped by an inch to aid handling and entry/exit. Brakes were enalrged from the Dakota, partly to increase towing capacity.

As the model-year went on, next-generation driver and passenger side airbags replaced the original models, as a running change. These were safer, exploding with less force.
Industry firsts
Hydroformed frame crossmembers
Third-seat folding mechanism
Second-seat fold-and-tumble mechanism
The Durango also had the largest bodyside aperature panel ever used on a Chrysler vehicle; and, within, the class, it was the only SUV with standard aluminum wheels and a standard functional roof rack, as well as a forward-facing third row of seats.
1999-2003 Updates
In 1999, rear wheel drive Durangos were added to the mix, and a new base engine, the 3.9L Magnum V6 (based on the V8) became available. This engine had been created for the original Dodge Dakota, and was not quite as smooth or efficient as it could be. In addition, steering wheel-mounted audio controls and heated exterior mirrors became available and leather seats and body colored fender flares became standard equipment for the SLT Plus. Rear wheel drive was the base, with optional four wheel drive; and the steering gear on the 4x4 was upgraded to address reliability issues in the 1998s.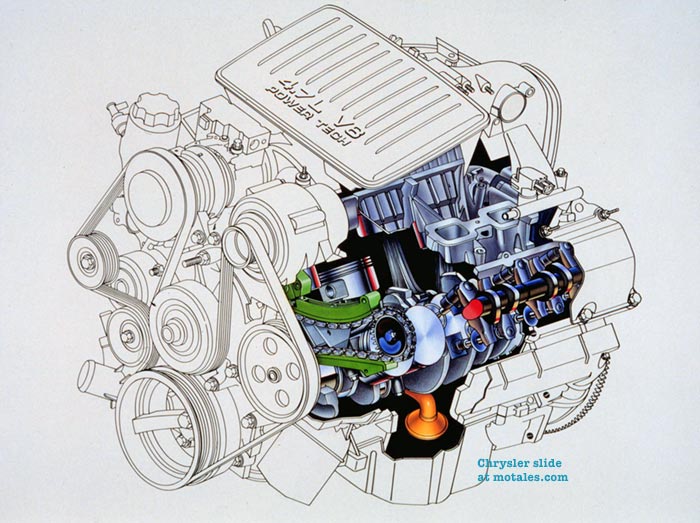 In the 2000 Durangos, the 5.2L V8 engine was replaced by the brand new 4.7L Magnum V8, which had been developed with Jeeps and trucks in mind. The 4.7 (called "Next Generation"  when used in Jeeps) was paired with a 45RFE automatic. The 45RFE had five forward gears, but one was only used in kickdown acceleration; it was officially a four-speed. The 4.7 was a smooth engine; some missed the grunt of the old 5.2 (318), but the 4.7 was cheaper to make and easier on gasoline. In addition, the lineup was expanded, and now consisted of SXT, Sport, SLT, SLT Plus, and R/T.
The 2001 Durango had a redesigned interior; and the transfer case selector was added to the dash, courtesy of the electronically shifted New Venture NV233HD and NV244 transfer cases, which made their appearance this year. Dual zone climate control and six-speaker sound became standard on all models, and the seats were redesigned to be more comfortable. The V6 did not return, since the 4.7 provided more power and better economy; it had been developed largely as a replacement for the in-line 4.0 Jeep engines.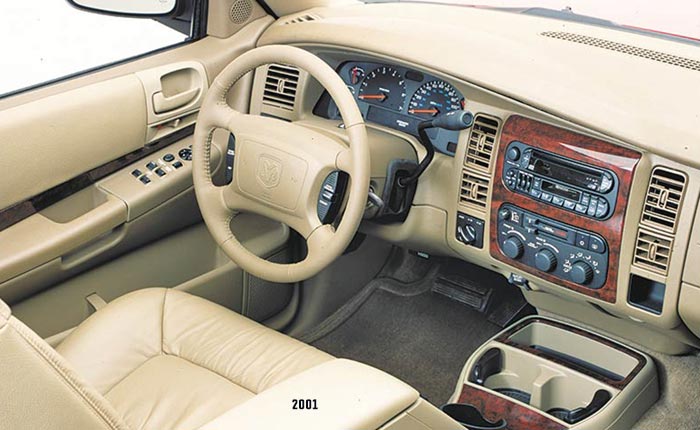 The 2002 model year brought a new SXT model to match Dodge cars, and, as noted, the 545RFE automatic transmission. This was essentially the 45RFE, but with newer programming and an added overdrive ratio taller than the first overdrive. Technically it had six forward gears, but one was only used for kickdown acceleration, so it was officially a five-speed. The new overdrive meant that, at 70 mph, with the standard axle ratio, the engine would be going just 2,000 rpm, a 10% reduction from the 45RFE—so fuel economy went up and noise went down. The 545RFE replaced the 45RFE in January 2002.
A new rear wheel antilock brake system included electronic brake apportioning, and curtain side airbags were added to the first two rows. Finally, a brake-shift interlock was added in.
2003 Dodge Durango buyers got standard four-wheel disc brakes, new cast aluminum wheels on the Sport, a four-gauge cluster on Sport and SXT, minor changes to the interior styling, and an optional six-disc in-dash CD player. Mandatory safety upgrades were LATCH child seat anchors, constant force retractors, and upper head impact protection for the first row.
Period review
David Zatz reviewed the 2002 Durango for Allpar; he liked the way the rear seat folded down to the floor, and the way the middle seats folded and tumbled out of the way with a good hefty tug on a convenient lever. He also noted the large rear air vents as being better than in most competitors. The five-speed automatic was responsive and performed well. The 4.7 was quiet except under heavy acceleration, when it made muscle-car noises. Oddly, ride and handling was seen as lower than in the Dakota Quad Cab, and slightly overinflated tires led to some feelings of instability on the highway .
The controls were well suited to the vehicle, and easy to use. The center console was handy, with padded storage areas, and a place for coins. Interior space was very good and the rear seats were more accessible than in similar vehicles. The interior was cargo-friendly, with a nearly flat loading floor easy to get. Seats were very comfortable.
Development
The Durango might not have been made without SCORE and the extended enterprise.
Before the 1990s, Chrysler would most likely have simply copied the equivalent Chevrolet or Ford, and asked for customer input when prototypes were done and most everything had been baked in. In this new golden age of Mopars, they did studies of SUV owners, minivan owners, and car and truck owners. They discovered that people wanted higher performance, more comfort and interior space, better ride and handling, and higher towing capacity. The team made its priorities interior space, ride, handling, and overall capability.
Buyers didn't want a full-sized SUV, but often needed three rows of seats; they wanted to be able to fold their seats down to make way for cargo when needed. They also wanted the power and towing of a full size pickup, with the ride and handling of a car. The team matched these opposing desires by carefully positioning the body-to-frame mounts, which were lined up with body pillars and next to the third row of seats. Only some of these were used on the Dakota.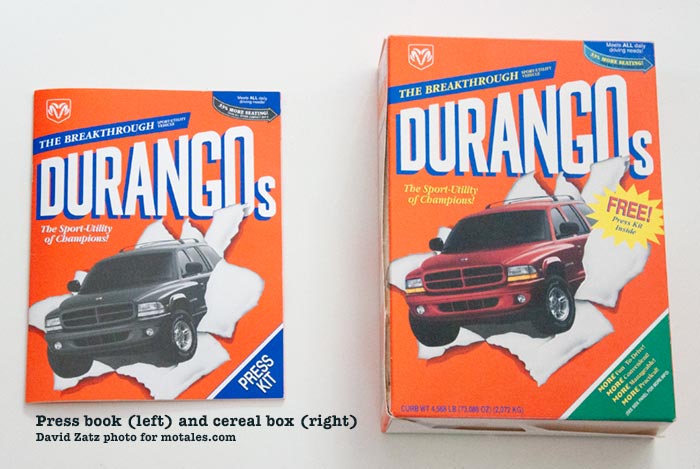 The Dodge Durango went from concept to production in just 132 weeks, setting a corporate record; they achieved this through simultaneous design and engineering, eliminating department-to-department handoffs by having everyone involved work together in a huge cross-functional team including Advance, Body, Interior and Chassis Engineering design personnel, all in the same location.
Design was done electronically, using the proprietary Chrysler Data Visualizer (CDV); working from sketches, designers used CATIA to design the panels and CDV to create renderings. Surface approval was granted on the basis of these renderings. Design engineers, stamping engineers, and suppliers worked with the designers to make it all work. Using screens made it easy to resolve issues, because fit, finish, and interference issues could be seen from any angle. Clay and fiberglass models were made only after the design was approved, a Chrysler first.
Because changes were easy to visualize, designers experimented with surface aesthetics rather than sticking to the clay model. Using CDV, the exterior surface was designed in three weeks, and the interior was completed in half the normal time.
Each change to meet vehicle objectives was immediately scrutinized by everyone affected; one major focus was fitting in three rows of seats without changing the frame or exterior. CDV allowed any panel to be made transparent, so it was helpful for outward visibility studies, including pillar size and placement issues, size and placement of the high-mounted third brake light, and such. Panel attachments and space usage issues were easily resolved because the surfacers could be moved electronically, so fewer issues showed up later.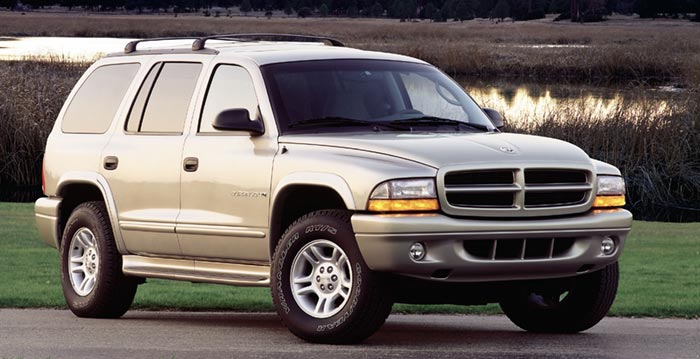 Before benchmark studies began, a simplified, hybrid finite element model (FEM) was ready; within three months of the program's start, four prototype vehicles, using tubular structures based on the hybrid FEM for bodies, were doing initial ride and handling evaluations. State-of-the-art quick-tooling technology and preliminary surface data allowed for the creation of early design-intent vehicles for testing and development.
Engineers did interior and exterior development at once. Advance Engineering built a full-size seating buck as soon as design data was available; it was made using computer data, and included all interior surfaces and window openings (for visibility checks). Accurate doors and a lift gate were formed from carbon fiber sheets based on the CATIA data. Seats were built by the supplier, so they could check seating, entry and exit room, and head clearances. A jury of employees made subjective evaluations of comfort.
Three rows of seats
Bob Holdreith, Executive Engineer for Advanced Truck Engineering, said that they originally thought about doing rear-facing rear seats because it was hard to fit eight people into their design envelope. "That was a compromise and we weren't happy. We felt that was like making an eight-passenger SUV just for the sake of it rather than maximizing the usefulness of the vehicle. ... anyone who has carried children in a rear-facing third seat knows that the 'car-sickness' factor goes up exponentially - not something you want to be known for."
They started looking for space. It was hard: the instrument panel and front seats were taken from the Dakota. The front doors were shorter than on the Dakota, though, so the rear doors could be larger to make it easier to reach the rear seat. Making the front doors smaller cleared the space they needed. They also raised the roof around two inches from the back of the second seat, increasing legroom and letting them raise the rear rows for "theater style" seating, making it easier for passengers to see out the front window, and creating more legroom. They put the rear air conditioner in front of the raised area to provide direct airflow and avoid using precious headroom. The roof rack was placed directly over the area to create a natural visual flow from the front of the roof to the rear and hide the raised roof.
The second row had a 40-20-40 bench seat to provide cargo flexibility; it could form a flat load floor when folded forward, as could the third row, providing van-like space for 88 cubic feet of cargo. The optional third seat was a full bench; it was placed directly over the rear axle to take advantage of a natural foot well. Likewise, storage behind the rear seat included a hidden storage compartment behind the axle; the main advantages of hiding the storage was to have a flat loading floor, and to hide the spare, jack, and other tools.
Multiplex Data Network
A multiplex data network (electronics bus) provided many electronic features with just two wires; to prevent conflicts, only one unit could transmit data at any time. The network, which had priorities designed in, connected numerous components:
Instrument cluster gauges and most warning indicators
Air bag control module
JTEC powertrain computer
Central Timing Module (CTM)
Overhead console compass and mini-trip computer
Radio
Antilock brake modules
The speedometer was more of a voltmeter; its signal came from the computer, fed by the rear antilock brake sensor. This eliminated a separate speed sensor in the transmission, and was done in other 1998 Dodge trucks, too.
Dodge Durango Specifcations
Redline for the LA series engines was 5,250 rpm; for the 4.7 liter, it was 6,000 rpm. Gas mileage is with rear wheel drive where possible. The 4.7 was downrated by 5 hp for California.
|   | Horsepower | Torque | MPG |
| --- | --- | --- | --- |
| 3.9 (1998) | 171 @ 4800 | 225 @ 3200 | 15/18 |
| 4.7 (2002) | 235 @ 4800 | 295 @ 4800 | 15/20 |
| 5.2 (1998) | 230 @ 4400 | 300 @ 3200 | 13/17 |
| 5.9 (1998) | 245 @ 4000 | 335 @ 3200 | 12/17 |
All engines took regular 87 octane unleaded gasoline; they were liquid-cooled, 90° V-designs (including the V6) with hydraulic lifters and roller followers. Few delivery was via sequential multiple-port electronic fuel injection. All but the 4.7 had cast iron blocks and heads with pushrod valve timing. The 4.7 was cast iron but had aluminum alloy heads and a single overhead cam design. All used timing chains.
|   | Bore | Stroke | Compression | cid |
| --- | --- | --- | --- | --- |
| 3.9 | 3.91 | 3.31 | 9.1 | 239 |
| 4.7 | 3.66 | 3.41 | 9.3:1 | 287 |
| 5.2 | 3.91 | 3.31 | 9.1 | 318 |
| 5.9 | 4.00 | 3.58 | 8.9:1 | 360 |
The transfer cases all had a 2.72:1 low gear; the NV242 had a 48/52 front/rear torque split and a planetary center differential with locking in low and high gears.
| Gear | V6 | V8 |
| --- | --- | --- |
| Axle ratio | 3.55 | 3.92 |
| Part time transfer case | NV231 | NV231HD |
| Full time transfer case | NV242 | NV242 |
| Transmission | 42RE | Various |
| Curb weight | 4,568 | 4,689* |
* 4,736 with 5.9 engine. Figures are from 1999. Curb weight includes the driver and all fluids.
The V8 models used the 44RE transmission with the 5.2 engine, and the 46RE for the 5.9. Later models used the 45RFE and 545RFE, which were essentially similar. All had hydraulic control with an electronically governed governor, overdrive lockout, and converter clutch.
| Gear | 46RE | 42RE+ 44RE |
| --- | --- | --- |
| 1st | 2.45 | 2.47 |
| 2nd | 1.45 | 1.54 |
| 3rd | 1.00 | 1.00 |
| 4th | 0.69 | 0.69 |
All Durangos in this generation had a 6,400 pound gross vehicle weight.
Electrical: 117 or 136 amp alternators. Dimensions:
Wheelbase
115.9 (2,944)
Length x Width
193.3 x 71.5
Floor Height
31.8
Breakover Angle
19.5°
Departure Angle
26.3°
Approach Angle
28.4°
Cargo volume
18.8 cu ft
All seats folded: 88.0
Headroom
39.8 / 40.6 / 37.9 (by row)
Legroom
41.9 / 35.4 /30.7 (by row)
The basic design had a longitudinal front engine connected to the rear axle via Hotchkiss drive. A ladder-type frame had 12 rubber isolators from the body. The front suspension used upper and lower A-arms, torsion bars, gas-charged shocks, and a stabilizer bar while the rear suspension had a live axle with four-leaf springs, a stabilizer bar, and gas-charged shocks. Brakes were vented discs in front, drums in back.
The Durango might not have been made without SCORE and the extended enterprise.
Books by MoTales writer David Zatz
This Mopar car history site is copyrighted © 2021-2022 Zatz LLC. Contact us.